.SE Domain Registration – Sweden
.SE is the country code domain for Sweden. It is operated by the Swedish registry IIS and can be registered by anyone for a minimum one year period.
.SE Pricing
Setup:

N/A

Annual:

$ 32.05

Update:

$ 0.00

Trade:

$ 0.00

Transfer:

$ 0.00

Reactivate:

$ 27.63 + (Annual)
.SE Format
Min-length:

2

Max-length:

63

Numbers:

Allowed (full-numeric)

Hyphen:

Allowed (middle only)

IDN:

Supported
.SE Facts
Introduced:

1986

Registry:

The Internet Infrastructure Foundation

Registration Agreement:

Dispute Resolution Policy:

Domain Privacy:

Not eligible
Period
Minimum Subscription period:

1 year(s)

Subscription increment:

1 year(s)

Renewal increment:

1 year(s)

Registration within:

1-3 days
Conditions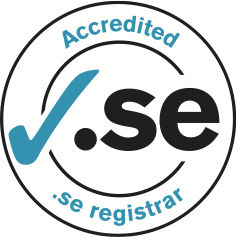 EuroDNS is an accredited Registrar for the top-level domain .se. Together with the Swedish Registry, EuroDNS works for a positive development of the Internet in Sweden, for the good of users and society in general. Satisfied domain name holders, whether they are large corporations or individual consumers, is our common objective.
The general terms and conditions for registering a .SE domain name can be found by following this link : https://www.iis.se/docs/Registreringsvillkor_eng.pdf
Services & prices
All relevant information on EuroDNS prices for .SE domain names operation are detailed on this page.
Information about handling of personal information
EuroDNS handles personal information in compliance with the Swedish Personal Data Act (1998:204) and the Foundation's controller of personal data agreement.
Hours of operation
The EuroDNS support department is open for inquiries Monday through Friday from 08:00 to 17:00. You can either use the contact form or call us at +352 26 37 25 200.
Company information
EuroDNS S.A. (société anonyme)
Adresse : 2, rue Léon Laval | L-3372 Leudelange | Luxembourg
Company and Commercial Registration : B98789
VAT number : LU19406747
Fax : +352 26 37 25 37
Web :
www.eurodns.com
General Email Address :
support@eurodns.com
Note:The .SE registry asks that commercial entities provide a VAT number or company registration number. Individuals are asked to provide their ID card or passport number. Due to restrictions enforced by the .SE registry, we cannot permit you to modify the holder details appointed to your domain name whilst performing a registrar transfer. However, as soon as your domain name has been transferred to EuroDNS, you will then be able to proceed with this modification.