7 copywriting tips to boost traffic and conversions

According to statistics from Microsoft research, the average attention span of Internet users in 2018 had dropped to 8 seconds, as opposed to 12 seconds in 2000. Check out our 7 tips on writing the most engaging and attention-catching content for your readers and boost your traffic and conversions.
Here are our seven copywriting tips to boost traffic and conversions:
Know your audience and their needs
Work backwards
Focus on the benefits of your product
Organize your content
Write with search engines in mind
Add a CTA
Edit and edit more
Know your audience and their needs
Who is the audience you want to target? In other words, in defining your strategy you need to determine your buyer persona(s), what kind of people buy and use your products/services. What is their age range, location, gender, the industry they work in?
Say you are a web design company. You want to tailor your copy to address different types of customers, like non-professional bloggers or start-up business owners. For these two buyer personas, you could create different pages and develop copy to address their different service needs and their level of tech-savviness. This is what I.T. company Insight2Profit did with the following page: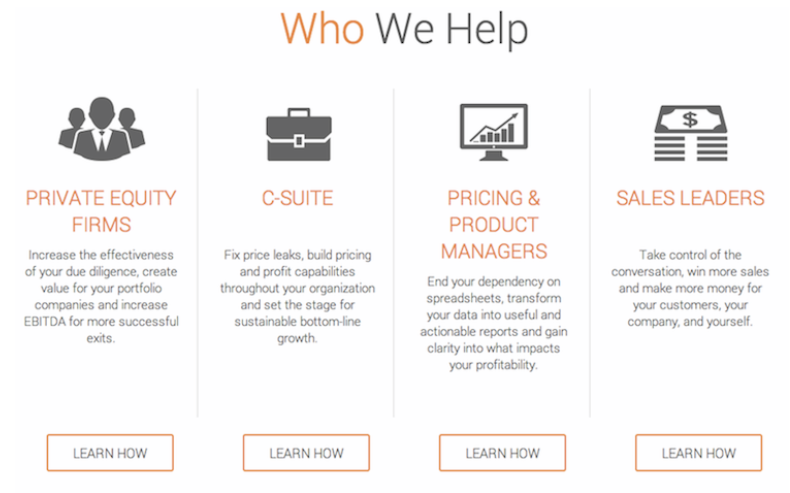 Having good knowledge of your audience and understanding their needs will allow you to adapt your content accordingly.

Work backwards
When writing content for your website, one of the most important things that you should keep in mind is to step in your customer's shoes. Write from their perspective and consider they know nothing about your brand or your products. Be very thorough in your copy, explaining concepts that seem very basic to you but that your readers might not be familiar with. Doing this will ensure that they understand the reasons why they might need what you offer.
The copy on your website should be helpful, informative and engaging. Ask yourself which information your readers need to know and answers the questions they might have. Help them solve their problems by keeping the focus on what matters to them, and not on yourself as a writer.

Focus on the benefits of your product
This goes hand in hand with the previous point. Presenting your product or service to your reader by emphasizing what it can bring to them is essential. That's how you'll manage to spark their interest and make your content relatable. Keep in mind that focusing on features instead of benefits can confuse your reader by referring to technical specifications that your reader won't be able to fully grasp.
On the below product page, benefits (in red) are associated with the product's matching feature.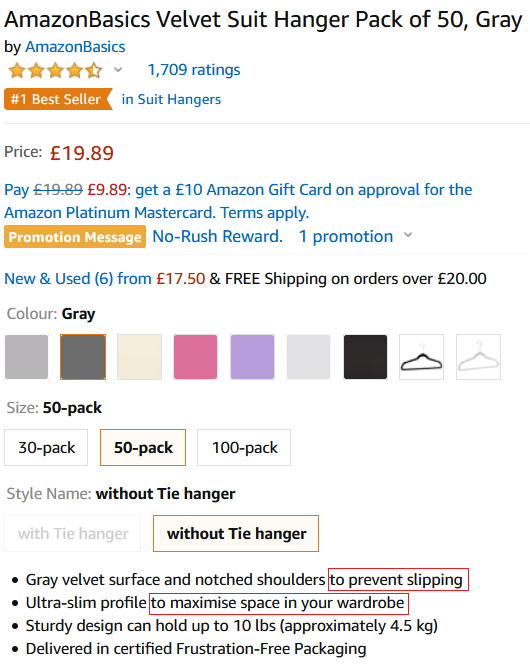 Including numbers such as statistics or quantifiable facts will only help underlying what your product/service can bring to the customer.

Organize your content
Did you know that on average, readers read about 20% of a page's text? That means your website content should be easily scannable to enable your reader to find what they're looking for pretty much immediately. To create skimmable content and introduce some white space, use the following formatting tricks:
Headlines & sub-headlines – Use as many levels as you need to structure the page and write attractive headlines. The reader should know, just by reading your headline, what they're going to find in the rest of the content.
Bullet points – They should be used to introduce a list (characteristics, process, product features, etc.)
Break up long paragraphs into smaller ones -
Bold, italics, underline – Emphasising some words with a font in a different style helps to catch the attention of the reader and makes it easier for them to localize the keywords they might be looking for.
Quotes style – Use the Quotes style whenever you want to introduce a client's testimonial
Visuals – Inserting visual elements can sometimes speak better than lines of text, and it allows readers to capture the essential in a glance.
Be concise - From a stylistic point of view, don't overdo it by adding unnecessary adjectives. Keep your content concise and straight to the point. And address the reader directly by using "you" and "your" to make it more personal to them.

Write with search engines in mind
It's good practice to write your website's copy with search engines ranking criteria in mind. Prior to writing, it's good practice to do the following:
research which keywords you aim at ranking for (Moz is a good place to start)
add internal links redirecting to other relevant pages of your site
write an engaging meta title and description to attract visitors. This information is what readers see on the search engine results page, which makes it critical
Google and other search engines will use such information to index your site, so it's worth spending the time optimising your pages. With that in mind, be careful to not overdo it by stuffing your content with too many keywords. In the end, your main focus should remain the reader, and you should integrate keywords naturally so your copy reads fluently.
Add a CTA
A CTA, or Call-to-Action, is when you urge your reader to do something, whether it's:
Clicking on a "Start Now" or "Learn more" button to sell your product/service
Clicking on a "Sign up" button to capture their email address and add them to your subscribers list
Clicking on a "Contact" button or filling in a form to help your customer
Adding a CTA It's an essential part of your website copy that's needed to achieve conversion. Using a sense of urgency in your CTAs, with words like "now", or "ends today", will encourage the reader to take action immediately instead of coming back later.
Edit and edit more
Don't get stuck on your first draft. The obvious first step of the proofreading process is to check for spelling and grammar. The quickest way to lose your client's trust is by leave a blatant typo in your content, which will automatically undermine your credibility.
Besides, you should continually revise your message to make your content more compelling and engaging. Doing so on a regular basis will ensure that you adapt to the ever-changing needs of your customers.

Photo by RetroSupply on Unsplash