Do SSL certificates affect search rankings?

Your connection is not private? Oops…Someone might be trying to steal your information! As we announced our new partnership with global certificate authority provider Sectigo, we thought now might be a good time to refresh your memory on SSL. Discover which SSL certificate options are available for your brand and improve your Google SEO rankings. Farewell HTTP, hello HTTPS!
What is an SSL certificate?
If you are managing a live website, then we hope the term "SSL Certificate" is something you are familiar with. If not here is a reminder, just in case…
The SSL protocol that stands for Secure Sockets Layer and its successor the TLS (Transport Layer Security) are protocols for securing communications on the Internet.
First released in 1995, the SSL standard was gradually replaced by the TLS protocol from 1999 onwards.
So why is it still called SSL? Despite the depreciation of the SSL protocol in favour of TLS, the term "SSL" is still commonly used when referring to this type of technology.
How do I know if a site is secure?
You can tell if a site is secure by looking at the address bar of your browser. If the URL starts with HTTPS, it means that the site is secure. A padlock icon may also appear.
Does the SSL certificate influence Google SEO rankings?
In August 2014, Google announced on its blog that the HTTPS protocol was added as one of the SEO criteria. In other words, understand that the SSL certificate is a prerequisite for your site to appear in the top search results.
Since 2017, Google goes even further and displays a security warning on sites running on "HTTP" and asking for personal information.
With the increasing number of SEO factors, it is still difficult to know the exact impact of an SSL certificate on the indexing of a website. Backlinko's Brian Dean teamed up with SimilarWeb, MarketMuse, Ahrefs and SEMRush to gather the necessary data and concluded that there really is a correlation between a website using HTTPS and the Google position, HTTPS being "moderately" correlated to the first-page listing on Google.
While it is unclear what is the exact impact of the SSL on search engine ranking, it is evident it affects largely the brand image and its reputation online. In fact, consumers perceive absence of SSL certificate on the brand's site quite negatively and immediately see it as a risky page. According to Hosting Tribunal, 85% of online shoppers avoid unsecured websites. This is possibly caused by the fact that 1 in 10 URLs are malicious (Symantec's Internet Security Threat Report 2019). As a result, more and more users don't trust HTTP websites.
The best way to proceed is to create your website with an SSL certificate from the beginning, but if you haven't followed this recommendation for whatever reason, you'll have to evaluate the impact of not having a secured site vs the impact of moving from HTTP to HTTPS on your company. SSL certificate will be especially important to your business if you meet one of the following :
Your website collects credit card details, email addresses, passport numbers, etc.
Your website requires to proceed to online payments.
Your website has a restricted logged in area.
You got it, whenever personal information is involved, you basically need an SSL certificate.
Which SSL certificate should I choose?
Leading providers like Sectigo offer a wide range of Digital Certificates ranging from basic to premium protection.
SSL Certificates will protect your online communications, prove your legitimacy and inspire trust to your visitors. Here is a summary of the four products offered by EuroDNS:
Instant SSL DV – ideal for start-ups needing to secure a single domain. Fast background check without formalities, low cost and certificate issued within minutes.
Domain Validation – this entry-level certificate is ideal for small businesses. It provides the minimum level of security required for customer transactions. Certificate issued within minutes.
Organisation Validation – Professional certificate with extensive background check for excellent visibility, high level of trust and strong encryption. Certificate issued within one day.
Extended Validation – Maximum level of authentication and encryption. Recommended for high profile websites that are vulnerable to phishing attacks. Activates your website's green address bar. Certificate issued within one day.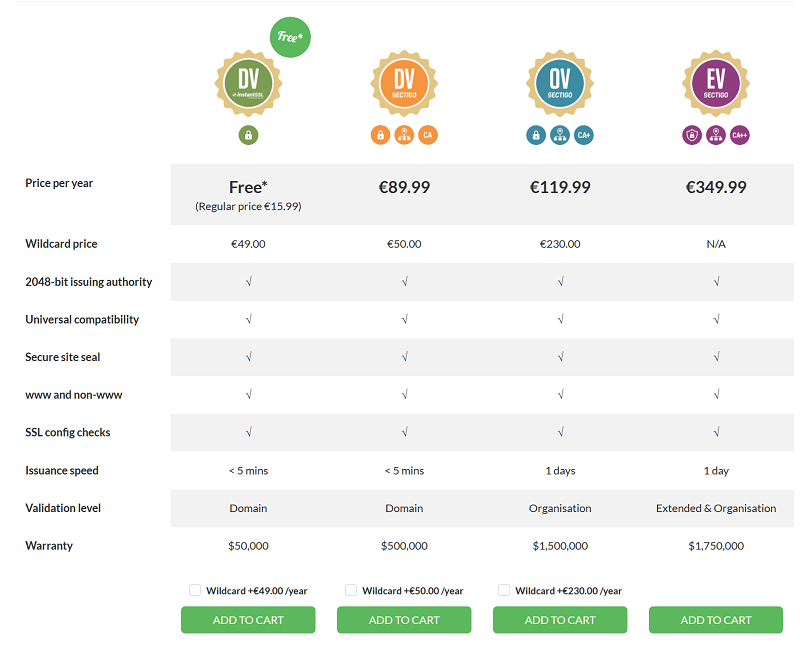 Multi-domain certificates
The multi-domain option is ideal for companies who need to secure multiple domain names without having to manage multiple certificates. Compared to wildcard certificates, multi-domain certificates can secure a mix of valid external domains, even if they are unrelated to each other.
With a multi-domain certificate, it is possible for companies to secure multiple domains. For example:
exchange.yourdomainname.com
exchange.eurodns.com
lync. yourdomainname.com
owa.eurodns.com
Buying your SSL certificate with EuroDNS
EuroDNS offers a range of range of SSL certificates, each providing different levels of security according to the needs of your SME. We are so committed to helping create a more secure Internet that we even offer a free SSL certificate for every domain name registered with us.
If you are not sure which level of encryption is best for your SME, please contact us. We will be happy to help you choose the ideal SSL certificate for your business.

Photo by chris panas on Unsplash