8 best free WordPress plugins for e-commerce websites

That's it! You just bought a domain name and you're ready to get started with your e-commerce website, but you're wondering which WordPress plugins to use? Look no further with our selection of 8 best free plugins for e-commerce websites.
Let's start with the basics. What's a plugin? It's a software component that adds a specific feature to an existing computer program. Apply this to WordPress, and it's essentially a group of functions that can be added to a WordPress website. There are thousands of free or commercial plugins, whether they're from the WP plugin directory or third-party developers. Here's our selection of 8 best free plugins for your online store.
Launched in 2011, WooCommerce is probably the most comprehensive e-commerce plugin for WordPress. What it does is it basically helps you build your online store. Aimed at small to large-sized online stores, it's super simple to install and easy to customize, and also free-based. We recommend this plugin if you want to have total control over your website as its collection of extensions allows you to personalize pretty much every aspect of your online store. After installing WooCommerce, you will have to start by creating a few basic pages like the shop page, the cart page, the order page and the account page.
30% of online stores currently use WooCommerce. Since its acquisition by Automatic (the team behind WordPress.com blog hosting) in 2015, WooCommerce has been adding additional themes and features, and there's also a wide range of third-party developers who release new extensions for WooCommerce.
This lightweight and free plugin is made specifically for building a digital goods online store. While it is possible to sell digital goods with WooCommerce plugins, this one was created specifically for listings such as music, podcasts and e-books, which means you won't be bothered by options like shipping, which do not apply to digital products.
A couple of its remarkable features: the ability to view a customer's file download logs or the possibility to add discount codes and choose a bunch of associated options like flat rate or percentage based.
Quick to install and easy to use, it works with any WordPress theme, but EDD also have their own themes created specifically for this plugin.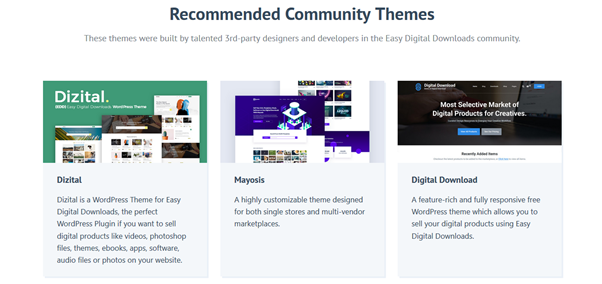 This plugin is great because it allows you to automatically add a tracking number to your products, so that your customers can have access to the tracking information of the products they bought. The plugin allows you to insert the AfterShip Track Button on the order history page, where your customers can track the latest order status in one click.
When we buy something online, we get impatient about having our stuff delivered and we want to know exactly where it is! This plugin is super useful because it automates the tracking process, supports 666 couriers worldwide and delivers proactive delivery updates. Brands such as Groupon and Etsy use AfterShip.
It also comes with a useful dashboard for vendors to monitor current statuses of all shipments. You can even filter your shipments by dates, statuses, couriers and destination. This way, you can easily check if all your shipments are delivered on time and discover any issues.
The free offer includes 50 trackings per month.
With over 130 million downloads, Yoast SEO is one of the 10 most downloaded plugins of all time, installed on more than 5 million websites to optimize referencing. In short, you need this on your website!
What Yoast does is it helps to optimize your website for the search engine. It has a content analysis feature that helps you understand readability difficulty, keyword density, title, meta description, targeted keywords, etc. It analyses keywords and their placement to give you advice in order to improve your page for SEO. For example, telling you if your title is too short and needs more keywords. Or if your keywords appear where they should in your content, etc. To get the most out of the SEO analysis, you'll have to enter a focus keyphrase first, i.e. the group of words you want your post to rank for on Google.
With its +800 reviews and 4.9 out of 5 stars on wordpress.org, this free plugin is a marketing star. It counts with 10 powerful features for e-commerce stores.
Among those features, we particularly love the live sales notification banner that pops up in a corner of your website to create the sense of a busy store. It can help you boost conversions and sales by inspiring people to buy. Other features include a sales countdown clock or a low-stock indicator on product pages. The latter will help you create a sense of urgency with your customers.
A successful example of an e-commerce store that benefitted from WooCommerce is German brand Amazing Dealz. They boosted the average order value of their customers by over 400% by placing product recommendations based on the items that customers added in their cart, and by offering a 15% discount on orders over 50€. All thanks to the Beeketing plugin.
Here's a good one that will allow your buyers to log into their account via social network.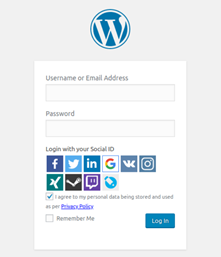 Goodbye complicated login via email. Thanks to this plugin, your users will thank you for hassle­-free authentication. As a vendor, you get multiple benefits out of this: since social networks usually don't allow multiple accounts, the likelihood of false identities and spammers will reduce. It also enables users to share your website content on social networks like Facebook and comment on your pages directly from their account, resulting in increased user traffic. On top of that, it will give the comments left on your website more credibility as they will be associated to real social media accounts owned by real people.
Drag & drop WordPress form, considered by most as the best form plugin for beginners.
It allows you to easily create an esthetic contact form, as well as many other types of forms (subscription, payment, etc.) without writing any line of code.
You can easily add/delete personalized fields and move them around in 5 minutes or less. What's great about this plugin is that it comes with pre-created form templates that are ready to use. This way, no lost time!
The basic functions are 100% free, but for more advanced users who might want even more functionalities, like multi-page forms and marketing functions, there is also the premium version.
WP-Chatbot allows you to add a Facebook Messenger chat widget to your website. It's one of the fastest and simplest ways to have a live chat 24/7 with your visitors, even when you're asleep. Users can start chatting on any page of your website and if they start a Messenger chat from your website, that chat thread is also available on their mobile device or the desktop version of Facebook Messenger. It's also 100% integrated with your Facebook Business page if you have one (you should!).
Thanks to its chatbot technology, it provides constant support to answer questions and requests from customers. Use this plugin to gain more leads and more engagement.
This tool can help you automate every aspect of your email marketing activities, while letting you concentrate on your core business. Retainful can send emails and engage with customers even when you are not present.
You can send Welcome emails, Abandoned carts emails, Order Follow up emails, Thank you emails and Win back emails automatically using Retainful.
Pre-built email templates are available to help you get started with your automations easily. You can easily build and launch your automation workflows effortlessly using the customer journey builder.
By sending Next order coupons via email, you encourage customers to return and drive repeated sales in your store.
With Retainful, you can run a Referral program and turn your existing customers into brand advocates while acquiring new customers through word of mouth marketing.
Retainful is easy to install, simple to use and you don't need any coding knowledge to launch workflow automation or to edit the emails.
Get WordPress

Photo by Launchpresso on Unsplash