How to choose your web hosting package?

You've already acquired the perfect domain to put your brand online. That's great, but what about hosting? You might be feeling confused with all the solutions out there. Don't worry, we've prepared a checklist for you to find your way through.
At this point you might not be sure what is hosting. Hosting is basically the physical location of your website's content on the servers of the hosting company, so that visitors around the world can access it. Here's the steps to follow in order to choose the right hosting plan for you.
1. Determine your needs
Your web hosting package will depend on the objectives and needs of your website. Are you a blogger, a small company or a big multinational? Every site is different and has different needs, whether it's in terms of size, visitors, experience at managing the website itself, etc. Determine your needs before looking into different packages.
What type of hosting?
If you are an unexperienced user when it comes to website management, or you simply don't want to lose time in order to focus on content creation, a managed WordPress hosting package is probably the right choice for you. It will allow you to use the most popular content management system (CMS) with no need to worry about updates, security and loss of data. This way, you can focus on creating the best content while your host keeps your WordPress website up to date and running smooth.
If you consider yourself an experienced user and you like to have complete control over your website, a self-managed web hosting will allow you to have access to all the functionalities you need to manage your site.
If you're not sure whether you should opt for managed or self-managed hosting, have a look at our WordPress comparison page to understand what are the main differences.
2. Compare features
Since most companies offer different hosting plans, you should compare the features included in the respective plans in order to decide what's best for you. Here's a checklist of things to be pay attention to:
Disk space: Disk space is the amount of space available on the server for storing your site (pages, photos, videos, databases, scripts, etc.). It is usually expressed by hosts in GB. The more heavy files such as media content you have, the more disk space you will need.

Bandwidth: Bandwidth is the amount of data your website can transfer to your visitors within a specific time, it is usually expressed in GB/month by hosts. The more you stream videos or have large images on your website, the more bandwidth you will need. The number of visitors on your website and how many pages they view will of course also impact your bandwidth. That's why it's important to know what monthly traffic you are expecting.
PHP memory: paying attention the PHP memory limit of each plan is essential. In simple terms, the higher the PHP memory (expressed in MB), the more powerful and resource-consuming scripts you will be able to use.
One-click installation: some hosts offer this feature as part of their managed WordPress plans. It's ideal for beginners as it simplifies the website creation process, enabling you to create your website in a single click, with no need to understand complicated technical concepts.
Privacy protection: An ICANN rule states that your contact details have to be published in the WHOIS database when you register a domain name. A database accessible to everyone, including spammers, marketers, domain name hijackers, and identity thieves. If privacy is important for you, make sure that your hosting plan includes a privacy protection option for your domain names, so that your contact details are hidden.

Alpha SSL certificate & email: if you buy your domain name with the same provider as for your hosting plan, check if the SSL certificate and the email address are included when you buy your domain name. The SSL certificate protects the private information you collect from your customers, such as credit card details, passwords and logins. It is an easy and cost-effective way to legitimize your website whilst protecting your site against phishing and boosting your search engine ranking.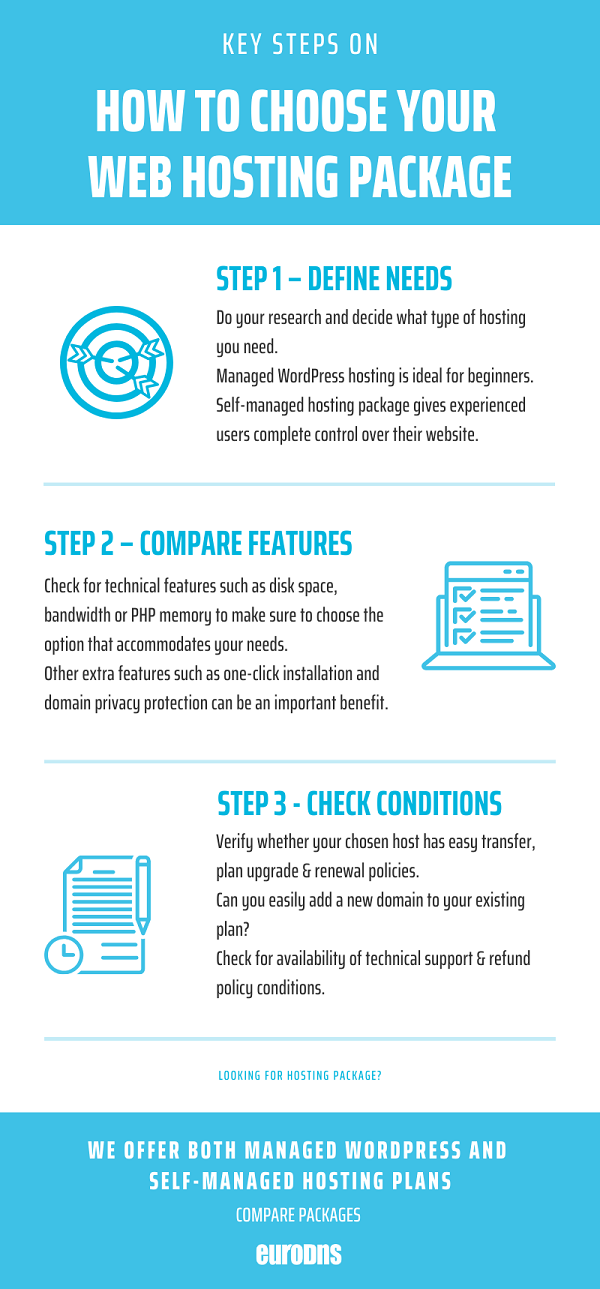 3. Check conditions
Is it easy to transfer your already existing domains to this host?
If you already have a website and you would like to change host and transfer your domain(s), check how easy and quick this process will be and if the potential new host is offering assistance with this procedure.
Is it easy to upgrade your plan?
If you started your website with a basic hosting plan and it has been getting a lot of visitors, you might need to upgrade your hosting plan for one with more bandwidth and disk space. Choose a host that will allow you to easily upgrade your basic plan for a more advanced one in just a few clicks.
Can you easily add a domain to your plan?
Whether you want to acquire new domains to protect your brand and avoid competitors buying a similar domain to yours, or you simply want to expand your site, you want the process to be simple, so be sure to check that before choosing your solution.
What is the renewal cost?
A lot of providers have special offers for new customers, but the price for renewing your plan might be significantly higher. Make sure to check the conditions for renewal.
Support
No matter how good the performance of your hosting provider, at some point, you will have to reach out to their support team. Whether it's because your website is being slow that day, or you need to ask for technical information. A good support will be available, reliable and knowledgeable.
Refund policy
If things don't go well and you want to cancel your hosting package for whatever reason, it's good to be aware of your host's cancellation policy.
Your hosting package at EuroDNS
At EuroDNS, we always have the clients' needs in mind, which is why we offer both managed WordPress solutions and self-managed plans. Don't hesitate to contact our Sales team at +352 263 725 250 or sales@eurodns.com, we will be happy to help you. If you need to contact our Support team, you can use our online contact form.