Best free WordPress themes of 2022

Got your domain, got your WordPress hosting solution. Well done! What's next? Picking a theme for your website is an important step. But sometimes, too much choice can make choosing even harder.
How to choose the right WordPress theme?
Before going for the first theme you come across, there are some things to evaluate and some questions to answer. Here are the main criteria you want to take into consideration when picking your theme:
1.Purpose: Think about what is going to be the purpose of the website you're about to build. Is it going to be a company site, a personal blog or a photo album to share with your family? When you've got this clear in your head, pick a theme that's in line with this objective. If you're a photographer and you want to showcase your work, look for a theme that'll let you insert lots of high-quality photos.
2.Style: The style of your theme is important. Creatives should go for themes with a modern look to display their artistic side. On the other hand, a startup might go for a more straightforward website for easy navigation. Match your theme with your brand.
3.Mobile Responsiveness: This refers to websites being optimized and functional for smartphones and tablets. Gone are the days when people would only browse the net on desktop. It's absolutely crucial for the theme you pick to be responsive if you don't want to lose a good part of your audience.
4.SEO optimisation: While most paid themes are SEO-optimized, it's not always the case with free themes. A poor HTML code can have a bad impact on your website's search engine rankings, so pay attention.
5.Browser Compatibility: Different users, different browsers. Make sure your theme will look good on all browsers. Take some time to test your theme on Google Chrome, Firefox, Internet Explorer (yes, some people do use that), etc.
6.Plugins: You want to make sure the theme you picked supports popular plugin integration. The list of WordPress plugins is virtually endless, but some of them are indispensable for your project.
7.Support: It's almost inevitable that you'll face some issues or have some questions about your theme. Make sure you pick a WordPress theme with extensive documentation and support options.
Choose your WordPress theme according to your objective
Here is our selection of the best free themes for each type of website.
Portfolio
Artists, interior designers, decorators, graphic designers, writers, photographs and other visual creators can benefit from documenting their work in online portfolios.
Having a website portfolio can help you find some new clients or support your job applications.
This WordPress theme is perfect for artists who want to showcase their work. Photographers, designers, travellers of the world and visual artists, in general, can easily share their best pieces on the homepage.
Showcase your best pictures on the eye-catching homepage and add headings and sub-headings to your workpieces.
This theme uses the portfolio feature for a unique layout and organization of your professional or personal projects by category. Adding new pieces to your portfolio has never been so easy!
You can also enjoy a blog page where you can combine pictures and text.
Features:
Portfolio feature
Full-size images
Social media icons
Mobile responsive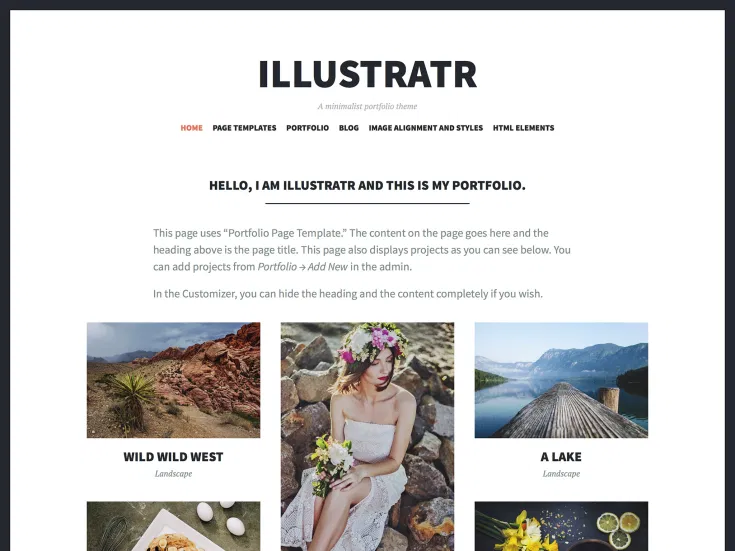 Rebalance is another free WordPress theme for photographers, designers, art directors, etc. to showcase their work.
Share your favourite pictures or highlights of your work on your homepage.
Features:
Responsive for mobile and tablet
Portfolio feature
Custom header image
Large-format images
Six accent colours
Social links menu
Supports customised logo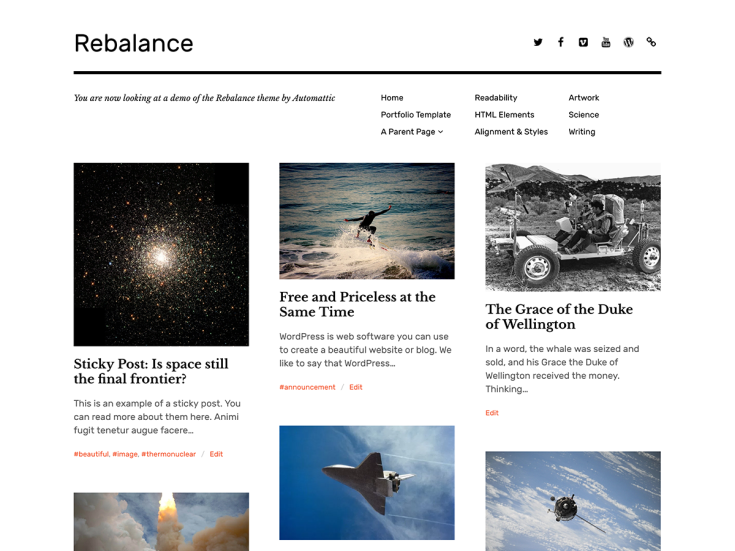 Startup
There are so many options of themes for startups, but not all are free. Here are a couple of nice options to get started online.
The perfect theme for small companies, startups or individual businesses. Easy to use and to customise
The contact feature allows customers to get in touch with you easily.
Features:
Event scheduling
Social media feeds
WooCommerce integration
Testimonials
Responsive
Supports Easy Digital Downloads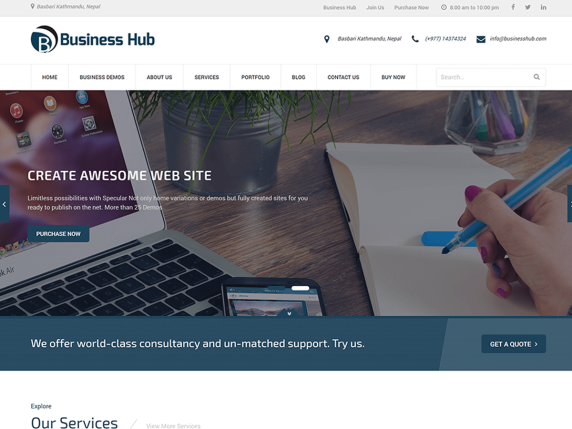 This modern one-page theme is ideal for businesses that are just getting started and don't need a complex website. Divide your page easily into different sections.
Features:
Contact form
Wide images
Business headline
Testimonials
Responsive design
Custom logo upload
Compatible with translation widgets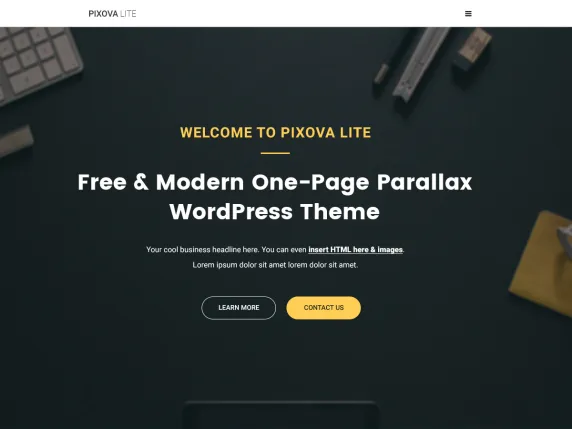 Personal Blog
While content is the key aspect of any blog, its look and feel are just as important. For your blog to be popular, you'll need a decent theme to display on the web.
This refreshed version of the Baskerville theme boasts more features and more flexibility. Ideal for content-heavy blogs or magazine-style websites.
Features:
Responsive design
Dynamic grid layout
Social links in the header
3 custom page templates: full-width, no-sidebar or Contributors
Nine post formats (including slideshow, audio player, video player, etc.)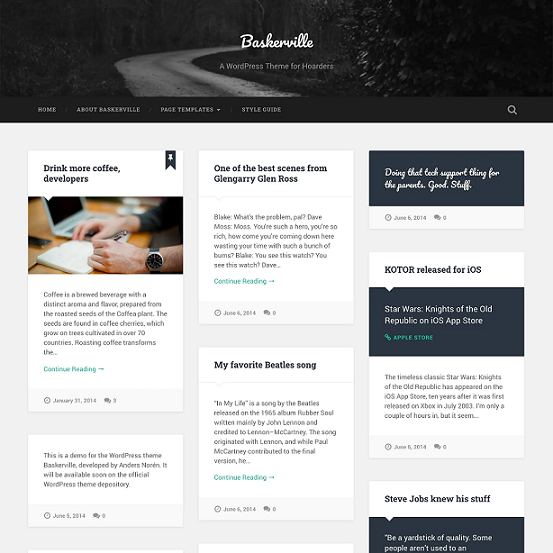 This elegantly designed theme is highly requested by bloggers and online magazines. Bloggers will enjoy its attention-grasping full-screen image slideshow.
Live customizer that allows you to edit background logo, menu, images, etc.
Features:
Responsive design
Post slideshow
Magazine homepage template
Translation-ready
Custom header image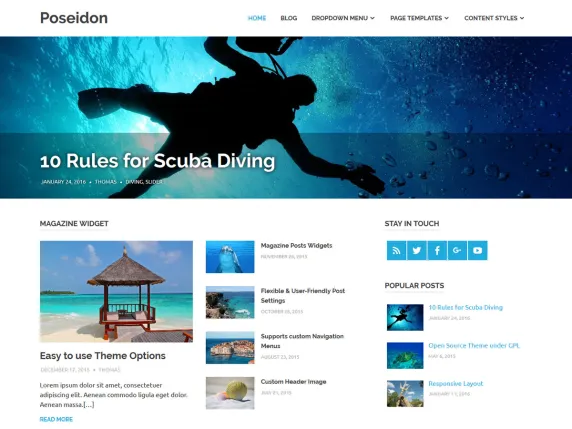 Business
Grow your business by picking one of the best themes out there. Take a look at these WordPress themes for all kinds of businesses.
Exford is a classic theme with a clean design and sophisticated style for your business website.
Features:
Social media links in the header
Contact form
Supports new editor (block building)
Customised logo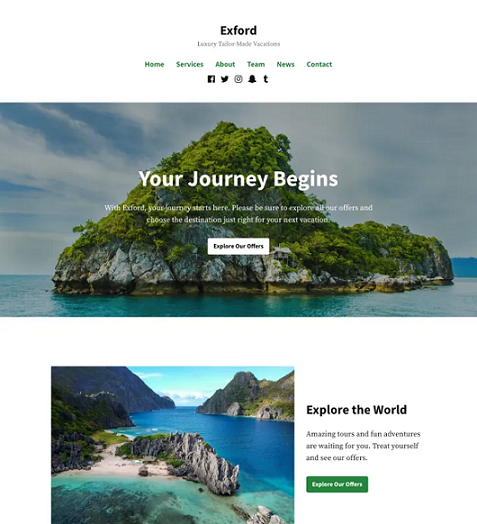 Oneline
As its name suggests, this theme is a one-page theme for businesses.
Easy to customise with lots of features and functionalities, including drag and drop widgets.
Features:
Responsive
SVG design
Easy to customise
Live customizer
Ribbon section
Contact section with lead generation functionality
Woocommerce section to feature products on your homepage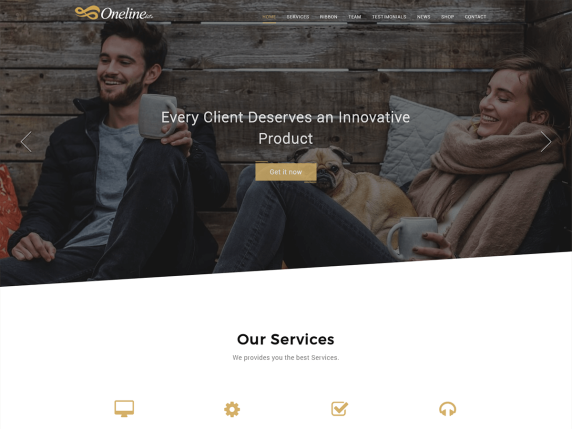 Music
Musicians, singers and bands can all benefit from sharing their latest tune online. By picking a music theme for your WordPress site, you can easily embed your music on your website.
This musical WordPress theme is dedicated to musicians who wish to share their work online. Promote your talent with this professional theme.
Free limited version of this musical theme.
Features:
Responsive design
Testimonial section
Blog section
Responsive
Show your creativity to your fans with this theme intended specifically for musicians. This theme is totally free and will support you to share music with your followers.
Features:
Supports audio and video formats
Live customiser
Social media integration
Blog posts
Great starter theme to build an online presence quickly
Custom logo
Responsive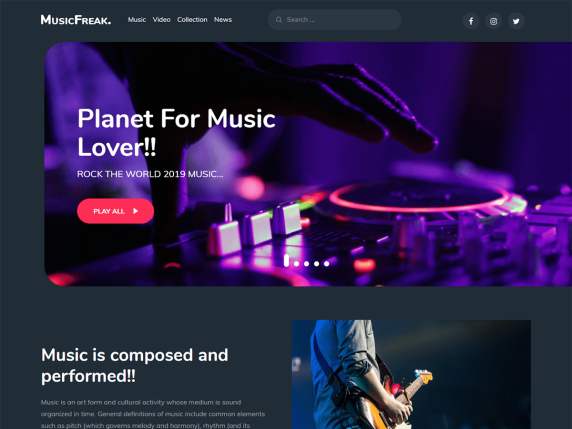 Restaurant
With the development of at-home deliveries and online booking, it's clearly indispensable for restaurants and cafés to have an online presence. The two themes below can help you achieve success.
This theme is one of the best themes for…restaurants and cafés or any food and drinks business. Its features make it an attractive and customisable theme.
Features:
Responsive design
Optimized for SEO
Compatible with WooCommerce
Social media integration
Predefined menu page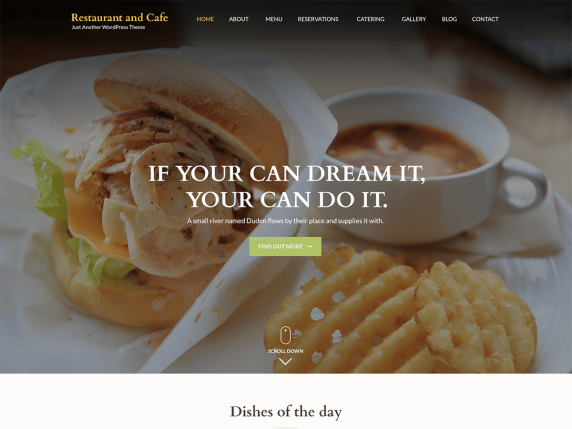 This theme is awesome for building a restaurant or café website. With its sales-oriented design, it will fulfil your needs as a business owner.
Features:
Plugin to enable online orders and table reservations
Receipt printing
Share your menu
Large images
Responsive design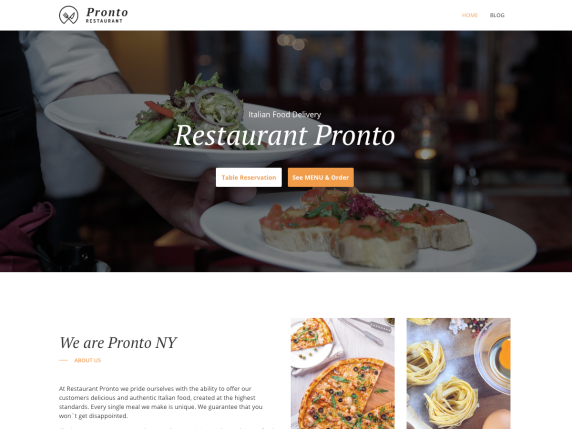 Podcast
Podcasts are very popular on streaming platforms, but did you know you could have your own podcast website?
Podcast is a theme intended for podcast hosts, radio hosts, streamers and many others.
Features:
Audio player
Reading time
7 built-in colour palettes
Compatible with podcasting plugins like Power Press and Seriously Simple Podcasting
Compatible with other podcasting platforms like Spotify, YouTube, Apple Podcasts and others
Responsive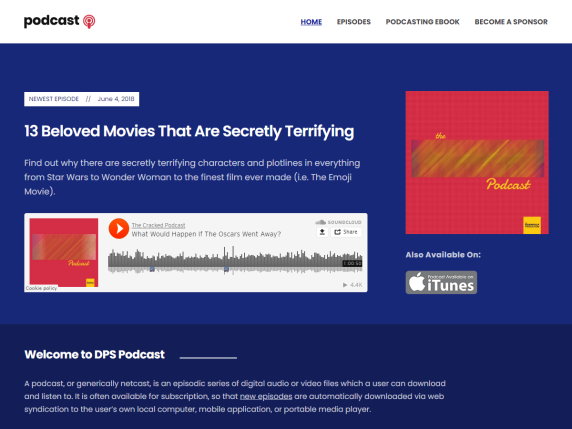 E-commerce
Sell your products online with a relevant theme that integrates with the most popular e-commerce plugins.
The free version of this theme will help you start selling your products immediately thanks to its compatibility with WooCommerce.
Features:
Integrates with WooCommerce and YITH WooCommerce Wishlist plugins
Integrates with page builders to make customization easy
Container layout options
Responsive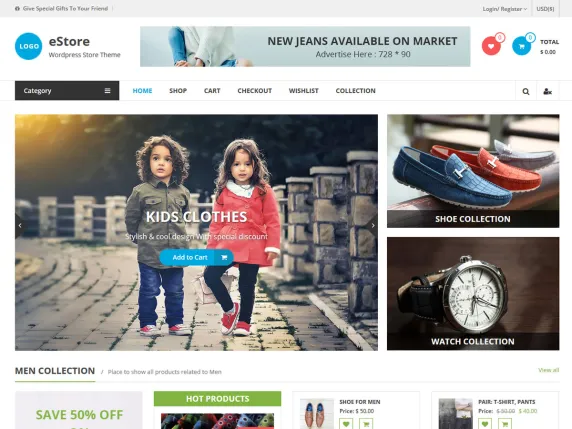 This theme is ideal to showcase your online e-commerce store. Boost your sales with this relevant theme.

Features:

Compatible with WooCommerce
Multiple sections to display your products
Unlimited colours and a multitude of fonts
Responsive design
SEO-optimised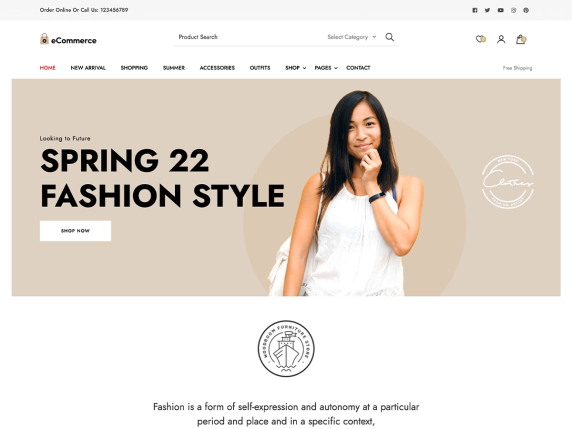 Build your website with a WordPress theme
There are thousands of awesome WordPress themes available online. Make sure to keep in mind the important criteria before making your choice.