What are the secrets of an effective SEO strategy in 2021?

Did you know that 60% of Internet users don't go further than the first three results when searching on Google? Your website probably won't get a lot of organic traffic if your content doesn't appear in the first results of search engines. In this post, we explain what are the essential SEO criteria for your website to get top search engine ranking in 2021.
Here are the seven secrets of an effective SEO strategy in 2021:

Content
Keywords
Links
Media
Voice search
Responsive design
Security
1) Content is king!
Even if Google regularly changes its algorithm, which can sometimes change the SEO game, some things remain the same. The content was and remains one of the keys to a successful SEO strategy. To have your pages appear as a top search result, it is essential to create quality content that answers the needs and questions of Internet users. Your content should be informative, educational and diverse. To do this, work on your content strategy to ensure the consistency of your pages.
But content is not everything. The form is also crucial to help robots in charge of indexing analyse your page. Pay attention to the Title tags of your page. Whether it is the main title content or the titles given to each of your paragraphs, they help structure your text and improve its SEO. Your readers will also thank you for providing them with readable and clear text.
Content visibility also implies social media. It is very likely that your potential customers all use at least one media, so it is important for your company to have its own presence. Create quality and engaging content to develop your community. Share links directing to your site's pages and interact with your subscribers, this will only increase traffic to your site and improve its SEO ranking.
2) The art of choosing your keywords
Don't fall into the classic trap of picking generic keywords. It is obvious that the more popular the keyword is, the more difficult it will be for you to rank high with it on search engines.
This is why it is recommended to work on your so-called "long-tail" keywords, typically comprising between 3 and 5 words.
Practical example:
Generic keyword: robot vacuum
For this generic keyword, Google announces over 94 million results. Imagine that you create a page promoting your robot vacuum. It will be very difficult for your page to get to the top of the results page by focusing on generic keywords. Your page will literally be drowned among millions of others.

Now, let's test a long-tail keyword for the same product: robot vacuum with mopping function.
The number of results for this keyword is reduced to less than 3 million.

By inserting a few long-tail keywords in the name of your page, in the titles of your article, in the content itself and in the meta description, your page will automatically be more targeted and will have a better chance of ranking high in the search engine results.
You don't know how to choose the keywords in question? While there obviously are tools with this function, it is also possible to do a simple search on Google or Amazon. Start typing your generic keyword and you will see which suggestions appear. This gives you a precise idea of what users are searching for.

However, be careful to use keywords sparingly and not to abuse them, you would be penalized by Google. Your content must remain consistent and read in a natural way. The keywords must therefore be inserted with the aim of supporting your content, and not becoming Google's best friend (or worst enemy, in that case).
3) The importance of links
Backlinks (links directing to your site) are essential for a higher ranking. These traffic-generating links send "link juice" to your page, allowing it to rank higher in search results. Search engine robots analyze the number of links pointing to a page in order to reference it. Basically, the more quality backlinks you have on your website, the more likely you are to rank high in search results.
A good way to get backlinks is to write guest articles for other websites. By publishing articles on websites more popular than yours, you advertise your website for free by including backlinks to your pages and you end up gaining new visitors.
4) The rise of media research
If you think content means text, you are wrong! Don't underestimate the importance of media research.
When people search on Google, they may also be interested in image or video results. Visual formats have the advantage of being more fun than text alone and are in high demand.
So, pay attention to your images and videos when integrating these visuals into your site.
Images
As far as images are concerned, here are a few tips to take into account to promote SEO:
Be careful with the name of your file, it must be descriptive and concise.
The alternative attribute of the HTML code is also essential since it allows you to add text that can be analyzed by search engines to determine the content of the image from its context.
Do not choose images that will slow down the loading time of your page, as this is one of the factors contributing to search engine rankings.
Videos
The statistics are clear: a video format leads to a 157% increase in organic traffic coming from search engines, compared to a simple text page. The conversion rate is also improved by 34%. It is therefore important for your company to put some effort into this popular format.
If you want to host your videos directly on your site to boost traffic, make sure you have enough storage space.
Some techniques to optimize your videos for SEO:
The titles of your videos should clearly indicate what the video is about. Opt for a descriptive title containing a keyword if you think it's relevant. Don't forget the meta tags.
If you are hosting your video on a third-party platform, don't overlook the description part.
Transcription helps search engine robots understand what your video is about. We, therefore, recommend that you take the time to add a transcript to your video.
Choose a thumbnail that will invite the visitor to click on your video. The thumbnail is the first thing that is obvious to the viewer, whether it's on YouTube or Google.
5) Don't forget about voice search
According to Google, voice search represented 20% of total searches in 2019. Comscore predicts that this number could rise to 50% by 2020. With the popularity of virtual assistants such as Apple Siri, Amazon Alexa and Google Assistant now well established, consider this a good reason to write your content keeping in mind the questions people are likely to ask their device, and the answers you can provide.
Have you heard of featured snippets? It's that space at the top of the Google results page that displays questions and answers.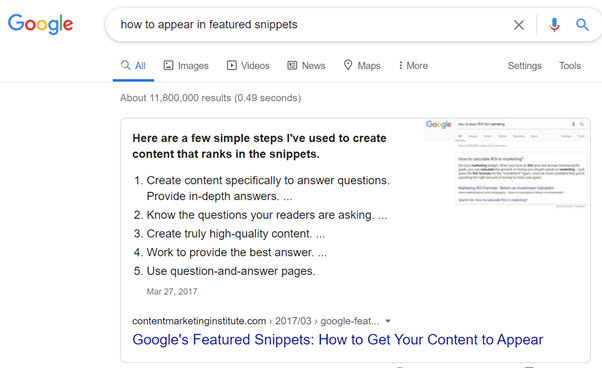 According to the Content Marketing Institute, they can drive up to 30% more organic traffic. Virtual assistants often answer questions asked by their owners using these snippets. Since these answers come from websites that are displayed in the first results, it is crucial to optimize your pages in order to have a chance to appear in the snippets. Keep in mind the who, what, where, when, how, how much and why technique to write your headlines. These are the most frequently used interrogative words by people using virtual search. Then, answer the question in your title in a clear and precise way.
6) Responsive design, a must
It's a fact: more than half of the visits coming from organic traffic are made using a mobile device, be it a smartphone or a tablet. Hence the need to adapt your site's interface to be responsive and user-friendly for mobile users. Smartphone and tablet optimization will allow your readers to view your pages as comfortably as if they were using a desktop, without having to zoom in and out or switch to landscape mode to view the entire page.
7) Don't neglect security
Don't forget to fine-tune the security of your website. An unsecured website will automatically lose positions in the search results.
Firstly, because Google's algorithm favours websites with an active SSL certificate, which allows HTTPS protocols. Secondly, because users won't stay on your site if they know it's not secure.
Conclusion
That's it for the seven main 2021 trends for an effective SEO strategy. Although can be quite time-consuming, a top SEO strategy will allow you to increase the visibility of your site, gain traffic and generate more sales, so be patient!