How to choose the perfect domain & extension for your website

What better way to kick off the new year than to go through top tips on how to come up with the right domain name and choose the best extension for your website? And we might have kept a bonus tutorial for the end, so keep on reading!
When searching for a domain for your website or your blog, choosing a good domain name can be quite a challenge. That's why we are offering you our top tips to pick the right domain extension and to avoid making a beginner's mistake when choosing your domain name. Finally, if you are a newcomer or need a little refresh, you'll find a quick and easy tutorial at the end of this article to help you find your way through our website and register a domain in no time.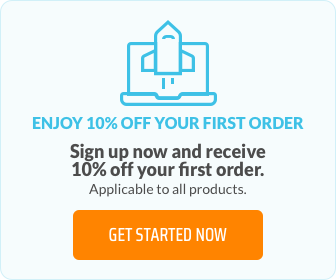 1. Choose a memorable domain name
Your domain name is essential and it should not be chosen randomly. It must be memorable and represent your company, be related to your industry and allow your visitors to recognize you easily. To choose the right domain name, we advise you to integrate the name of your company.
Example: for a place offering plant-based food -> wildfoodcafe.com
It is preferable to avoid a domain name composed only of generic keywords, otherwise, your referencing will be penalized by search engines.
2. Pick a simple name
You don't want to register a domain name that's difficult to remember, difficult to spell or too long to type for Internet users. This reduces the possibility of typos and the chances of losing traffic. In addition, a short domain will be easier to print on your business card. Bingo!
Numbers and hyphens are also to be avoided as they can easily lead to confusion. Ideally, you should be able to pronounce your domain name without raising questions about the spelling, which will make word of mouth easier.
If the name of your company itself is long, consider making it shorter. Example: National History Museum -> nhm.ac.uk
3. Make sure it isn't too specific
Just because your business is currently specialising in a niche field doesn't mean that you won't expand your business in the future. For this reason, be careful not to pick a domain name that's too restricted, but rather one that leaves room for new products or services.
4. Remember to buy similar domains
When you buy a domain, it is advisable to also register domains with similar spelling or with a different extension. There are two reasons for this.
-You want to redirect these additional domains to your main domain, in case a particularly clumsy Internet users make a mistake when typing your name or extension in their web browser.
-You should protect your brand by reserving domains that could lead your customers to be directed to other websites with similar names without being aware of it. For example, if you type google.net in your browser, you will be automatically redirected to google.com.
5. Check for trademark infringement
Registering a domain name similar to that of a trademark may seem clever. You think you'll benefit from the traffic of the trademark in question, but you'll get into legal trouble before you know. Before buying a domain name, it is your responsibility to check that there are no conflicts of interest.
6. Enter correct registration information
When you register a domain name, you must provide contact information. They are then published in the WHOIS database, which is visible to everyone.
If your contact details are wrong and your domain name is about to expire, the alert email will not reach you. Oops, you've just lost your domain! It is not easy to recover a lost domain name. Add to this the fact that your website or blog will no longer be accessible. And finally, someone else could register your domain name.
If you ask someone else in the company to register the domain, make sure they use the company name and not their own. If they change jobs, you could risk losing your domain name.
7. Don't give up on a "domain name taken"
If you see that the domain you were intending on registering is already taken, don't give up! The owner of the domain name might consider selling. How much are you prepared to pay? Check out the history of the domain name and ask questions.
How to choose my domain extension?
Once you've understood how to choose the right domain name, you need to understand what are the different types of domain extensions (TLDs) available (apart from the boring and saturated generic TLDs such as .COM). Let's take a look!
1. New generic TLDs
2. Community-based TLDs
3. Geographic TLDs
4. Country code TLDs
1. Establish your expertise with a new generic TLD
Successful small businesses communicate what they do, how they do it, and why they should be trusted. They understand that customers want to know, right from the start, what value they will deliver.
A carefully selected new gTLD will emphasise one or all of these concerns, enabling you to establish your credibility and expertise within a particular niche market. And while some are more restricted and costly than others, many like .FINANCE, .TECH, and .YOGA, for example, won't break the bank and are open to anyone.
By choosing the right new gTLD, you will be able to convey a clear, unambiguous message to the world: we are the go-to business for all things related to a specific field or area of interest. Let your new gTLD give an intuitive understanding of your site's purpose and authority.
2. Target specific customer groups with a community-based TLD
No matter what your product or service is, speaking directly to unique markets is a smart way to establish your online presence. If you can make clear from the start that you understand the specific needs, wants, and concerns of a community, you are more likely to generate interest and trust from that community.
If a small business registers a specific community-based extension like .GAY, .LGBT, .EDUCATION, or .HIPHOP, they assure potential customers that they not only understand but also share the values and interests of the targeted community. And, even if there isn't a dedicated domain for the community your business wishes to reach, other domains like .COMMUNITY, .GROUP and .CLUB are flexible enough that they can be repurposed to target any consumer group.
To highlight new products, services or promos, use a catchy alternative domain extension such as .DEALS or .PROMO for a new webpage that links to your business's primary website.
3. Assert your local identity with a geographic TLD
Geographic extensions help small businesses establish their local presence and connect with visitors seeking a shopping experience that is a bit more unique, an alternative to the same-old same-old one-size-fits all corporate approach to business.
Savvy small businesses understand that many shoppers prefer to "shop local" because they prefer the individualised and authentic experience that only a local small business can deliver.
A small business owner who registers a .LONDON or .PARIS TLD will undoubtedly capitalise on their own unique and recognisable locations. In other words, geographic TLDs offer small businesses an important branding tool, one which enables them to strategically affiliate themselves with a particular location, a location with its own distinct identity.
4. Target a country's audience with a country-code TLD
One way to successfully connect with the customers you're looking for is by registering a country-specific domain extension (ccTLD), an extension that indicates to customers that you share their language, their currency, and their time zone.
ccTLDs have a strong impact on SEO as search engines use local IP addresses when generating search results! A possible downside of ccTLDs is their price, often higher than that of gTLDs.
How to find a domain name?
Open an account on the EuroDNS homepage by clicking on MY ACCOUNT, in the top right corner. Create your login, password, and contact details.


Click DOMAIN NAMES in the top menu, then DOMAIN NAME SEARCH in the sub-menu. Enter the domain name you'd like to search for, along with the extension and click SEARCH.


Yay, it's available! Underneath, there'll be a list of other extensions you could register.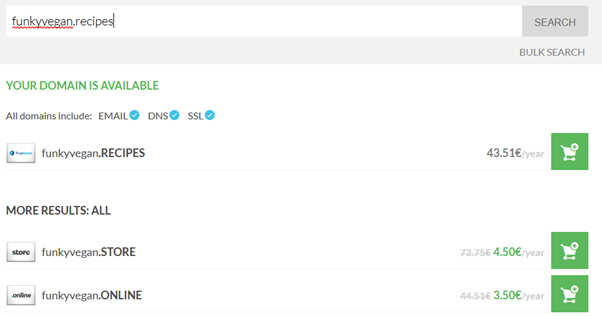 Click the green shopping cart, then NEXT STEP. On this page, you can enable domain privacy. We recommend it if you want to keep your contact details hidden from fraudsters and identity thieves.
The following page, Additional Services, is where you can sign up for our Web Hosting Services. Plus, you can claim your free Instant SSL certificate.
If you'd like to chat about your domain name, what extension to choose, or any of our additional services, please get in touch with our team.
Photo by Javier Allegue Barros on Unsplash