Ultimate domain name guide

A complete Domain Name guide, suitable for both small business owners who want to launch their first website and learn more about domains, and for anyone thinking about building a personal website. Learn everything about domains and extensions, how to choose your domain name and where to register it.
In this blog article, we're sharing all the information you need to understand what domains are and how they work.
In today's digital age, it's crucial for businesses to have a strong online presence as the internet is often the first source of information about the products and services a business offers.
Your domain name is a key element to making your online presence possible and successful. For this reason, it's important you learn as much as possible about domains.
What is a Domain Name?
A domain name is essentially an address for your website.
Websites have a unique address assigned called Internet Protocol (IP). An IP address is composed of a string of numbers separated by periods.
IP address example: 192.168.12.134.
Unfortunately, IP addresses aren't easy for humans to remember, hence why domains were invented. Each IP address is linked to a domain, a name easy to remember and type in your browser.
A domain is composed as follows: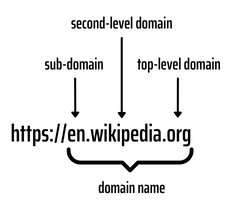 The part to the left of the first dot is called a subdomain, a domain that is part of the main domain.
The middle part is the second-level domain, the string of text chosen by the Registrant to represent their brand. The part located after the second dot is called the top-level domain, or domain extension.
How Do Domains Work?
Once a user enters a domain into a browser, the request will be sent to the Domain Name System (DNS) servers.
The DNS will then search for the IP address of the website's hosting server to make it accessible.
What is a Domain Extension?
Domain extensions are also called a Top-Level Domains (TLDs). From the six original domain extensions created in 1984, thousands of new extensions were set up over the years to serve different needs.
What are the different types of domain extensions?
ICANN officially recognises three main types of domain extensions:
But there are also some non-official sub-categories of TLDs that fall under the gTLD type, such as:
Geo TLDs
Sponsored TLDs
Commmunity-based TLDs
Brand TLDs
Original TLDs
In 1984, the Internet Assigned Numbers Authority (IANA) created the first six domain extensions: .COM, .EDU, .GOV, .MIL, .ORG and .NET.
These extensions are now considered sponsored TLDs and are restricted to specific registrants.
ccTLDs
Shortly after, new extensions such as .CO and .US were created, thus introducing the category of Country-Code Top-Level domains.
ccTLDs are domain extensions dedicated to a particular country or territory, indicating the region or language that the website is relevant for. A number of those extensions present some specific registration requirements, such as a local presence.
ccTLDs are made of two letters of the Latin alphabet, some exceptions being ccTLDs using an internationalised ccTLD with characters from a different alphabet.
e.g.: China's ccTLD are .CN and .中国
As of this day, there are over 200 ccTLDs, some of which can also be repurposed as gTLDs.
e.g.: .GG is a ccTLD dedicated to the small British island of Guernsey, but it is mostly being used as a gTLD by gaming websites as it recalls the expression "Good Game", used by video game players.
gTLDs & new gTLDs
Generic Top-Level domains are made of at least three characters. Their particularity is that they are open for registration to everyone, with no special registration conditions.
Since September 1998, the Internet Corporation for Assigned Names and Numbers (ICANN) has been managing domain names and deciding on the creation of new TLDs.
The New gTLD programme is an initiative coordinated by the ICANN. The goal of the programme is to expand the domain name system. Via the introduction of new extensions, the program aims to enhance innovation, competition and consumer choice.
Following ICANN's creation, two application rounds for new gTLDs took place, in 2000 and 2004. They resulted in the creation of 15 new domain extensions:
.AERO
.BIZ
.COOP
.INFO
.MUSEUM
.NAME
.PRO
.ASIA
.CAT
.JOBS
.MOBI
.POST
.TEL
.XXX
.TRAVEL
Between 2005 and 2007, a policy was developed to establish a series of principles and recommendations on which TLDs should be part of the programme.
In 2008, a comprehensive Applicant Guidebook was made available, explaining how ICANN implements the Generic Names Supporting Organization (GNSO) policy recommendations and what are the requirements for the applicants.
Another version of the Guidebook was released in 2011. The same year, the ICANN board voted the end of most restrictions regarding the creation of gTLDs, thus opening the door to hundreds of new gTLDs.
In 2012, 1930 gTLD applications were received, resulting in the creation of hundreds of new gTLDs.
There are currently over 1,200 gTLDs, with new ones being launched on a regular basis.
Sponsored TLDs
Sponsored TLDs or sTLDs are a sub-category of gTLDs. They are specialised TLDs with a sponsor representing the specific community affected by the TLD.
Sponsors can represent a specific ethnic community, professional group, or geographical location. They are in charge of developing policies for the TLD they represent and have to ensure its smooth operation.
The registration of a sponsored TLD is subject to special conditions.
There are currently 15 sponsored TLDs:
.AERO
.ASIA
.CAT
.COOP
.EDU
.GOV
.INT
.JOBS
.MIL
.MOBI
.MUSEUM
.POST
.TEL
.TRAVEL
.XXX
GeoTLDs
Geographic Top-Level Domains belong to the generic TLDs category. They refer to domain extensions associated to a geographical, geopolitical, ethnic, linguistic or cultural community.
e.g.: .LONDON, .BCN (for Barcelona), .PARIS, . москва (for Moscow)
The majority of GeoTLDs are cities.
Community-based TLDs
Community-based TLDs are domain extensions that fall under the gTLD programme. They are dedicated to communities that wish to operate their own TLD registry.
Examples of community-based TLDs include:
.SCOT (representing the Scottish community)
.GAY
.HIPHOP
Brand TLDs
Brand TLDs are generic TLDs that provide branded corporations the opportunity to register their corporate name as their website's TLD.
e.g.: brands.google
Registering a brand TLD can be considered as a marketing tactic for companies, allowing for shorter domains, better brand awareness and higher protection against trademark abuse.
How Should I Choose my Domain Name?
For a refresher about how to choose your domain name, consult our dedicated blog post by clicking here.
Where Can I Buy my Domain?
You can buy domains from a Registrar.
The entity (be it an individual, business or organisation) looking to buy a domain is called a Registrant.
Difference Between Registries and Registrars
Registry
Registries are the organisations in charge of the general administration of TLD domains and subdomains under their authority. They manage registrations, settings, zone files, and provide registrants with all sorts of information.
Registrar
Once a registrant has found their domain, they submit their application to a domain registrar. The registrar is the company that manages the reservation of domain names. As an example, EuroDNS is your registrar.
The registrar takes care of the initial registrations process, but also provides support with domain renewal or transfer. They are in charge of providing technical support to registrants experiencing issues related to their domain.
There is communication between the registrar and the registry as the registry provides guidance to registries gives them authority to add, alter, or delete information.
No registrar sells all domain extensions, hence why you may have to check more than one registrar to find your preferred TLD.
Which Registrar Should I Choose?
There are several criteria you should keep in mind to choose the best registrar for your needs:
Price – All registrars don't apply the same prices to the same TLD. Depending on your budget, price could be the main criteria for choosing your domain provider.
Renewal price – When you register a domain, you do so for a limited period of time. Before it expires, you will want to renew its validity. The renewal price can be higher than the first registration price, especially if you benefitted from a promotion. So pay attention to renewal conditions.
Transfer policy – It is possible to transfer your domains from one registrar to another (in or out), but check the policies before deciding on a registrar. Make sure if there are any applicable transfer fees and how difficult the procedure seems to be.
Customer support – Customer support is one of the most important criteria to pay attention to. Depending on your needs, you may need support in a language that's not necessarily supported. If you live in a different time zone to your registrar, you should also check their support opening times.
Related products and services – Once you have your domain, you will need other related products for your website, such as a hosting solution, or an SSL solution. Some registrars include extra services for no extra fee along with their domains, so anticipate your needs before buying.
What are the next steps in getting your website online?
Once you have registered your domain name, the next step to getting your website online should be to acquire a hosting solution, an SSL certificate and a DNS.
Website Hosting
Hosting is the step that follows the choice of your domain name.
While your website can be considered your house, the place that your clients and potential talents go to, your domain is the address where your website is registered.
But for your website to function, it needs a land to sit on. Your hosting solution is your land, offering you a space on a physical server to store all your website's files and data.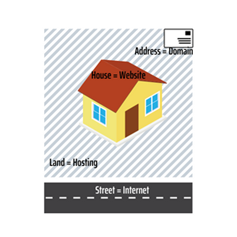 Without hosting, you cannot publish your website on the Internet, unless you have your WordPress on WordPress.com, in which case you don't need a hosting plan.
SSL Certificate
An SSL certificate is a product that protects information you collect from your customers, such as credit card details, logins and passwords.
Websites protected by an SSL certificate benefit from the lock icon in the URL bar, indicating to visitors that their website is protected against phishing and can be trusted.
Some registrars offer a free basic SSL certificate for every new domain registration, but it's a wise idea to check for more powerful SSL certificates that offer better warranty and protection.
For companies with several registered domains, opting for a multi-domain SSL certificate guarantees protection on up to 3 domains or subdomains, with only one subscription. It's easier to manager, and obviously cheaper than having several SSL products.
DNS Services
DNS stands for Domain Name System. It's the system that translates domain names into IP addresses.
Getting a DNS service is a good way to boost your website's performance by routing your traffic to the nearest available server on the network. With a DNS product, your IP address will be allowed to apply to many servers, meaning that a number of DNS servers can respond to DNS queries.
Your website's risk of downtime will be reduced significantly by not having a single point of failure. Security will also be enhanced, and the risk of DDoS and hack attacks reduced.
Email
Matching your company name with your email address is a way of earning trust and presenting yourself in a more professional manner to potential clients and partners.
A good email service can improve communication and collaboration in your company, like our professional plans from OX that include document sharing and other benefits such as shared calendar, shared mailboxes, integration with programmes such as Skype for Business, etc.
Conclusion
We hope you found this article helpful as a first introduction (or reminder) to domain names. Don't hesitate to download our Domain Name Complete Guide for even more info!