How to write a business plan step by step

You have a solid business idea and you think you're ready to take it to the market? Great, but don't forget to first prepare your business plan. Learning how to write a proper business plan takes time…and knowledge. Read this!
What's a business plan and why do you need it?
A business plan is a document detailing a company's goals and how these goals are going to be achieved.
The interest of having a business plan written is to attract talents and investors by giving a clear picture of your company's goals, resources and strategies.
And because starting a business requires a lot of preparation, drafting a business plan will actually help you go through your business road map.
Let's recap, the main purposes of a business plan are to:
Define business goals. Answers the questions what, who, why and how.
Attract investors, and convince them of why your business is a good choice of investment.
Look convincing to banks to secure a loan more easily.
Attract the best executives with a clear presentation of your company and your objectives.
Keep track of how your business is doing against your plans.
Looking at statistics, 70% of the businesses that survive after 5 years follow a strategic business plan (Nazar, 2013). The reasons for this number are simple: having a business plan suggests that you have established a long-term strategy for your business.
Your business plan will help you identify your strengths and weaknesses, and compensate for your weaknesses by capitalising on your strengths.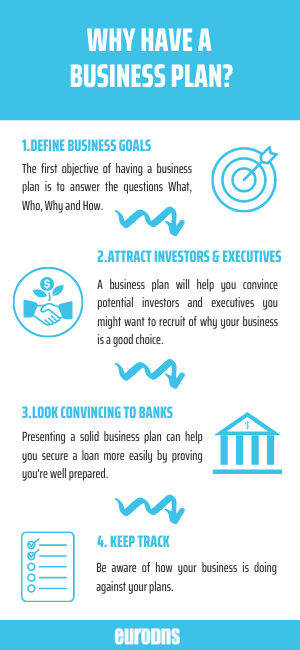 Build your business plan
There are usually two types of recognised business plans:
Traditional business plan
Simple business plan
What is a traditional business plan and how to write it?
A traditional business plan is a very detailed plan containing information such as a company summary and detailed market analysis.
You'll find countless examples of traditional business plans online, but keep in mind that the best plans are the ones that are custom-made for your business.
Your traditional business plan should include all the relevant information below:
Executive summary: what the company does, what is its mission, information about the leadership, operations, and workforce. You may include charts showing the predicted sales, margins and profits for the upcoming three years.
Company summary: business name, location, legal structure, management, history, etc.
Offer: what are the products and services the company offers, pricing strategy, benefits and features. If relevant, technology info, patents.
Market analysis: market segmentation, competitors and industry information, expected demand for products and services, distribution patterns.
Marketing strategy: This section describes how the company will reach and keep its customers. Distribution channels must be defined in this section. Detail advertising and marketing campaign plans and the media to be used.
Financial strategy: Budget, projected costs, projected profit and loss, cash flow, description of potential investors. Financial statements, balance sheets, and other financial information may be included for established businesses. Don't hesitate to include tables and graphs.
Appendix of documents supporting the previous points.
Preparing a written document with all these sections will not only serve to convince potential investors but also yourself. You might realise during the process that there are some gaps to be filled in your strategies, or that you could capitalise more on certain aspects.
What is a simple business plan and how to write it?
Entrepreneur Ash Maurya developed this type of business plan in 2010. Also called a lean canvas, it's a very reduced type of business plan that typically fits into one page and is therefore particularly adapted to start-ups.
It comprises only nine sections presenting high-level information and metrics of the business, allowing you to present your business into its key assumptions.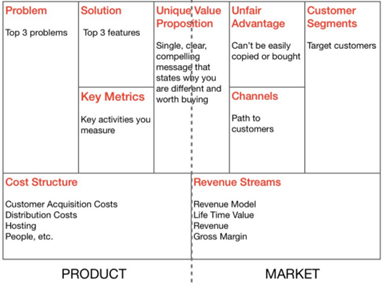 Source: Running Lean
Here are the nine sections presented in a lean canvas:
Problem: what customer problem are you trying to solve?
Solution: what is the solution you are offering to solve the problem? What are the benefits and features of the products or services you will offer?
Key metrics: which metrics will you use to monitor performance?
Unique proposition: why is your solution unique? What makes you stand out from the competition?
Unfair advantage: your competitive advantage that cannot be easily copied.
Channels: on which channels are you going to reach your customers? Emails, website, social media, podcasts, etc.
Customer segments: who is your audience going to be? Who has the problem you are trying to solve?
Cost structure: how much is it going to cost you to start this business? Take everything into account.

Revenue streams: how do you plan on making money?
This type of business plan is adapted to those who wish to communicate their ideas quickly, in the glimpse of an eye.
Conclusion
Drafting a business plan is a step of the business creation process that you cannot ignore: the survival of your business depends on it! It can be a very useful tool to guide you in the business creation process, as well as to present to third parties.