How to promote your website?

You've finally completed your own website. Excellent work! Of course, the hard work does not stop there – now that your website is up and running, you need to consider how to promote it.
Every day, new websites are launched, and your website and ideas deserve to stand out among all of the internet noise. You'll need to fight really hard to get your brand out there.
But what happens if you're on a tight budget?
You're in for a treat! It's very possible to effectively promote your new website on a budget. In this post, we'll discuss a few things you can do right now to promote your website.
How to promote your website
Online communities
You're probably a member of at least one online community, whether it's a Facebook or LinkedIn group centred on a common interest or value.
The great thing about online communities and media aggregators is that they are simple to use, can provide a link back to your website, and have the potential to be shared if your posts include useful content.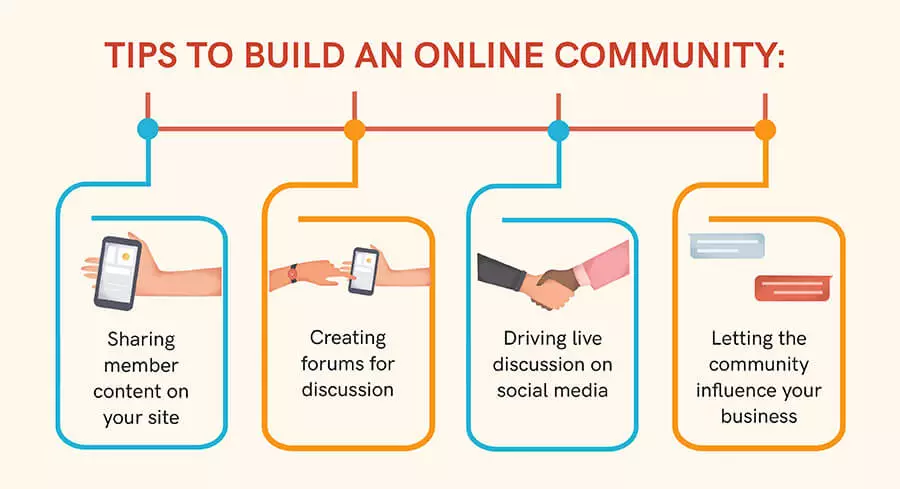 Image source
Some online communities may also decide to host a web conference call on occasion to solve problems and connect different people or business entities.
Blogging
Incorporate relevant, original blog content into your website. This is an excellent place to include SEO-friendly keywords and build a following of loyal readers who will return for more. Include images, graphics and videos in order to encourage readers to share their favourite posts.
And, in addition to creating new content, make sure to refresh and update old blog posts to increase readership and extend the life of your content. Editing your old posts also keeps them from increasing your website's bounce rate. Readers will be less likely to click away if you include relevant information, images, and links.
After you've mastered your own blog, look to others in your niche market for inspiration. Look for blogs that accept guest blogging submissions. Examine their posts, review their submission guidelines, and prepare a pitch to send over.
Using a pitch maker can also help you create interactive digital publications with a clever page turn effect and eye-catching visuals that your clients, partners, and investors will appreciate. Then iIf your pitch is accepted, include a link to your website in your bio to direct traffic to your site.
Micro-influencers
Perhaps your company isn't big enough for a celebrity endorsement. But what about becoming a "mini-celebrity" in your field? Micro-influencers, as opposed to celebrities, experts, or public figures, are social media users.
They are people who work or specialise in a specific industry and frequently share social media content about their interests. Micro-influencers have fewer followers than traditional "influencers," typically in the thousands or tens of thousands, but they have highly engaged audiences.
Micro-influencers typically charge low fees for sponsored posts and may even promote your brand for free if you send product samples.
Use expert sources
Contact and interview experts in your field to give your content an authoritative boost. If your sources include well-known names with large followings, you may attract their fans to your site. When you publish, notify your sources, and you might get a digital shoutout.
SEO
When you need an answer to a question or a solution to a problem, your first stop should be Google. If you know what you're doing, Google searches can be a powerful source of website traffic.
When your potential customers perform a Google search, they are unlikely to look past the first two or three results. So your goal is to have keyword searches related to your website appear near the top of the results. This is where search engine optimisation (also known as SEO strategy) comes in.
There are usually two major factors to consider when it comes to your website's SEO: on-page SEO and off-page SEO.
On-page SEO is, as the name implies, everything visible on your website. This includes your website copy, images, videos, meta descriptions, responsive design, and even the structure of your website.
Off-page SEO is what happens behind the scenes. This section covers aspects of your website such as who is linking to it, how authoritative it is, and how engaged readers are with it.
Although there are many factors that affect the ranking of the website, the most common ones are:
1. Optimising Images
Image optimisation will make your site more appealing to search engines. This can be accomplished by including image alt tags, which are descriptions that clearly tell search engine crawlers what each image on your site depicts. You can also compress your images before uploading them, which reduces file size and allows your pages to load faster.
2. Customising page titles and meta descriptions
The "snippet" you see in Google search results is made up of page titles and meta descriptions:

The purple text link is the title, and the text under is the meta description
Your titles and descriptions should be brief and relevant – they are the first impressions many people will have of your page, and you want them to entice potential visitors! The shorter and more concise your title, the better!
Also aim to include a keyword in your page titles as well. A keyword is a word or phrase that people search for on Google and for which you want your page to rank.
For example, if you want to rank for the keyword "quote systems," then you'll need to include that phrase in your page title, e.g. "Affordable Quote Systems for Small Businesses."
3. Simplifying URLs
Short and sweet URLs are fantastic for SEO. It aids search engines and users in understanding what the page is about. We also recommend using hyphens to separate the words in your URL to make it easier to read.
Email marketing
If you want a tried-and-true way to promote directly to your customers, email marketing is an excellent option. Once your website is up and running, it's so simple to launch an email marketing campaign, and the great thing is many email marketing services are available for free or at a low cost.
Users don't even have to visit your website to sign up for your email newsletter, which means you can start promoting your new website before it even launches.
All you need to do is compile an email list of all potential customers and start sharing relevant content — newsletters, promotions, discounts, and so on. This can even bring back previous visitors.
Promote on social media
You can raise awareness of your site among the billions of people who use platforms like Instagram, YouTube, and Twitter by building a following on those platforms.
However, trying to gain visibility on platforms with so many other users doing the same can be overwhelming. Finding and following other pages in your niche is the best way to promote your website on social media.
For example, if you run a website promoting call recording software, follow industry experts you admire or users working on projects similar to yours. Once you've followed these pages, make sure you interact with their posts by leaving a supportive comment, reposting what you like, and asking questions.
This is an excellent way to gain exposure to the fans of other experts, and the chances are that they will be interested in what you have to offer. The same is true for any other type of website!
Google my business (GMB)
Creating a GMB profile is free and simple, and it helps people find your business when they conduct location-based searches.
With a business profile, you can link your new website to other information about your company, such as contact information, opening hours, and location, making it easier for customers to find your company in search engine results. Registering with Google's business directory can also help you rank higher in search results.
In addition, Google also provides a variety of free and paid products to help business owners run successful marketing campaigns. They have some useful tools to help you with everything from making your website more usable and tracking site traffic to performing Search Engine Optimization (SEO).
Wrapping up your website promotion
Hooray! You now understand how to promote a website. We've shown you eight different strategies for driving clicks, eyes, and customers to your new website.
Even if you're on a budget, there have never been more ways to promote your website. The barrier to increasing website traffic has never been lower, thanks to a plethora of other digital marketing courses and free channels like social media and SEO.
Although some of these suggestions will be more appropriate for some websites than others, make sure you're exploring multiple promotional avenues to get the most out of each method of promotion.
Author bio:
Tanhaz Kamaly - Partnership Executive, UK, Dialpad UK
Tanhaz Kamaly is a Partnership Executive at Dialpad, a modern cloud-hosted business communications platform that turns conversations into the best opportunities, both for businesses and clients. Check out his LinkedIn profile.