How to build an email marketing list for your small business

According to Litmus's State of Email Survey, email marketing provides a 36:1 ROI. But this is only possible with a solid email list and strategy. The power of an email list is mostly in the quality of the email subscribers. Read on to learn how you can build a quality email marketing list.
Select ideal email marketing software
An email marketing solution should be the first thing email marketers invest in. Different software offers different email marketing services, resources, and tools essential to running successful email marketing campaigns.
A good email marketing solution offers drag-and-drop email builders, optimised email templates, powerful email analytics, etc. Some tools also provide competitive plans that make sending emails in bulk easy and affordable, even for smaller businesses.
Moreover, they offer the following features that help you build an email list and ensure business growth:
Possibility of third party integration
Subscriber list segmentation and personalisation
A/B testing to optimise your click-through rate, list growth rate, and average conversion rate.
An email marketing software that will help you build an effective email list will not come cheap. However, just because building an email marketing list is time-consuming and costly doesn't mean you should buy an email list instead. That's one of the biggest email marketing mistakes you could make.
It's a bad idea for many reasons. For one, you'll be a stranger to the email list since the subscribers didn't sign up on your website. That makes it harder to run successful email marketing campaigns.
Second, it's possible that more people bought the same list. That increases the risk of having your emails and email addresses marked as spam. This could lead to your email service provider shutting your account. It's simply not worth it.
Add email signatures redirecting to your opt-in page
An email signature provides a personal touch to your email content, making it an effective list-building tool for email marketers when linked to your email opt-in page. There are a couple of designs you can work with, but here is a good example that would help build an email marketing list.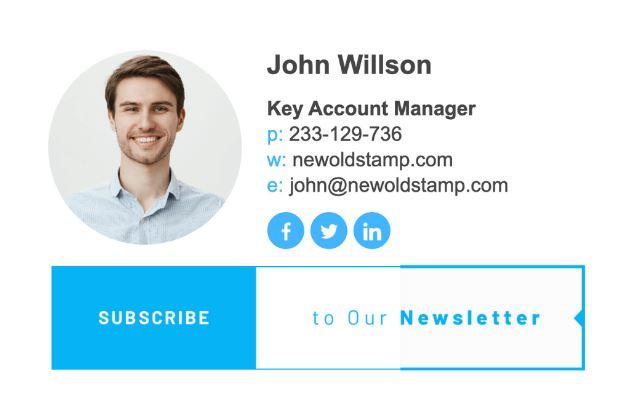 Use a two-step process in your email opt-in form to build a healthy email list. Through this process, you'll get email signups from people genuinely interested in your emails.

Run contests/ giveaways
People love competition and winning gifts. Hence, giveaways and contests are powerful list-building and email marketing strategies. They'll help you grow your email list, cultivate customer loyalty and promote customer retention.
With the promise of a gift, most people are willing to give you their email addresses. They are also more likely to consent to receive your email newsletter and updates so they do not miss out on future giveaways and contests.
Here is an example of Buffer's lifetime plan giveaway that increased email sign-up: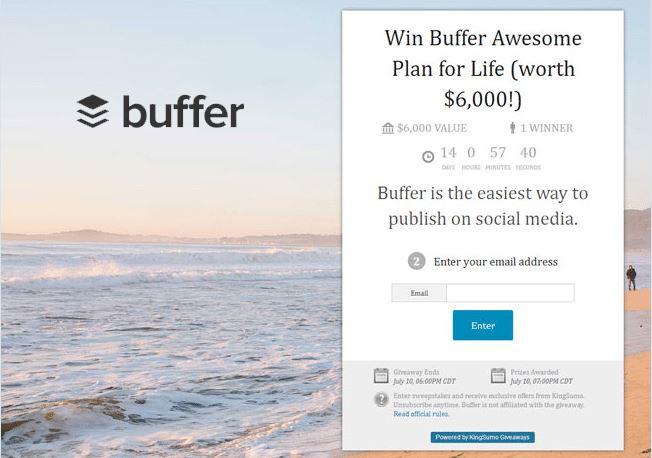 However, with giveaways and contests, you need to ensure the prizes are related to your niche and attract your desired audience. For instance, if you offer digital marketing services, your gift can be free consultation (worth thousands of dollars) for a certain period. You could also give away a valuable book or guide: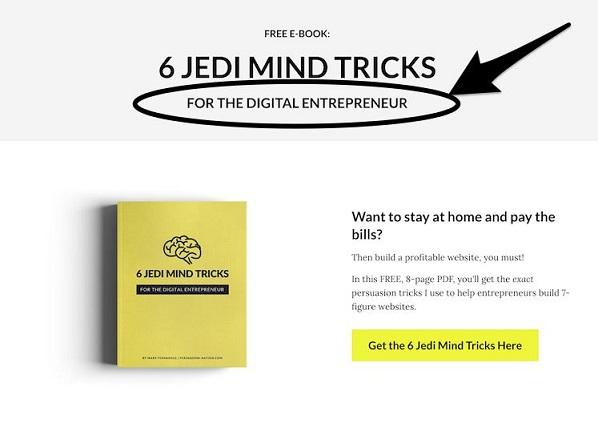 The contest or giveaway incentivises more people to sign up. This targeted approach also ensures people who hit the subscribe button are quality leads you can convert into customers. Otherwise, you will build an email marketing list of people who find your email newsletter and updates annoying.

Start a referral programme
Turning current customers into brand ambassadors is one of the best investments a company can make. It can also be a powerful tool when building an email marketing list. Your customers will gladly refer your products or services to others if your services are good.
Now, imagine if you reward your current subscribers for giving social proof. It will be a win-win situation. Your clients get exclusive offers or discounts, and you gain more email subscribers.
Want to know how powerful referral programmes can be for building email lists? Read about the story of Morning Brew- how the newsletter grew to 1.5 million subscribers with the help of an ingenious referral programme.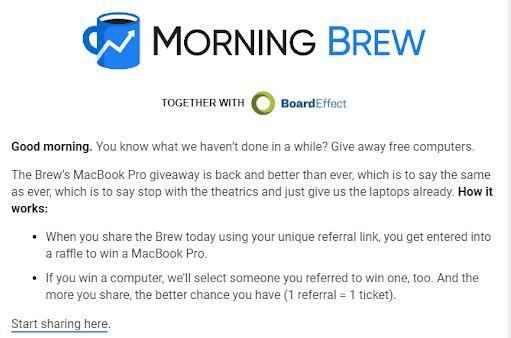 You can use a free referral programme software solution to set up the programme on your website. Make it easy and worthwhile for your subscribers to tell their friends about your newsletters, and they won't hesitate to spread the word.
Offer free shipping/discounts
Most shoppers are usually willing to purchase a product from you until they see the price or the high shipping fees at the end of the checkout process. At that point, the majority will abandon their carts or bounce from your site.
Using free shipping or discounts as lead magnets is a great way to stop potential customers from dropping off your funnel. The offer could compel them to trade their email addresses for the discount. This allows you to close the sale. On top of that, it helps you grow your email list where you can target the customer with other products.
Here is an example of an offer by Ararose.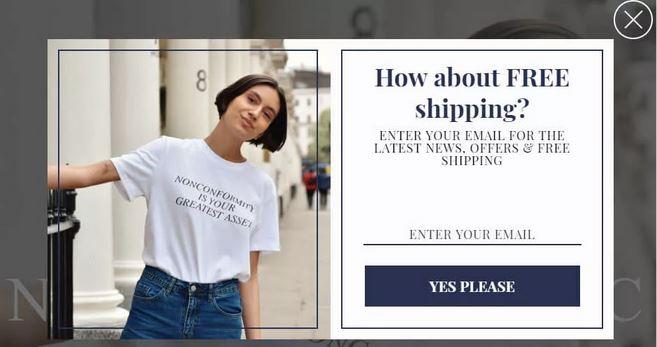 You can easily use an exit-intent popup to serve the discount or free shipping offer. And make sure the signup form is as simple as possible. The above popup requires the visitor to provide their email address only, for example.
Wrapping Up
Email marketing remains one of the most crucial strategies to reach prospective audiences, gain their attention and convert them into customers. But for it to serve you well, you need to build an email marketing list with quality email addresses.
You've learned about the various email list-building strategies from this article. Select good email software, link email signatures to your opt-in page, create a referral programme, run contests and giveaways, and offer free shipping and discounts.
Follow the strategies and start building an email marketing list to grow your leads and conversion rates today!
Author bio
David Campbell is a digital marketing specialist at Ramp Ventures. He helps manage the content marketing team at Right Inbox. When he's not working, he enjoys travelling and trying to learn Spanish.