How to build a sales funnel to grow your business

What is a sales funnel, also known as a marketing funnel, conversion funnel, or purchase funnel and how can you build one to grow your business? We tell you all about the four main stages of the funnel.

What is a sales funnel?
A sales funnel represents each step that a person has to take to become a customer. It applies to every business, whether it's a brick-and-mortar business or an online one.
Understanding how a sales funnel works can help you figure out where some of your prospects drop out of the sales process and don't convert.
It's usually divided into four steps:
Awareness: this stage is the moment when a person first hears of your business and becomes a prospect. They might have heard of you through their friends, social media, or Google search.
The potential customer has identified a problem and is looking for a solution, for example, going through the website of your company. It's the stage where your content marketing is supposed to engage the visitor.
Interest: at this stage of the funnel, the customer engages in research, asking the organisation for more information, and comparing it to competitors' offers to evaluate their options.
At this stage, the customer can become a lead if your content is helpful enough, without pushing your products or services.
Decision: at this step of the funnel, the prospect shows increasing interest and is ready to buy, considering where is the best option.
Sale offers may happen at this stage of the process. It's the moment to make your best offer and be more attractive than your competitors. Make a 2 for 1 offer, offer free shipping or a discount code, etc.

Action: the customer has decided to buy the product or service. The company now has to turn the customer into a returning one.
Customer retention is essential to keep on making more sales in the future.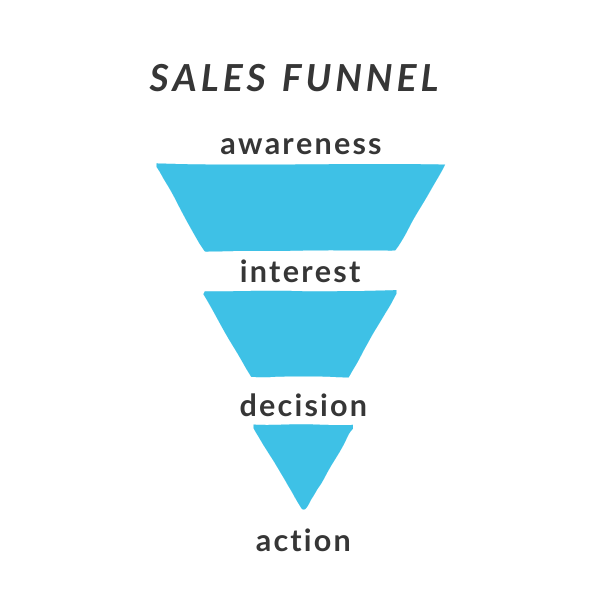 How to build a sales funnel for your business?
Have a landing page
A landing page will be the first and maybe only way to attract potential customers. Whether they've been redirected from an ad or a link on social media, your landing page should be engaging.
Clearly explain the benefits of your product or service and how it can help solve your prospect's problem.
Create a subscription form
Create a signup form to gather users' personal information, such as name and email.
Forms can help you reach users and start engaging with them more easily.
For a user to be enticed to share their email, you must offer them something in return. It could be a free e-book or a whitepaper.
Stay in touch
Once you manage to get your prospect's email address, it's important to nurture your prospect with content to inform them about your offering.
That is where automating your emails can come in handy. Create automated welcome emails, newsletters and reminders to complete a purchase. Each email will be sent at the appropriate time, based on user behaviour.
Make an offer they can't refuse
Once the prospect understands how you can help them solve their issues, close the deal by offering them something they can't refuse: a free trial, a demo, or a promo code. Anything that will convince them to buy your product.
Continue the relationship
If your prospect has become a customer, it's time to continue the relationship. Share more information about your products and services, about new features or adjacent services that you offer.
If the prospect still hasn't made any purchase, send them regular nurturing emails to try and convert them.
Continually improve your sales funnel
Even once a customer has reached the bottom of the sales funnel, you should still try to continually improve your funnel. There are many ways you can do that:
Use stronger CTAs
Improve your content, making it more educational and/or convincing
Use social media to stand out and capture prospects' attention
Share reviews, customer testimonials and stories to gain trust
Simplify your buying process (easy checkout process, extra fees, payment options, etc.)
Be reachable, and not only by phone. Social media and chats are essential.
Example of a good sales funnel
Netflix
Netflix's sales funnel is one of the reasons for its success.

When visiting the homepage, users know what to expect from the service, with "unlimited movies, TV shows".


Users trust the brand as they know they can cancel anytime, which is a huge bonus.
All you have to do to get started is enter your email, simple and efficient.
Users then meet with simple headings that sum up Netflix's offerings, such as "download your shows to watch offline" and "watch everywhere." Covers of movies and TV shows offered and a short video are included to give a sneak peek to the user.
An FAQ appears at the end to help users make a purchasing decision and alleviate any doubt they might have.
The final CTA "Get Started" is simple and asks for the user's email address.