Best email marketing services for SMBs - 2022

Investing in email marketing is one of the most efficient ways of reaching customers and capturing leads, nurturing and converting them into returning customers. Problem is, as a small business owner, you don't want to waste any money on email marketing plans you don't really need. Let's review the best email marketing services for small and medium businesses.
Why is email marketing a key area for your business?
Email marketing is the most efficient way to stay in touch with your audience and drive acquisition by addressing their needs and pain points. Why is that? Well, over half of the planet uses email, with 4.2 billion global email users in 2022, and by 2025, this number could grow up to 4.6 billion (Statista).
Email marketing is a cheap way to reach your subscribers, whether they are using desktop or mobile devices to read their emails. Email marketing services allow you to target your messaging with their lists and segmentation features, creating more engagement by reaching the right people with the right message.
You can easily build brand awareness by creating beautiful emails to send your subscribers company updates, promotion offers, newsletters, expert advice, industry news, etc. All this is thanks to pre-made templates available in email marketing tools and drag-and-drop editors, with no need for any coding skills.
What makes a good email marketing software?
Here are the features we've evaluated email marketing services against:
Interface
Email templates
Contact list management
Segmentation options
Tracking tools
Third-party integration
Our top 3 best email marketing services
Constant Contact is currently one of the most loved email marketing services in the world, especially for beginners and small businesses.
Interface: very user-friendly and easy to use for beginners. Intuitive and easy to navigate, with basic built-in tutorials.
Email templates: over 400 templates are available, divided into categories such as welcome emails, holiday greetings, promos, etc. They are quite modern and attractive-looking, so no complaints there. The email solution also allows you to build your own customised template with a drag-and-drop email builder.
Automation: if you want to create automated emails, the Plus plan will allow you to automatically send emails based on customer behaviour. Example: send an automated welcome email to new subscribers and build an automated email series to engage with your clients. The only issue is that the tool won't let you create your own automation workflow but will let you use only 3 pre-defined workflows (welcome, birthday and anniversary).
Contact list: the tool lets you import your contacts from a text file or spreadsheet or import them from an email provider. You can also transfer contacts from online CMS such as Salesforce. It's also possible to add contacts manually if you haven't yet built your email list. You can send emails to up to 10,000 contacts, or 50,000 with the Plus plan.
Segmentation: send the right emails to the right subscribers and increase your engagement thanks to segmentation tools. Once you've segmented your contact list, you'll be able to choose a segment when scheduling an email. You can also include or exclude contacts from an email based on tags.
Tracking: real-time analytics with engagement data, campaign comparisons, heat maps, click segmentation, open & click-through rate, device usage, groups usage, number of tweets, shares and views of your emails on social media.
Third-party integrations: integrates with Etsy, Ebay, Shopify, Vimeo and Eventbrite, which makes it perfect for small businesses. Also integrates with WordPress to add a contact form to your website and capture visitor info, or to Salesforce.
Negative points: no dynamic content display, limited A/B testing, only 5 landing page templates.
The Plus plan starts at $45/month and has an unlimited number of users. It also offers some extra features, especially when it comes to automated emails and ads. Globally, Constant Contact will satisfy beginner or basic users who don't need lots of specialised features. If you're not sure, you can try the free version for 60 days.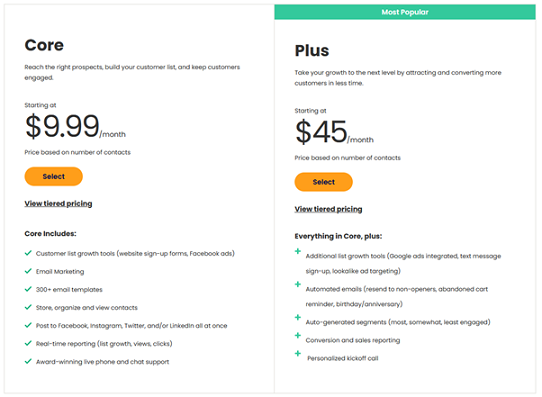 ActiveCampaign is a full-featured tool for email marketing, marketing automation, CRM & sales automation and sales engagement.
Interface: you might need a bit of time to get used to all the features, but once you do, you can accomplish almost anything.
Email templates: over 70 ready-to-use email templates organised in categories such as Newsletter or Abandoned Cart. The templates could be better, though, users describing them as uninspiring, needing to be improved and customised to be used professionally. We recommend creating your own template with the easy-to-use drag-and-drop editor.
Automation: create step-by-step custom workflows with the visual workflow builder. You can choose between behaviour-based and date-based automation, as well as workflow templates. On ActiveCampaign's marketplace, you can buy other users' automation and import them into your account.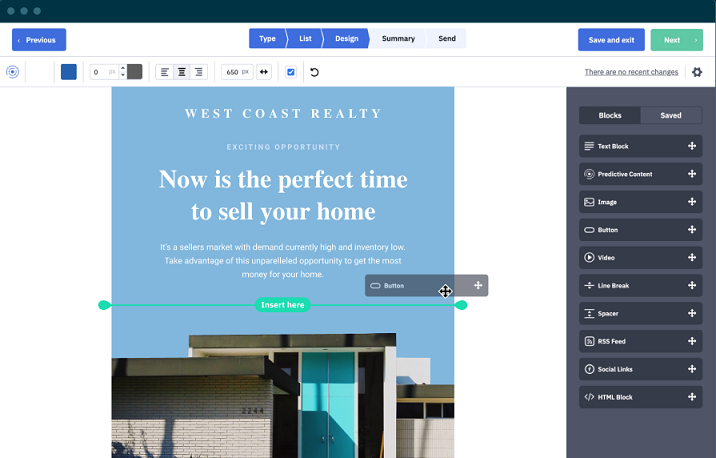 Contact list: list and subscriber management, contact profiles, unlimited sending on all plans.
Segmentation: use up to 20 conditions to create a segment, up to 5 action type conditions and 3 conditions with the "contain" operator. Possibility to create a segment during the campaign creation process to save time.
Tracking: extensive analytics features such as campaign analytics, subscriber data, platform tracking and engagement segmentation. Unlike with Constant Contact, there is no heat map.
Third-party integration: connects with over 800 apps, including Facebook, WordPress, Zapier, Google Analytics, Shopify, Woocommerce or Salesforce.
SendinBlue is a great email marketing solution for small and medium-sized businesses that need to send and automate email marketing campaigns under a limited budget.
Interface: simple drag-and-drop editor using block elements, ideal for inexperienced users.
Email templates: many templates are offered in the library to suit every need. All templates are mobile-optimised and tested with multiple email clients. You can also customize your template and add animations, graphics
Automation: several workflow types are available for automation. You can create your own custom workflow or go for one of the pre-made workflows such as welcome message so anyone subscribing to your newsletter, product purchase for anyone purchasing a product, marketing activity (send emails if contacts open or click on an email campaign), etc.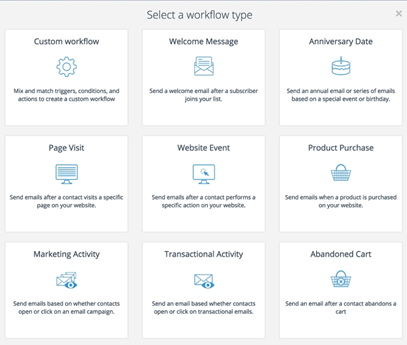 Contact list: add your contacts to specific lists, keep track of all their information, including campaigns to be received. Import contacts or create a new list. Sendinblue charges you based on the number of emails sent, and not on the number of contacts, which is non-negligible for small businesses.
Segmentation: segment your lists based on a wide variety of parameters such as age, gender, interactions with your emails, time-optimisation to maximise reach based on time zone, age, etc.
Tracking: gain access to open and click-through rate reports, email heat maps, real-time statistics and A/B testing options to boost your performance.
Third-party integration: you can integrate Sendinblue into any tool or product with the API, or use plugins to connect the platform with other tools you use.
Their Lite plan starts at $25/month and includes unlimited sending, email support, A/B testing & advanced statistics.
Negative points

Responses to actions like account confirmation and purchases cannot be programmed using pre-crafted emails. You will need to use Sendinblue's transactional emails.


We hope this article gave you a first overview of the best email marketing tools and solutions for your small business. If you enjoyed this article, make sure to also check our advice on how to create a more impacting email marketing campaign?
Photo by Stephen Phillips - Hostreviews.co.uk on Unsplash