How to create a more impacting email marketing campaign?

Bored of receiving a dozen similar email campaigns daily from brands in your mailbox? We all are. So why not be the change you want to see and start writing more engaging email campaigns yourself?
We understand you can sometimes fall short of inspiration to write the most fun, engaging and revenue-generating emails, so we've compiled some of our favourite email campaigns as well as tips on how to achieve success.
Welcome emails
With an impressive opening rate of 91.43% (Hive), welcome emails are the first type of communication that new customers expect to receive after creating an account or signing up for your newsletter.
Your customers will be expecting it, so don't disappoint them, especially since welcome emails have an impressive opening rate of 91.43% (Hive).
This is your first shot at making a lasting impression on a customer that hasn't necessarily already bought one of your products or doesn't know your brand very well.
The primary goal of this email is to welcome, thank and engage new customers.
A good welcome email can help build up trust and present your brand.
Casper

Casper is an e-commerce company that sells sleep products online and in retail locations.
Their welcome email is beautifully designed, creating a peaceful atmosphere for the reader.
We love the way the reader is addressed as "dreamer", it's a nice change from the usual "Hi + Name".
The quality of the "award-winning " products is underlined at the beginning of the email to gain the customer's trust, followed by the irresistible "Let's get sleepy" CTA.
Matching the vocabulary of your emails to that of your industry makes your content more appealing and relatable.
To make it even better, the brand uses a few puns, including "we're bed serious" and includes some worthy info such as a trial period.
Everything is made to encourage the customer to go ahead with their first purchase, in a very stylish way.
Launch email
Product launch or new features are an occasion to communicate with your customers and let them know that something new is coming their way.
Sending a captivating launch email is key to having a successful product launch. It's even recommended to send a series of emails to grab your subscribers' attention and make sure they don't miss your important news:
Send your first email one week before the launch to announce your future product/service or functionality. Share with your subscribers the release date and what it's about.
Launch date: on the actual launch date, send another email inviting your audience to discover the product in more detail. Link to the product page on your website and include a CTA to buy the product if relevant.
One week later, target the subscribers who haven't completed a purchase and remind them of all the cool features and benefits they're missing out on.
PicMonkey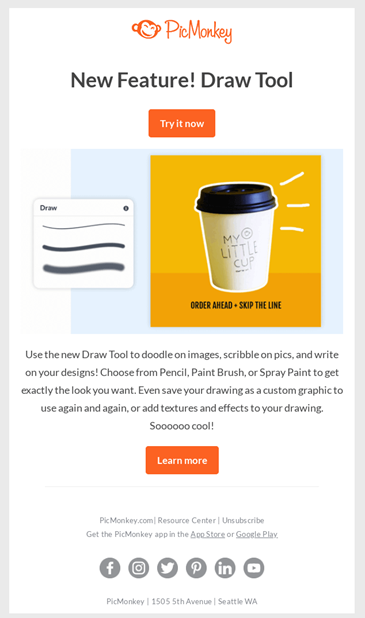 PicMonkey is an online photo editing and design service. In the above launch email, they announce the release of a brand-new feature.
They are doing so by sharing what the new functionality does and by showing a picture of the different drawing tools offered.
The CTA redirects to their website where the visitor can find even more info about the new feature.
Abandoned cart reminder
The telephone's ringing, the deliver guy's at the door, you're running late…the list of reasons why we place an order in the cart and don't go to the end of the purchasing process is endless.
That's why brands frequently send us an abandoned cart reminder when we've placed an item in our cart but the purchase hasn't been made.
According to studies from the Baymard Institute, the average cart abandonment rate across all industries is just under 70%.
To encourage customers to return to their purchase and earn back some of those lost sales, reminder emails are particularly effective.
Headspace
Headspace's abandoned cart reminder points out the benefits of using the app: be less stressed, happier and improving self-esteem.
The CTA invites the recipient to complete the checkout by subscribing to the paid version of their app or getting more details about it.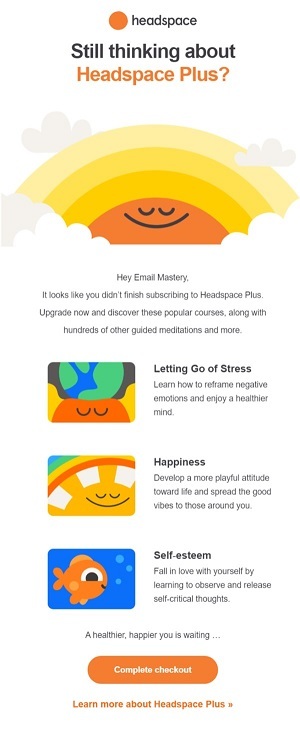 Their second reminder is very similar to the first one but also includes a link to learn more about the product and another link to the support and the FAQ.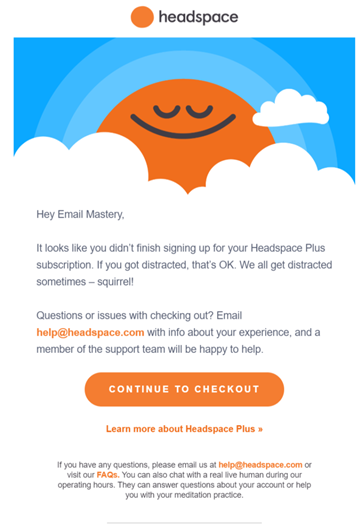 Reminder Emails
Reminder emails are there to remind clients about all sorts of things: late payment, upcoming events, unused products, etc.
They represent a good chance to catch the recipient's attention and boost your opening rate.
Tookapic
We love this reminder email from Tookapic, a 365-day photo challenge app where you need to upload one photo per day.
The email is simple, yet efficient. The body text is short and informal, adopting a friendly tone to connect with the user to remind them of uploading their daily photo.
The CTA, "Upload Now" is a nice push to convince users to proceed to their daily task immediately.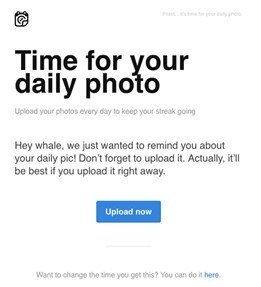 Apple
Who has never forgotten to renew their membership?
It's critical to set up an automatic reminder email for your clients approaching the end of their membership or subscription.
Like Apple is showing in the email below, the best thing to do is to prompt your subscriber to opt for automatic renewal in the CTA.

Winback emails
Winback emails are meant to reach out to inactive customers. People who have purchased your products or services before, engaged with your email content or visited your website, but have stopped engaging with your brand for a given amount of time.
Sending a winback email can help you speak directly to those customers and try to engage with them again.
Think that it's a much better investment to win back an existing customer than trying to gain entirely new customers, hence why you should invest time in those emails.
Headspace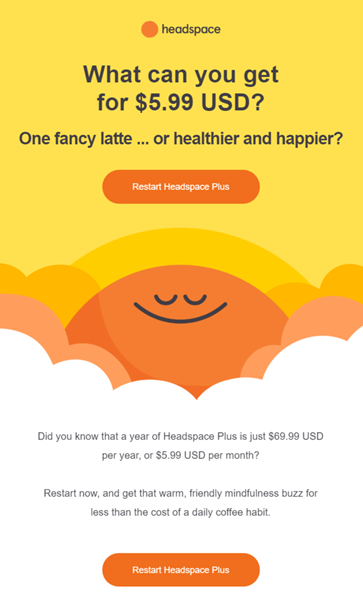 Headspace meditation app is playing the win back game beautifully by comparing the price of its subscription to a daily coffee most of us have but probably don't really need.
The benefits of the service are clearly announced: be healthier and happier.
The design of the email inspires happiness with vibrant colours and a smiling sun rising above the clouds.
Order confirmation
Order confirmation emails are mandatory. Your clients need to be sure that their order has been finalised and that their payment went through.
On top of sharing order details such as order reference, shipment date or payment details, they are also an opportunity to engage with your customers and cross-sell.
Amazon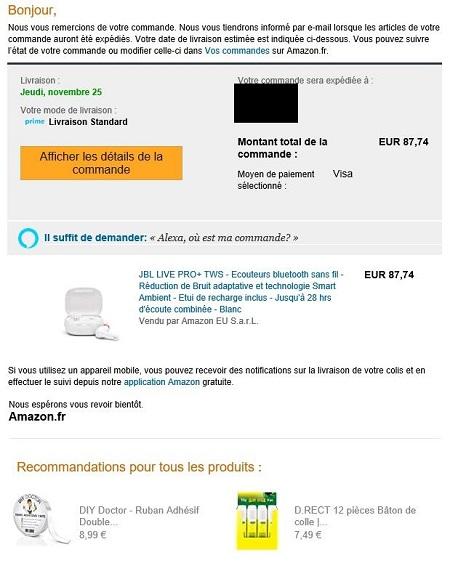 In their order confirmation email, Amazon gives you all the practical details about your order, but not only.
The section at the bottom of the email called "Recommendations" is an opportunity to cross-sell products that might interest the customer based on the product they just ordered.
But it doesn't stop here. In their shipment confirmation as shown below, the brand confirm the delivery date, but also shares some links regarding returns, recycling and their Second Chance programme whose goal is to minimise their impact on the environment through reuse, refurbishing, and recycling.
The bottom section includes a feature of products that other clients have also bought while buying the product of the order, making this email much more than an order confirmation email.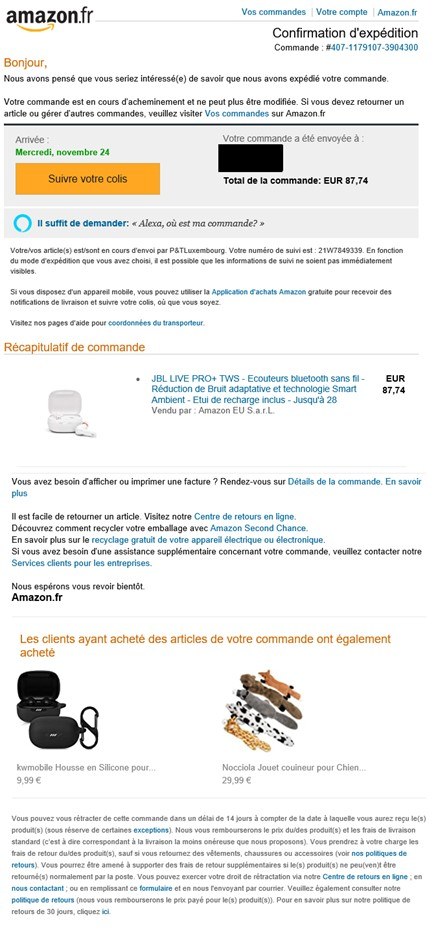 Cancellation confirmation
Cancellation confirmationemails are the emails you send once a client has cancelled their membership or subscription to one of your products or services, or when they have cancelled an order.
Those emails are often short, simply including the date at which the membership will be revoked and an opportunity to rejoin (but without being forceful).
You can also choose to include a link to a survey to understand why your client is leaving you. Understanding if it's because of the service itself, of how much you charge or another reason, is always good to improve.
Netflix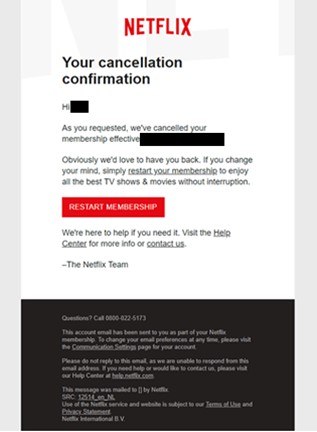 In their cancellation email, Netflix goes straight to the point and confirms the end of the user's membership.
Next comes a CTA button to "Restart membership" in case the user changes their mind.
Simple and efficient.
Calendar campaign
Generating revenue through email is of course one of the main goals of your marketing campaigns and there are key moments during the year that you don't want to miss. Namely, the new year, Valentine's Day, Easter, summer sales, Halloween, Black Friday, Christmas and the winter sales.
But it isn't always easy to achieve this goal without looking too salesy.
That's where a good dose of humour and being able to connect with your customer base is key to being successful.
Function of Beauty
Hair brand Function of Beauty is one of the kings of email marketing. Their funny and well-thought-out campaigns always hit home because they know how to capture the reader's attention.
The trick used in the below campaign is addressing their customer's problems head-on (pun intended).
For their winter newsletter, they address common hair issues such as dryness or static, and link to the products made to tackle these issues.
It's fun, well-designed and damn efficient.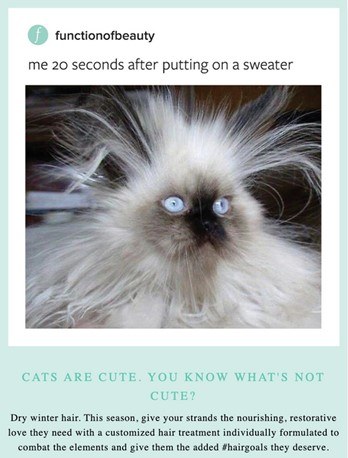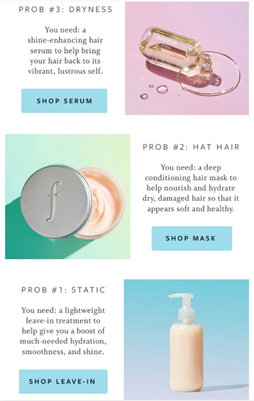 Before Christmas, it's common for brands to send some sort of recap of the year that has gone by.
It's a smart way to connect with users, to remind them of the key products you want to put forward and create engagement.
Spotify
Spotify's end of year newsletter is their now famous "Wrapped", an overview of your music year. Which were your favourite artists, songs, how many songs have you listened to, etc.
The smartest thing about this viral campaign is that it invites users to share their Wrap on social media, which creates more engagement and connection between users.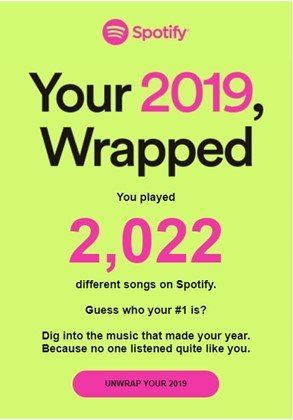 Sales email
Sales emails typically last for a defined period, usually a few days, or even a few hours when it comes to flash sales.
The goal is to inspire a sense of urgency for your reader by using expressions such as "Limited-time offer", "Last chance" or "Only today", to drive traffic to your site and generate more sales.
Domestika
Domestika is a community for creatives where you can learn new skills in fields such as photography, fashion, writing, web & app design, etc.
Another way to do sales is to have a 2 for 1 offer. Domestika is doing it brilliantly in their campaign with a fun and enthusiastic design, emphasizing the 2 for 1 offer.
The CTA "Choose your courses" redirects to the catalogue of courses available.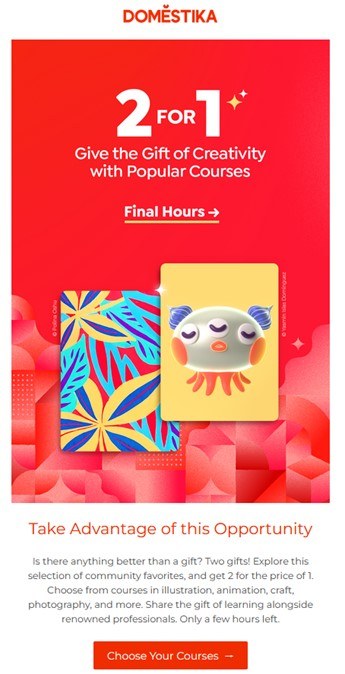 Drip emails
Drip emails are essentially a series ofautomated emails scheduled at specific times.
The specificity of such a campaign is to meet your subscribers or customers at every step of the sales funnel by engaging with them via relevant emails.
Drips campaigns adjust to the subscriber's actions and emails are sent based on the user's behaviour.
A new subscriber to your newsletter could for example receive a welcome email, quickly followed by your most popular blog articles a few days later.
This type of campaign is ideal for automating time-consuming tasks and segmenting the audience based on their actions.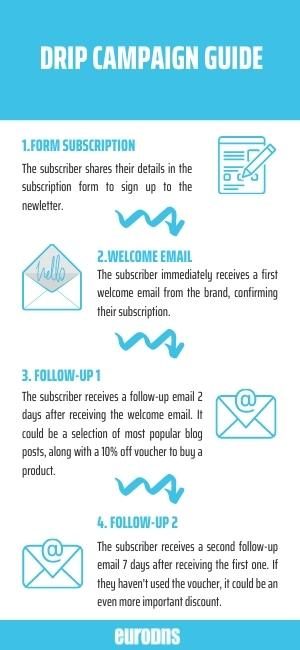 Upselling & cross-selling campaigns
Upselling and cross-selling campaigns are very common in email marketing. Let's define them better.
Cross-selling is often practised by e-commerce retailers by suggesting additional, often similar products, to the one that the client has just bought.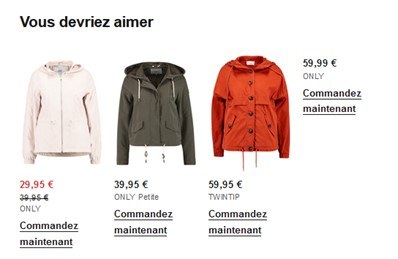 In the order confirmation email above, Zalando is suggesting three extra jackets that the client could be interested in.
Upselling is slightly different and consists in suggesting the user a more expensive product than the one they are going for, or an upgraded version of the same product.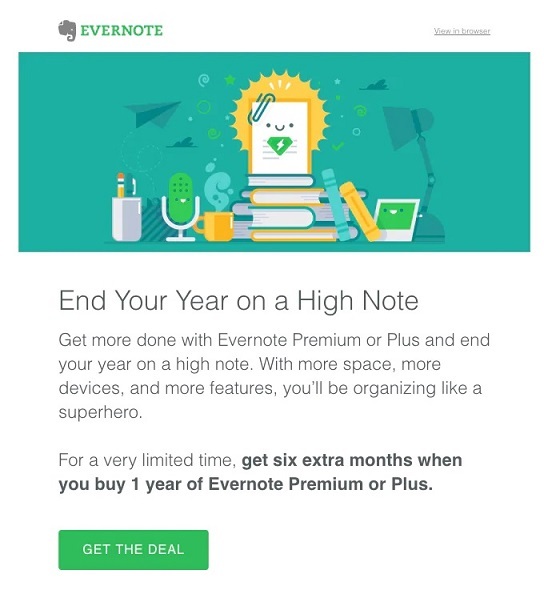 Evernote's end of year email is an example of upselling. The company is trying to sell its Premium or Plus product to the customer with a special offer.
Conclusion
Investing time and energy in your email campaigns is key to engaging with your subscribers, keeping them active and achieving success.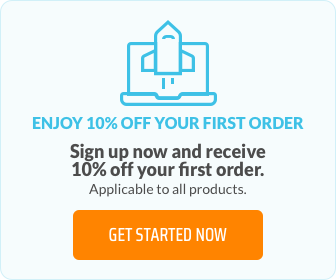 Many types of email marketing campaigns should be sent during the year and we hope that the above examples have given you some inspiration.
Photo by Benoit Debaix on Unsplash