22 productivity apps to get things done in no time - 2022

Get.Things.Done. So is the mantra for a lot of us, productivity nerds. Yes, being more productive is an admirable new year's resolution, but…are you struggling to get organised and juggling with the million small things you need to do?
You're not alone.
There are hundreds of apps you could install to boost your productivity, which means it can be challenging to choose.
At EuroDNS, our teams have tried their fair share of productivity apps in the last two years. From trying to have better cross-team communication to finding the best all-in-one marketing tool.
This has led us to create our own list of go-to productivity apps.

Time Management
In business, your time is money.
Improving the way you manage your time is one of the easiest ways to increase your productivity in no time. Eliminating behaviours that are making you lose time and capitalising on time-efficient tasks can make or break your business.
That's why we strongly advise you to look into time management tools, as understanding how you spend your time can make such a big difference.
Plan: Free
This basic and completely free time management application for your browser tracks how much time you spend on each activity. It runs reports for an in-depth analysis of your actual week vs. your ideal week. It could be all you need to be more productive.
Features:
Time tracker (start and stop the timer as you work, or enter hours manually)
Timesheet
Calendar
Dashboard to see where your teams spend their time
Reports to see who worked on what
Scheduling
Plan: Pro for $12/month (1-month price) or $6.50/month (12-month price)
This tracking app allows you to have a clear picture of how you spend your time each day. How much productive time do you have? How much distracting time? You'll get detailed reports, trends and insights to improve your productivity and be more focused.
Features:
Daily focus work goal
Smart coaching throughout the day to refocus
Helps you understand which apps keep you from getting work done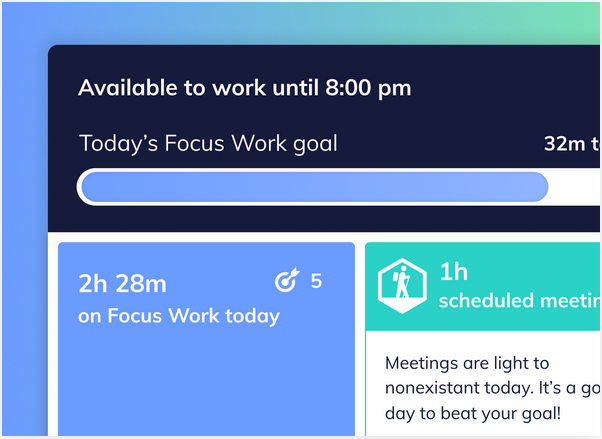 Scheduling & calendar management
Overwhelmed with meetings and lacking time to do your actual work?
Who isn't?
Scheduling your time properly goes hand in hand with managing your time efficiently. Fortunately, there are some fantastic calendar apps out there to help you schedule your time better.
Plan: free Basic plan, Standard for $8/month, Pro for $10/month
Calendar is one of the best calendar apps, possessing all the features you need to schedule your time.
Features:

Embed calendar in web pages
Integrates with Zoom and Zapier
Create time slots for customised events and online meeting templates
Share your calendar link and let others schedule a meeting with you
Plan: Basic plan for free, $8/seat/month for the Essentials plan and $12/seat/month for Professional plan.
One of the easiest and most popular online schedulers. It's a great app to let your clients set up their appointments with you, according to their availabilities.
Features:

Integrates with calendars from Google, Outlook, Office 365, iCalendar and many other apps
Set a limit of meetings per day
Keep a buffer between meetings to not be overwhelmed
Automatically send confirmations and reminders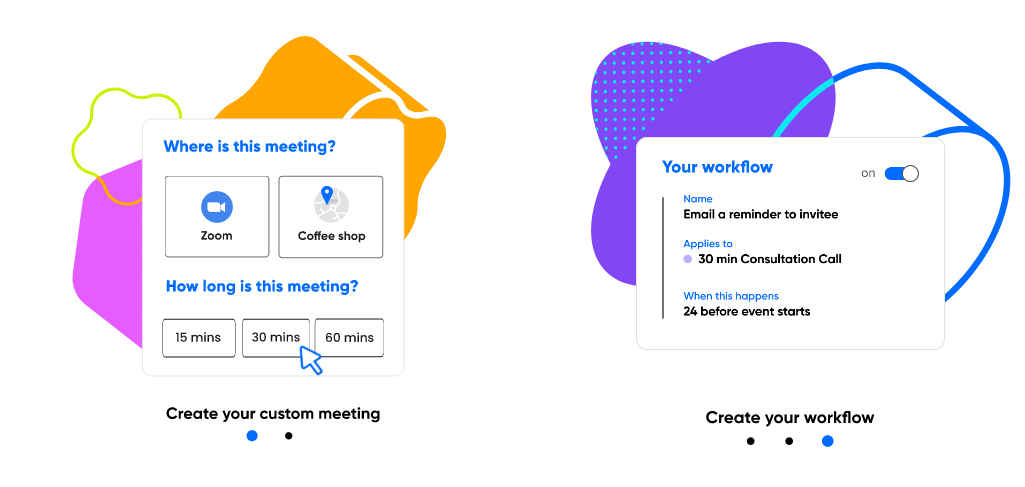 Note-taking
Note-taking is one of those activities that people handle in completely different ways. Some are pretty organised and neat, creating folders and sub-folders.
And others, like me, have a more all-over-the-place approach, pasting their latest to-do list on whichever app is already open – or on the closest piece of paper.
Whichever is your preferred method, basic or more elaborate, there are apps that were specifically created to take notes that can handle your needs
Plan: basic plan for free, personal plan for €6.99/month, professional plan for €8.99/month
Evernote is a powerful note-taking app that's able to handle a bunch of formats (see features below).
While it's great for writing notes and organising them, it can do so much more. Save articles you want to read later, create to-do lists, save voice memos or share a notebook with collaborators.
Features:
Notes automatically sync on all your devices
Add a range of media such as audio clips, images, PDFs, scanned documents, Slack conversations.
Search functionality, even on images
Available online and on desktop and mobile
Assign tasks inside your notes, by projects or due date
Add reminders
Connect your Google calendar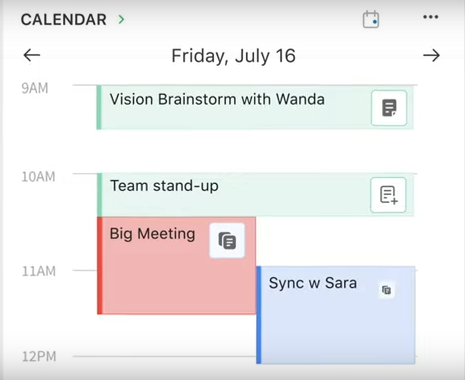 Plan: free
This completely free Microsoft app is a notes management system created to help you organise notes in a digital notebook.
Features:
Organised in notebooks, sections and pages
Integrates Sticky Notes, a virtual post-it app you can have anywhere on your screen
Page templates
Share your notes with others
Internal links between pages
Version history
Communication
"I didn't get that info."
How many times have you received that reaction from someone using a poor communication app?
Communication is essential in any organisation, but it can be particularly time-consuming when not handled properly.
To communicate most efficiently, it's essential to rely on a professional tool to improve your communication with your stakeholders, both within and outside your organisation, whether you are a 1-person business or a large team.
Plan: Basic plan for free, Pro €6.25/month, Business €11.75/month.
Slack is one of the most popular business messaging apps, streamlining communication among teams.
Features:
Individual, team or project chat
File-sharing
Calendar, video-conferencing
Integration with other services such as Google Drive, Office 365 and thousands of other productivity apps.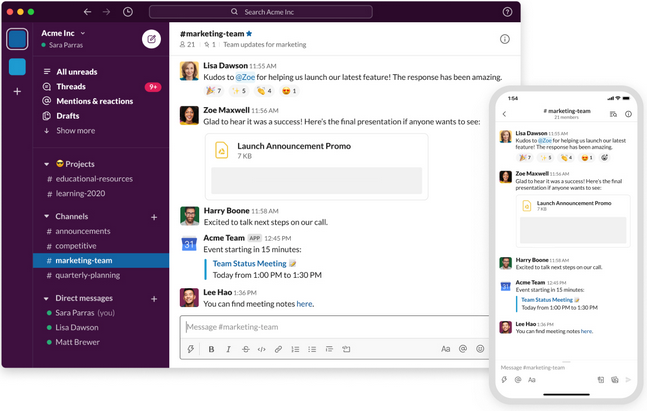 Plan: Basic for free, Pro for €139.90/year/license, Business for €189.90/year/license
Who doesn't know Zoom? We've all probably had language class, a yoga lesson or a music rehearsal through Zoom, haven't we? The software's business offer is ideal for medium-sized businesses, thanks to the following features:
Host up to 300 participants
Single Sign-On
Cloud Recording Transcripts
Managed Domains
Company Branding
Plan: Starter €5.20/month, Standard €10.40/user/month, Plus €15.60/user/month

For a more comprehensive tool, we recommend the Business Standard version of Workspace. It includes a customized email address and access to Google's suite of business products and tools (Meet, Chat, Calendar, etc.) that can help you optimize your organisation's communication. The advantage of Workspace is that you get to store everything on the Cloud.
Features:
2TB Cloud storage per user
Video conference with up to 150 people + video recording
Management and security options
Project Management
Imagine building a house. How catastrophic would it be if you tried to install the windows before putting up the walls?
Project management is like building a house. Each task has to be carried out in a particular order and managed properly to not disrupt the entire project.
This is why project management tools are essential to managing your projects, organising your tasks, keeping an eye on your deadlines, etc.
The following options are some of the most effective project management software.
Plan: Basic free for up to 15 member, Premium €10.99/user/month, Business €24.99/user/month
Asana's project management tool coordinates work across teams and also comes with file storage and collaboration features.
Features:
Split your work into tasks and assign it to team members
Create project roadmaps and timelines
Get a quick overview of your projects with the dashboard
Calendar to schedule and prioritise tasks
Detailed reports
Plan: Essential €19/user/month, Standard €29/user/month, Pro €49/user/month
This PM tool combines a bunch of features you might need as part of project management: projects & tasks, contact management, quotes, team collaboration, billing, and reporting.
Features:
Projects with sub-tasks and deadlines to plan your work effectively
Visualize progress and prioritize assignments
Plan your resources' schedule
Real-time KPI dashboard
Time tracking and billing for work
Plan: Free plan for individuals and small teams, $12/per user/month for the Teams plan.
Hive is a fully-featured project management tool that helps you stay updated on your upcoming projects and deadlines.
Features:
Create simple or multi-step project workflows
Gantt chart, Kanban board, table or calendar view
Keep track of your project's progress
Take notes
Get feedback
Time tracker & timesheet to record individual progress
Chat
Calendar & video conferencing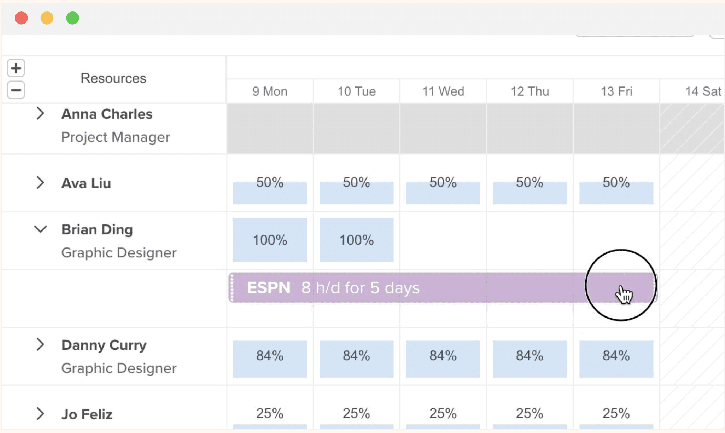 Sales
Being successful in sales is difficult and most sales professionals use apps and software to be better at their job.
You can't turn opportunities into sales without good sales tracking software that will also provide you with the latest statistics and reports to boost results, improve efficiency and generate revenues.
Plan: Essentials for €25,00/user/month, Professional €75/user/month, Enterprise €150/user/month
This basic Salesforce solution is ideal for small businesses with up to 10 users. Its strong analytics features allow you to set goals, predict outcomes and improve your performance thanks to recommendations.
Features:
Account and contact management
Opportunity tracking
Lead management
Task and event tracking
A.I connecting data from multiple sources

Plan: Essential €12.50/user/month, Advanced €24.90/user/month, Professional for €49,90/user/month
This CRM is used by over 90,000 companies in the world and claims that you will benefit from a 28% increase in close rate after using it for just one year!
Features :

Manage leads and deals
Track communications and performance
Have access to insights, reports and a sales reporting dashboard with key KPIs
Identify missed sales opportunities
Performance improvement thanks to a sales mentor powered by A.I.
24/7 support
Marketing
Don't underestimate the power of marketing!
You may be offering the best product or service, but if your marketing strategy is poor, all your efforts will be in vain.
While there are specific tools to handle specific aspects of your marketing strategy, be it emails, social media or ads management, there is also an increasing number of complete marketing tools that allow you to handle all aspects of your marketing strategy at once.
Investing in a good marketing tool is a must, so be sure to check out the two solutions below.
Plan: Free version, Basic $14.99/user/month, Growth $49.99/user/month, Pro $79.99/user/month
This tool's free version comes with 1,000 contacts and 1,000 branded emails, while the Basic version for $8.99/user/month goes up to 15,000 contacts and 10,000 branded emails.
This all-in-one marketing & sales CRM is a good alternative to HubSpot for small businesses. The basic version offers the following features, and more:

Email templates
Web pop-ups
Landing page builder
3rd-party integration
Social Suite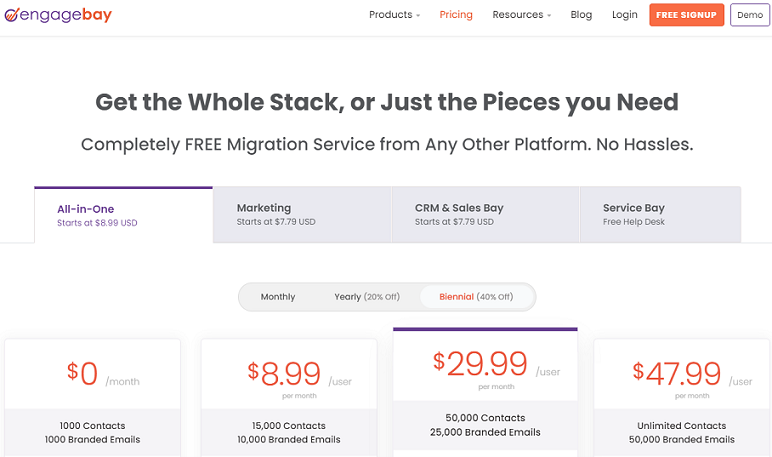 Plan: Starter for €45,00/month, Pro $800/month
This tool offers everything you need in order to generate leads and transform them:
Forms
Emails
Ads management
Lists segmentation
Landing pages
Live chat, etc.
It also offers integration features for Salesforce or Microsoft Dynamics CRM, among others.
Social Media
Social media should be considered an essential part of your marketing strategy.
Nowadays, brands communicate about their activities and their image on their various social channels. On the customer side, social media chats have become one of the favourite means of getting in touch with customer service or sales.
In 2021, 64% of clients declared that they prefer to get in touch with a company by message rather than by phone (Hootsuite).
To stay competitive on the market, you cannot escape social media, so better get going now! If you need more tips on how to use social media to benefit your business, check out our blog article.
Plan: Free version or Essentials $5/month/social channel

Buffer Pro gives you access to the following features for 5 major social media platforms (Instagram, Facebook, Twitter, LinkedIn and Pinterest):
Social media posts scheduled in advance
Calendar view
Tailored posts for each social network
Custom video thumbnails
Plan: Team for €109/month (3 users, 20 profiles), Business €669/month
This plan from Hootsuite is a must for SMBs with several social media specialists or community managers.
Features:
Manage all your social media in one place
Schedule social media posts in advance
Save time and have a global view of all your different media publications
Answer comments and messages from different platforms, all in the same place.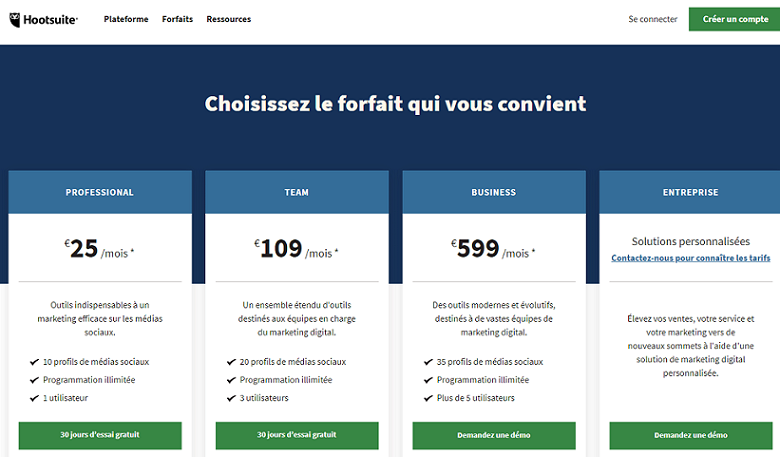 Customer Relationship Management
Customer relationship management is one of the aspects of your business that you really should not neglect.
If you are a small or medium-sized business, it's essential for you to use a CRM system to monitor your interactions with your customers, have access to data and manage tasks.
Here are our two favourites:
Plan: Team €49/agent/year, Suite Growth €79/agent/year, Professional €99/agent/year
Easy to learn and manage, Zendesk is a great CRM for small businesses.
Features:
Multilingual content - Translated agent interface in 28 languages
Dashboards and reporting, powered by Zendesk Explore
Customer satisfaction ratings & follow-up survey
Public Social Media
Predefined responses
Plan: Starter $45/month, Pro $800/month
HubSpot's customer service solution is a top tool to provide your clients with the best customer experience. It offers the following features, among others:
Ticket status
Ticket routing
Task automation
Customer knowledge base
Custom reporting
Customer experience survey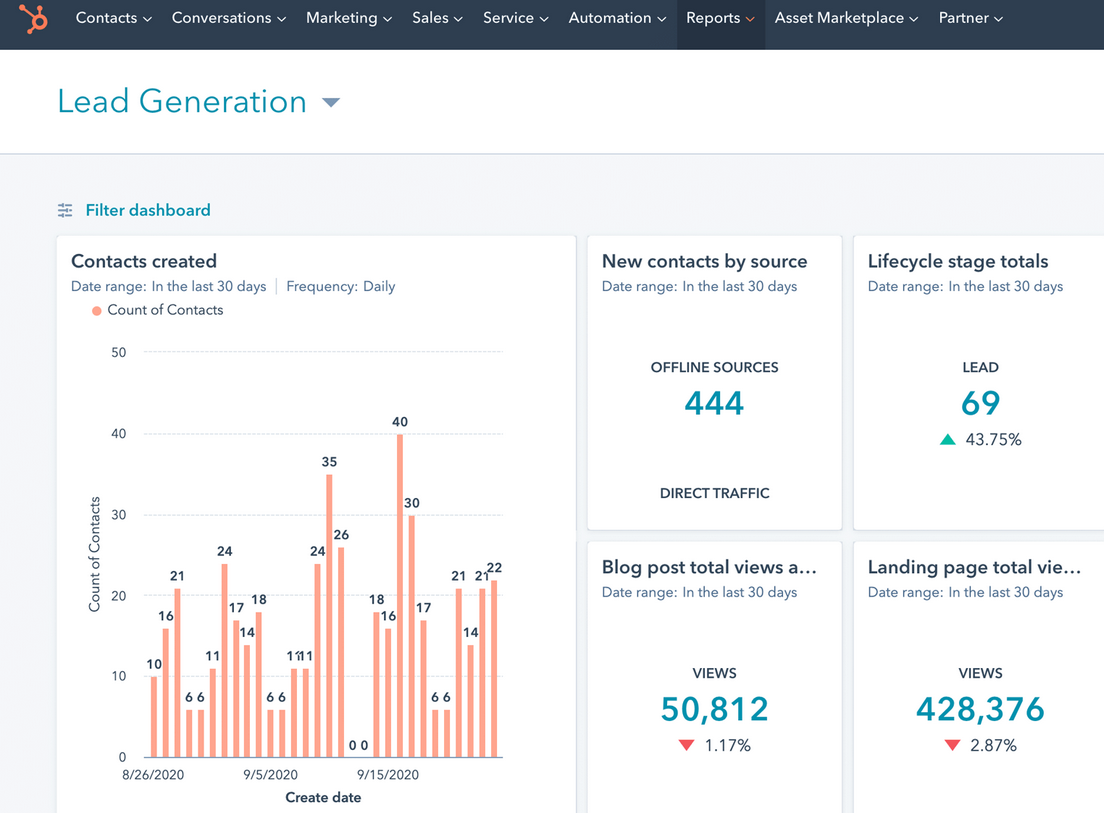 Accounting
Let's be honest, accounting can be the most boring part of running a business. That's why you should aim at automating this step as much as possible. There are a lot of tools out there that can help you, we've selected a couple.
Plan: Free version or pay-per-use

The free version of this web-based accounting software is perfect for freelancers and small businesses thanks to its simple setup. It's reliable and secure and will allow you to easily manage cash flows.
Features:
Accounting software with unlimited income & expense tracking
Sales tax tracking
Unlimited partners, collaborators and accountants
Invoice in any currency
Possibility to turn estimates into an invoice
Unlimited receipt scanning with free mobile app
Pay-per-use online payments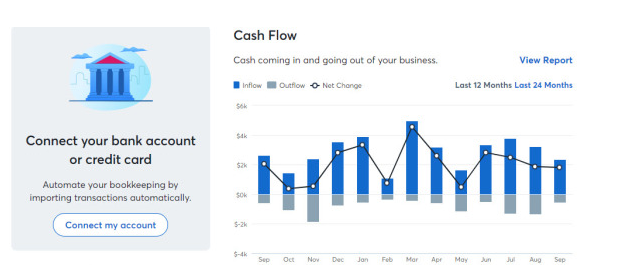 Plan: 50cloud Pro Accounting – €25/month (2 users)
This tool combines both highly customisable accounting software and the flexibility of the cloud. Not only does it allow you to track your income and expense like a basic accounting tool, but it also boasts the following sophisticated features:
Record purchase orders
Manage job costs
Strong inventory management tools
Integrate with Microsoft 365
Integrate with AutoEntry
Support plan included
Sage Security Shield
Conclusion
These business tools will provide solutions to problems that are hurting your company and preventing you from maximising your business potential.
So don't hesitate to modernise your everyday business tasks to increase your productivity in every area!

Photo by Andreas Klassen on Unsplash