Customised professional email address builds consumer trust

Internet users place more trust in businesses that use a customised email address than those which use Gmail or another free mail option. If you don't want customers to distrust you and your correspondence to end up in the spam folder, you need a customised, professional address. Your online reputation depends on it.
What your email address says about you
When it comes to conducting business online, maintaining consumer trust is crucial. (Particularly true for SMEs still in the process of building their reputation.) If customers don't feel they can trust a business – especially a small one - to secure a safe transaction, they'll go elsewhere.
Specifically, they'll go to a competitor which uses a customised professional email address.
Recently, the IE Domain Registry – responsible for managing the .IE domain extension – surveyed 1,000 consumers to find out what makes them trust an online business. The results were telling:
64% have little to no trust in businesses that use a free email address
77% trust businesses that use a customised domain-specific address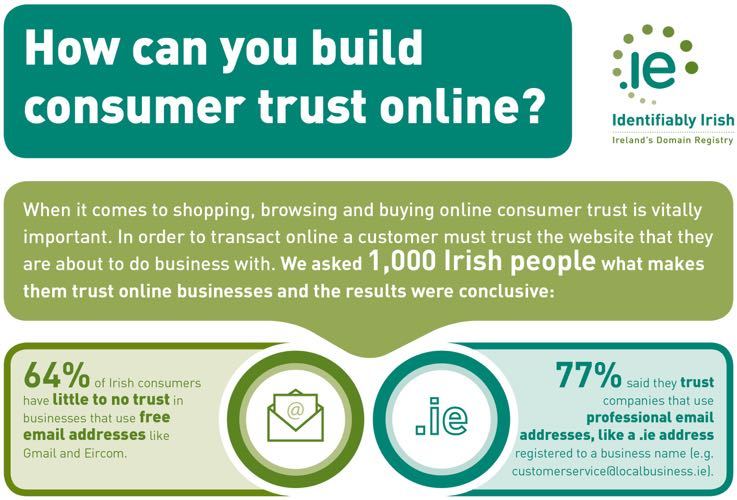 In other words, "@yourdomain.abc" is more trustworthy than "@freemail.abc". With customers less likely to provide credit card or other personal details to a business using a generic email address, both profits and reputation are certain to take a big hit.
Your professional email is more than an address
Advantages to having a customised address for your business include:
Safety. Professional email accounts are less a target for phishing and hacking. Cybercriminals are more interested in accounts which can produce a much larger hit rate to ensure malware has as big an impact as possible.
A more professional brand image. Customers generally associate "@aol.com" and "@hotmail.com" with personal email addresses. They may perceive a business using one of these addresses as a side business or scam. And, in light of 2017's numerous, high profile cyberattacks, customer have become increasingly savvy, more likely to check an email domain name to determine if the communication was sent from a reliable source.
You stand out. Using your business name in your domain means your name will be promoted every time you send or receive an email. Customers aren't likely to soon forget you.
Flexibility. You aren't tied down to an Internet service provider (ISP), ie. Comcast or a similar ISP. You're free to move your domain to a different provider without loss of data. (Heads up: some providers will completely delete your account when you move to a different ISP.)
More overall control. Because free mail accounts are usually sponsored by advertising, you have no choice but to sponsor that advertising. Likewise, because some addresses cannot be moved when you switch providers, you risk appearing inconsistent and unreliable when you announce you are using a different address. But having your own domain-specific email address can help you side step both of these problems.
Easy, affordable options to boost your credibility
Fortunately, creating a professional email address for your business won't break the bank.
And it's easy.
First, you'll need to have a domain name registered with EuroDNS. You can either:
1. Transfer an existing name from a different registrar. (Don't worry: domain name transfer is easy).
2. Register a new domain with us. We offer over 800 domain extensions so you're sure to find one that is right for your business.
Then, select the custom email package that best suits your needs. Our packages start at €1.36 a month and offer up to 25GB mail & 25GB cloud storage plus numerous practical add-ons. To learn more about the unique capabilities of our email packages, just watch this: