Deal of the Dead - El Día de los Muertos promotion

In a twist on our usual Halloween celebrations, this year we thought we'd take a look at the Mexican festival of El Día de los Muertos, or the Day of the Dead.
El Día de los Muertos
El Día de los Muertos is a three day festival honouring the life and death of loved ones. At midnight on 31 October the spirits of children reunite with their families, the spirits of adults join the festivities the following day. The idea being that a happy spirit will protect, bring wisdom and good luck to its living relatives. The day is celebrated in various guises around the world; being a mix of beliefs and traditions more to do with culture than religion, it's a way to celebrate the memories of loved ones.

Celebrating not how a person died but rather, how they lived, it's all about flowers, decorations, dancing, food, and an explosion of colour. We want to share the energy and excitement of this celebration with you.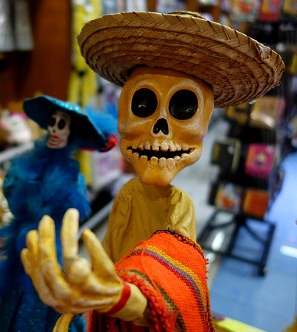 So let's party round the world; put on a mask, decorate your office, dance round your desk, and grab yourself some new domain names, with 20% off each new registration*. With such a wide selection to choose from, start your domain name search now; there are plenty for everyone. This offer ends at midnight on November 3, don't miss out.
Photo credit 1, Photo credit 2, Photo credit 3
* This promotion has ended