Essential plugins for a wordpress business website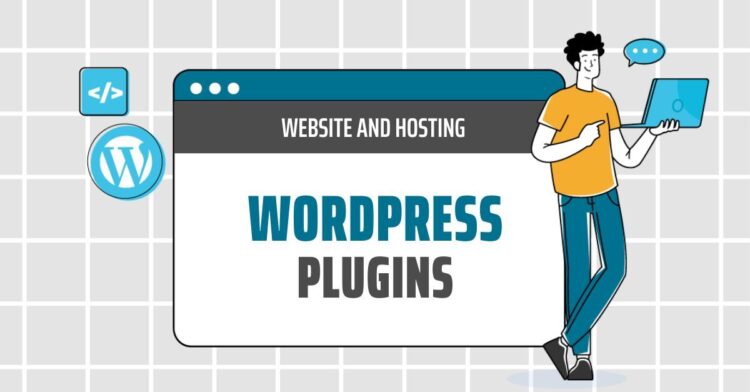 WordPress plugins can be incredibly helpful when building and growing a business website. These plugins make tasks easier, improve website security, and enhance customer interaction. Plus, there are thousands of plugins to choose from, so you can customise your website to meet your specific needs. Whether you're just starting or looking to expand your business online, using WordPress plugins is a smart way to make your website work better for you.
What is a Wordpress plugin and why do you need them
A WordPress plugin is like a special tool that you can add to your WordPress website to make it do extra things. Think of it as adding apps to your phone to do things like edit photos or track your spending. With a WordPress plugin, you can make your website do more cool stuff without having to be a computer expert.
For instance, if you have a small business website and you want to put a contact form on it, you don't have to hire a tech expert. You can just get a WordPress plugin that does it for you. It's like getting a ready-made solution to make your website better.
If your business website needs a better look or some extra features, using useful plugins is a smart move. Creating a standout business website takes a lot of work, and if it looks just like everyone else's, you're missing the mark. While WordPress is great, it can't do everything on its own. The good news is that WordPress has around 60,000 plugins that can help beef up your website and add the features it's missing.
These plugins cover a wide range of needs, like keeping your site safe, making it load faster, helping with search engine optimization (SEO), tracking your website's performance, and even handling email marketing. Once you figure out what your website really needs, it's pretty easy to pick the right plugins. You don't need all 60,000 of them, just a few that make your website better.
These plugins can customize your site for your business, but with so many options, it can be hard to choose the right ones.
We've put together a list of plugins that cover a variety of needs for a business from contact forms through to crafting your own courses.
Take a look!
Essential plugins for your business
WP-Forms - contact form plugin
Over 4 million business owners, designers, and developers recommend WP Forms, and it's for a good reason. This plugin has everything you need to make your website successful. WP Forms is a must-have tool for your WordPress business website because it lets your website visitors easily reach out to you. What's cool is that WP Forms comes with a drag-and-drop form builder, which means you can create all sorts of forms without any technical fuss. You can make contact forms, email subscription forms, payment forms, surveys, and more. And an added bonus is that it works smoothly with popular marketing and payment tools.
A few handy features include its ability to make conversational forms, create special landing pages for your forms, track how users interact with your forms, catch when someone starts filling out a form but doesn't finish, figure out where your users are, make custom login forms, and more.
If you're just looking for a simple solution, you can start with the free WPForms Lite version. It's a great way to get started and see how it works for your website.
Seedprod - drag and drop page builder
SeedProd is an amazing tool for your WordPress website. It's like magic because it lets you change how your website looks and make custom pages without having to know any fancy computer code. People who run businesses really like it because it helps them create special web pages super fast. You can pick from more than 300 cool designs or make your own unique page using their easy drag-and-drop tool (no coding required). They have ready-made templates for all kinds of pages like ones for selling stuff, saying thank you, signing up for webinars, showing off what's coming soon, and even for when your website is under construction or something goes wrong.
SeedProd is smart too. It helps you save time by letting you reuse things you've already made. You can save colors, fonts, whole page designs, and other cool stuff. And guess what? SeedProd has all the nifty things you'd expect, like forms to collect information, links to your social media, timers that count down, places for people to contact you, buttons to click, price lists, different types of content, and much more. It's also great at managing the people who subscribe to your website, and it can work smoothly with other email and customer management tools you might use.
The best part is that SeedProd gets along with all kinds of WordPress themes, so you don't have to change how your website looks to make it special.
Find out here why branding and design plays an incredibly important role when building your business.
WooCommerce - eCommerce plugin
WooCommerce is a helpful tool for selling things on your WordPress website. It's like a magic wand for creating your online store, putting your products on display, and keeping track of orders. What's really cool is that it lets your customers pay with credit cards and bank transfers, and it gets along smoothly with 140 different payment systems from all around the world. Setting it up is a piece of cake. There's a wizard that guides you step by step. You just answer some questions and give some info about your store, and boom, your website is ready for business.
And the best part is, you can manage your online store right from your WordPress dashboard. There's a special section that helps you handle your products, orders, and reports. If you want your online store to look amazing, make sure you use a WordPress theme that's friendly with WooCommerce. That way, your storefront will be both beautiful and functional.
All in One SEO - SEO plugin and toolkit
All in One SEO (AIOSEO) is like a superstar among WordPress plugins, and more than 3 million websites use it. It's famous because it's super helpful for making your website show up better in search results. Out of all the plugins that help with this, AIOSEO is the best because it does everything you need for on-page SEO. This means it helps you create the right titles, descriptions, and keywords for your web pages. It also makes special maps for Google, so it knows all about your site. Plus, it helps your site look good on social media.
The AIOSEO team is always coming up with new ways to make your website rank higher in search results. They have this cool tool called the "content optimizer" that helps you make your content super search-friendly. They also have something called a "headline analyzer" that helps you pick catchy titles. And they make it easy to add special info to your site, like FAQs and reviews, which search engines love. Here's the really cool part: AIOSEO has a feature that helps you connect different parts of your website together, which is awesome for SEO. No other SEO plugin can do this, so it's like having a secret weapon for your website.
Wordfence - security plugin
Wordfence is like your website's guardian when it comes to security. Lots of website owners trust it to keep their WordPress sites safe. It does important things to protect your website, like making sure no one sneaks in where they shouldn't. Once you put Wordfence on your website, it has a handy dashboard that shows you all sorts of security information. It tells you about your website's "force field," which is like a protective wall, and it keeps track of any bad stuff trying to get in. It also checks your website for security problems.
One of the things it does is help you make your login extra secure. You can add a second step to your login, kind of like when you need a special code on your phone to log in. It's really simple – just scan a code with your phone and type in the number it gives you. Wordfence also looks through your website's files to make sure there's no sneaky stuff hiding in there. It's like having a detective on the case, looking for anything that could cause trouble, like secret doors or hidden messages. When you first put Wordfence on your website, it's in "learning mode." That means it's trying to figure out what's normal for your site so it doesn't accidentally block good stuff. Once it gets to know your site, it'll do an even better job keeping it safe.
Livechat - live chat plugin
Live Chat is a great choice if you want to chat with your website visitors in real-time. It's useful for all kinds of businesses because it can help you sell more and make your customers happier.
With Live Chat, you can connect all your websites to one LiveChat account and make sure the chat window looks the same on every page. It has lots of cool features like pre-written responses, the ability to change how the chat window looks, letting customers send files, and letting customers rate your support agents.
It also tracks what visitors do on your site, has a form for people to send in tickets, lets you ask visitors questions, talks to customers on different channels, keeps a record of all your chats, works on mobile devices, gives you reports and data, lets you assign chats to different people, uses tags and shortcuts, saves chat conversations, and lets you send chats to someone else if you need to. Plus, if you use WordPress and page builders like Elementor, SiteOrigin, or Beaver Builder, Live Chat works well with those too. So, it's like having a helpful chat buddy right on your website to talk to your visitors and customers.
Conclusion
In conclusion, these WordPress plugins are like your trusty sidekicks when it comes to building and growing your business online. They make your life easier by adding all sorts of helpful features to your website, from improving its security to boosting its search engine visibility and enhancing customer communication.
But it's not just about these specific plugins – WordPress plugins, in general, are essential for businesses. They save you time, money, and technical headaches, allowing you to focus on what really matters: growing your business. With thousands of plugins available, you can customize your website to fit your unique needs and stand out in the digital world.
So, whether you're just starting or looking to take your business to the next level, harnessing the power of WordPress plugins is a smart move that can help your business thrive online.