Exercise Your Voting Power for a Safer Internet!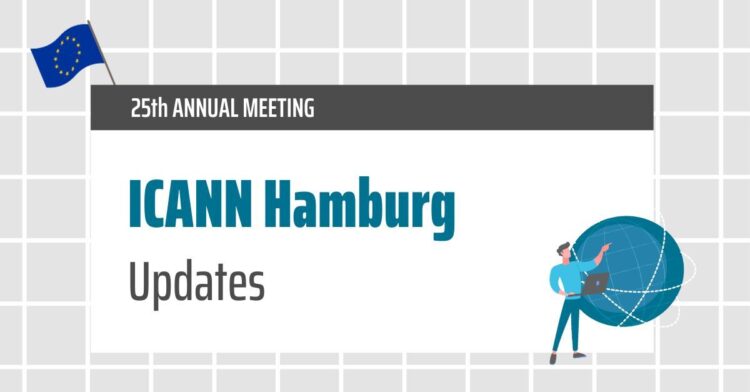 ICANN recently held its 25th general meeting in Hamburg. The meeting's primary focus was on shaping policies for the Domain Name System (DNS), and significant progress was made in amending accreditation agreements for registrars and registries regarding DNS abuse handling. These amendments require registrars to investigate and act when presented with actionable evidence of DNS abuse. The approval of these amendments depends on the majority vote of ICANN-accredited registrars.
Recently, ICANN marked its 25th annual meeting in Hamburg with a significant milestone—the first post-pandemic meeting to witness attendance at pre-pandemic levels, with over 1600 participants convening in person. The primary purpose of this gathering was to collaboratively shape the policies governing the Domain Name System (DNS).
As mentioned in a previous post, the registries and registrars' representatives have conducted negotiations with ICANN in order to amend their accreditation agreements to include specific obligations regarding DNS abuse handling. What's remarkable is that these negotiations were concluded in less than six months, which, in the world of ICANN, is a rapid pace. To put it in perspective, the ongoing process to reform WHOIS through expedited policy development has been underway for five years.
So, what do these amendments entail? In essence, they stipulate that when presented with actionable evidence, registrars must initiate an investigation and take necessary actions to disrupt or mitigate DNS abuse. It's important to note that this doesn't mean registrars will automatically suspend their services for every domain name reported for DNS abuse. In most cases, hosting providers are better positioned to tackle the issue, and registrars will communicate this to the reporters. Nevertheless, registrars will be required to provide clearer communication about the actions taken or not taken.
The DNS abuse definition employed is the same one used by ICANN technical experts in their "Report on Abuse Handling in the DNS" , encompassing malware, botnets, phishing, pharming, and spam used as a conduit for one of the other forms of DNS abuse.
These amendments are not within the policy realm; they need the explicit approval of the majority of ICANN-accredited registries and registrars. Hence, several sessions during the Hamburg meeting were dedicated to outreach efforts, aiming to persuade registrars to vote in favor of these amendments.
As a member of the group of representatives entrusted with negotiating with ICANN, I may not be entirely impartial, but if approved, these amendments will mark a significant achievement. They will establish a cross-border mandate for registrars to investigate and communicate with DNS abuse reporters. This essentially means that contracted parties and ICANN will achieve something governments have struggled with.
Of course, this obligation is confined to specific types of illicit activities, and the registrars' tools for intervention are somewhat limited. However, in the absence of a global organisation overseeing hosting service providers, this is a substantial leap towards a safer internet.
If you read this and work for an ICANN-accredited registrar – we won't judge, we also read our competitors' publications – don't hesitate to vote for those amendments.
About the Author:
Luc Seufer is the Chief Legal Officer at EuroDNS. He's been deep in the trenches, negotiating with ICANN to make the internet a safer place. With tons of experience in the domain name world, he's super passionate about tackling DNS abuse and making the online world a better place for all of us.