cPanel vs. Plesk: best control panel for simple web hosting

Both cPanel and Plesk are well-liked web hosting options, which could make it difficult to choose one over the other. Each offers a user-friendly control panel, loaded with useful features. But which is best for users with simple web hosting needs? We've compared both control panels to help you make the right choice.
Web hosting control panels
Web hosting control panels offer numerous practical resources to help users administer their website hosting:
Manage websites, domain names, and subscriptions
Transfer files via FTP (file transfer protocol)
Control databases
Install add-ons (WordPress, for example)
Manage emails
Manage databases (like MySQL)
Manage backups
cPanel vs. Plesk
cPanel's and Plesk's web hosting control panels allows users to perform all of these tasks.
cPanel
cPanel's reputation for quality and reliability is solid. It's quick to install and easy to understand.
Built on Linux, cPanel is typically recommended for users who prefer Windows or another operating system. If you're operating multiple websites, it is recommended that you use separate cPanel accounts. The WHM (Web Hosting Manager) add-on makes it easy to manage your multiple accounts.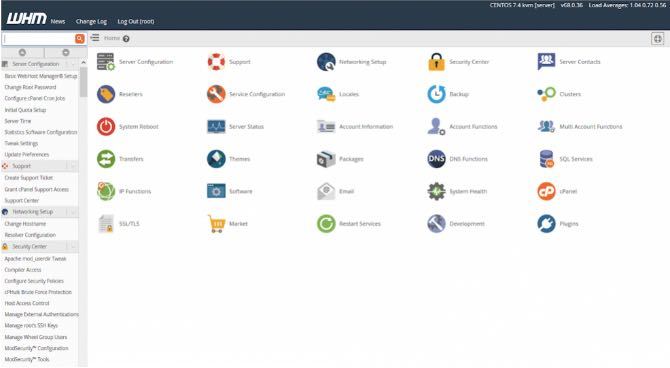 Plesk
Plesk is another popular choice for users with simple web hosting needs. Plesk is equally reliable, equally user-friendly, and offers all of the same functionality as cPanel but with some important differences not available with cPanel.
Plesk's control panel is built to handle multiple websites without the need for an additional plugin. It is built to run on Linux and Windows OS. And this control panel is completely customisable, so you can group features anyway you want, increasing your efficiency and control.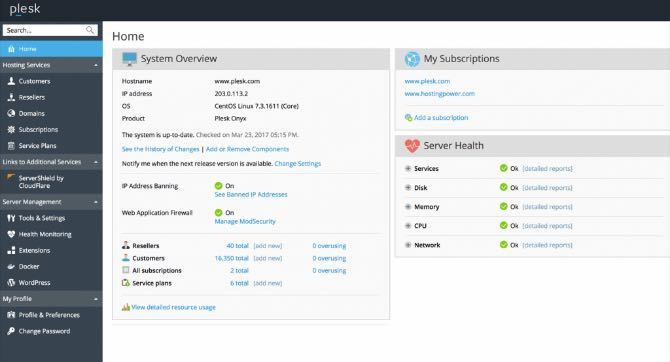 Control panel comparison
Interface
If you don't have much familiarity with web hosting control panels, Plesk is probably the right choice for you. Though cPanel's control panel is just as modern and clean as Plesk's, Plesk offers a more streamlined interface which novices will appreciated. Because Plesk groups similar features together - and gives you the option to create your own custom groupings - you won't need to exert a lot of time or energy searching for specific options.
Features and tools
As mention before, both cPanel and Plesk provide users with all the same basic features and tools: DNS configuration, email, FTP, and database management. Users can add apps to cPanel but Plesk directly offers more apps and extensions: support for Docker; Git compatibility; and 200,000+ images that can be launched from the control panel. It is possible to run Docker and Git on cPanel but you'll be required to use more complex workarounds.
Security
Both cPanel and Plesk emphasise security. cPanel includes SSL certificate installation, password-protected directories, and brute force protection. Plesk offers SSL installation, fail2ban intrusion prevention, email spam filters, and active directory integration. Other Plesk security features include: individual user accounts; custom Firewall; and ImunifyAV, an intelligent antivirus and monitoring tool.
Backups
If you're a EuroDNS customer, we automatically provide regular backups for you. But via the Plesk control panel, you can schedule your own daily/weekly/yearly backups. Plesk also allows you to backup domain configuration, data, and email, and offers a simple restore option. cPanel does allow you to self-manage backups, but does not include an interface to restore system backup files.
WordPress
If like many other small business you rely on WordPress for your website, Plesk offers a great feature that you'll not find with cPanel: Plesk's WordPress Toolkit. This extension allows WordPress users to entrust their security management to Plesk with a single click. Plesk takes care of managing plugin updates, bug fixes, and security patches for you. You can, of course, use WordPress with cPanel but there are more steps involved.
For simple web hosting, get the right control panel
For many, choosing a control panel comes down to which OS they're using, what their level of expertise is, and how much time they have for website administration.
That said, Plesk's control panel is a solid option for users with simple web hosting needs as it is customisable, built for experts and novices alike, and includes one-click activation features that won't require a lot of effort.
If you agree that Plesk is the right choice for your web hosting administration, check out our web hosting plans, each of which provides access to Plesk's control panel. We're confident that it will provide all the functionality you need with a minimum of hassle.