5 best WordPress plugins for social media – 2022

Social media is no longer an option for businesses. It has become an effective way of reaching a new audience, engaging with customers, getting their feedback, and building loyalty. There are tons of social media plugins to help you share your web content effortlessly and grow your followers.
Want to stay competitive and invest in expanding your social media presence? Installing the right social media plugins on your WordPress site is a step you can't ignore. Here are our favourite WordPress plugins for social media.

Social Snap – The most versatile plugin
Social Snap is often named the most versatile social media plugin available. Unlike other plugins, it doesn't just focus on one particular area of social media but instead covers most of them.
Social Snap lets you choose from over 30 social networks and apps
Benefits
Increase your shares by choosing where your social media shares buttons will be displayed on your website, as well as button design (e.g. floating buttons, top or bottom in-line buttons)
Increase your number of followers by easily adding social follow buttons
Drive engagement by displaying your individual and total share counts
Have control over your content with open graph information. Increase click-through rate and engagement by controlling how your posts are shared on social media. Create a custom image, title and description
Secure your content. You have the possibility of recovering share counts even after implementing changes such as domain updates
Drive your social sharing strategy with all the relevant data to monitor how you're doing (shares, clicks to tweet, likes, best performing content, positions and social media networks)
This plugin is easy to use for beginners, doesn't require any coding skills and looks beautiful on mobile devices as well.
Cost: from $39 to $209 per year

SmashBalloon is a suite of plugins that allow you to display your social media feed on your WordPress website. Very popular, it is being used by over 1 million sites.
Share content from Facebook, Twitter, Instagram and YouTube with this fantastic plugin and grow your business.
Think about the benefits of sharing your social media product reviews and customer testimonials on your website.
Your social media following can also benefit from the redirection of your website traffic.
Benefits
Increase your follower base on your social media accounts by displaying your social content on your website
Save time. No need to duplicate content creation efforts anymore. Your social media content will appear automatically on your site
Grow your business by displaying social proof such as reviews and testimonials
Keyword-rich content embedded into your website
These easy-to-install plugins are also mobile responsive and will look great on any device. They don't require any technical knowledge and are super easy to use. Unlike other plugins, they won't slow down your website. In case of issues, you can always rely on the amazing Smash Balloon support team.
This plugin is a suite of 4 plugins, so you will have to use a different one for each social media feed. You can also get unlimited access to all of the plugins with the All Access Bundle and the Social Wall aggregator plugin to combine all your channels into one engaging social media wall.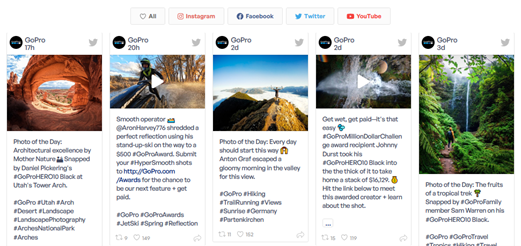 This lightweight and simple plugin is all you need to have your social media share count displayed on your site.
Having sharing buttons on your site is key to increasing traffic and engagement.
Benefits
The perfect button for your website: with the numerous styling options for share buttons, you can match your buttons to your site's design
Get more visibility and use buttons to link directly to your business profile on social platforms
Complete control: can automatically insert your share buttons before and/or after your content. For developers who want even more control, you can also use the shortcode to insert your buttons inside your content and use filters and hooks.
Your privacy is protected. Unlike other social sharing tools, this plugin is GDPR-compliant and doesn't use cookies or store any user data.
Cost: starting from $0/month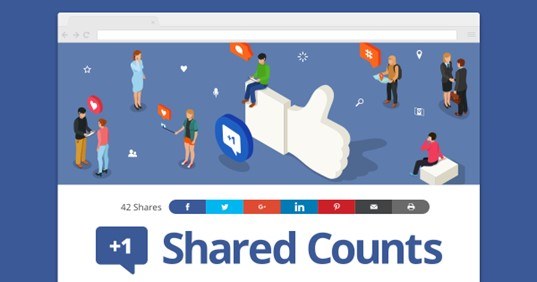 When it comes to automation, the two plugins from Revive Social are some of the best social media plugins out there.
Revive Old Posts
This plugin lets you automatically share your WordPress website content on your social media, which can help you grow your presence on social media and your website traffic.
Benefits
Gain time: your content is shared automatically on multiple social media platforms, according to your own schedule. Thanks to customisation options (add, remove, edit), you have full control.
Don't let your old posts be forgotten, share your content on rotation and instantly share your new content.
Monitor your performance: have access to the best URL shortening services and analyse your performance with Google Analytics.
Cost: from €75/year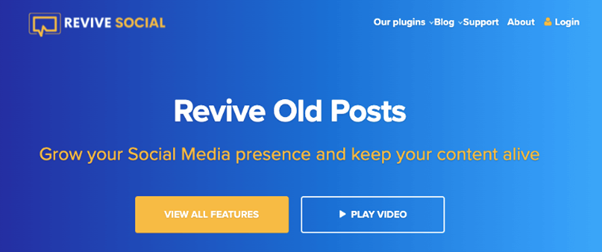 Revive Network
Revive Network is a plugin to help you automatically share content from other websites in your social media accounts and grow your community.
Gain time: schedule your publications in advance for each platform (Facebook and Twitter)
Get recognition: add UTM tags for feed items shared and sites will know that traffic is coming from you
Control your publications: customise your shares, add, remove or edit information
Monitor performance: works with URL shortening services that let you know how popular your posts are and provide useful data
Cost: from €75/year
Those are our four favourite social media plugins for WordPress, but there are so many more out there that can help you grow your social media presence.