Our domain reseller programme, solutions for all your needs!
Our domain reseller programme offers access to 800+ domain extensions and a full range of business solutions: SSL certificates, professional email packages, web hosting. Our one-stop shop for domain resellers provides you with everything your customers could possibly want! Hit the ground running in three easy steps!
Three steps and you're on your way to registering domains
Step one
Create a EuroDNS domain account.
Step two
Install the WHMCS plugin which allows you to automate product offerings, pricing, billing, and support. (You can check out a demo here.)
Step three
Get started using our flexible, intuitive API – a fully functioning domain reseller platform – which allows you to access our full menu of domain extensions. Our API is optional and can be used with or without the WHMCS plug in. To get set up, you just need to contact a member of our sales department and sign a contract, at which point you will receive credentials to access the API.
And that's it. You're good to go. Told you it wasn't hard!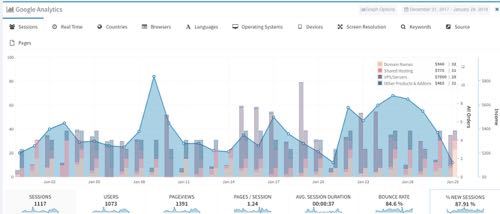 WHMCS Dashboard
Benefits to becoming a EuroDNS domain name reseller
Our products meet market demand
In keeping with worldwide domain industry trends (see the latest Verisign Domain Name Industry Brief) we offer a full range of in-demand top-level domains (TLDs) including those which were particularly noteworthy in 2017:
330+ million domain registrations, with .COM and .NET contributing to a sizeable percentage of that number.
Country code top-level domains (ccTLDs) which grew to approximately 4.5 million registrations.
New gTLDs (ngTLDs) which represented 6.4% of total domain name registrations.
Simple set up
EuroDNS provides the products and services; you just need to choose which ones you would like to sell through your online storefront.
A single API enables you to access over 800 TLDs plus related products and services.
A quick-to-install customisable management platform that allows you to scale up as your business grows.
Virtually no overhead required to get started.
Good margins
We provide numerous solutions to help you keep costs down and profits up:
Reseller reduced pricing: tell us which TLDs you would like to offer along with approximate quantities and we'll calculate a reduced cost for you.
Set your own prices, offer your own discounts, set up your own promotions.
Increase sales by offering value-added business solutions, everything from SSL certificates to hosting to professional email packages.
Meeting market demand: Verisign Domain Name Industry Brief
Start your own domain reseller business today!
Anyone with the interest and drive can become a domain reseller - even if you don't have an elaborate marketing plan or lots of money up front. Our reseller programme is free of charge.
With our 16 years of experience and long-standing relationships with global domain name registries, you can rest assured that you'll be in good hands. If you would like more information about working with EuroDNS, give our sales team a call. They will be more than happy to answer any specific questions you have concerning our domain reseller programme!