Weighing Drupal's pros and cons: is it the right CMS for you?

Drupal is usually mentioned in the same breath as WordPress and Joomla. Like those other popular content management systems (CMSs), Drupal offers a vast array of services and features ideal for small businesses, e-ecommerce, or personal websites. But is Drupal right for you? We weigh the pros and cons.
Pros: why choose Drupal as your CMS
1. Good for creating large, complex websites
Free and open source code: Drupal is completely free which allows it to compete with other similar CMSs like Joomla and WordPress. In addition, Drupal's system code is open, which means users can rebuild it according to their precise needs.
Content types: You can integrate into your website many types of content: informational pages, forums, news, polls, blog posts, etc.
Flexible taxonomies: You can group content together in virtually endless configurations. Group website subsections, blog post articles, fact sheets, etc. You can also manage who is able to access and edit specific content sections, the appearance of subsections, and more.
Scalability: Drupal can be easily scaled to meet your website's size as well as fluctuations in your traffic.
Multilingual content: Other CMSs (like WordPress) may require you to use a plugin but, with Drupal, multilingual functionality is built into the core.
2. Supported by a dedicated community
Support: Drupal's large online community is very active, providing assistance via comprehensive documentation, support forums, user groups, chat rooms, and other resources. All available at no cost.
Programmer experience: Drupal was designed for web professionals which means that, although anyone can use it, Drupal's online community includes an especially large number of professional programmers.
Updates: Programmers and users regularly update Drupal with new modules (aka plugins), bug fixes and, as mentioned above, support documentation.
3. Security is a major emphasis
Strong security features: Compared to WordPress, Drupal websites are less prone to hacking, one reason why Drupal is popular with large, security-conscious organisations and government institutions
Access/user permissions: Drupal's built-in access control system allows you to create roles with individual permissions.
Responsive: Detailed security reports are regularly posted on the official Drupal website, and Drupal's developers have a reputation for working hard and fast to keep the system patched up at all the times.
Cons: why Drupal may not be the right CMS for you
1. More complex than other CMSs
Steep learning curve: Whether you're a professional developer or (especially) a casual user, prepare to read a lot of documentation to understand basic Drupal functions.
Basic coding skills needed: Drupal isn't the best choice for web beginners, as it does require, at minimum, some basic understanding of HTML, CSS, and PHP just in order to manage the site.
Advanced interface: As Drupal was initially created for web professionals by web professionals, less proficient users will likely find that the interface isn't very intuitive.
2. Requires time and effort
Themes and plugins: Drupal does provide a large number of extensions and templates but you will probably have to leave the system to search for modules before installing them. Many modules are not free so you'll have to purchase them.
Developer assistance needed: Most Drupal website themes are custom-coded which means you could need to work with a developer to create one that is appropriate for your website.
Updates: Legacy installations are not supported, which means there is no backwards compatibility (from Drupal 8 to 7, for example). You will have to upgrade which requires time and more work on your part.
3. Performance issues
Impact on speed: Unless you take the time to improve configurations, third-party modules, if not optimised, will slow down Drupal both for you and your users.
Bad module compatibility: Drupal's module compatibility can help you quickly upgrade your site. But compatibility also means you could be simultaneously running multiple modules which have their own code. The wrong combination of modules could crash your Drupal core.
Drupal set up through your web hosting account
To set up Drupal, you'll need:
PHP version 5.5.9 or later. (Our hosting plans support 5.6 and 7.3.)
To install Drupal, just follow these steps:
From the Plesk control panel, go to the tab Applications.
Click on the button: Featured Applications.
An option will appear on screen: Content Management. Click on it to access Drupal.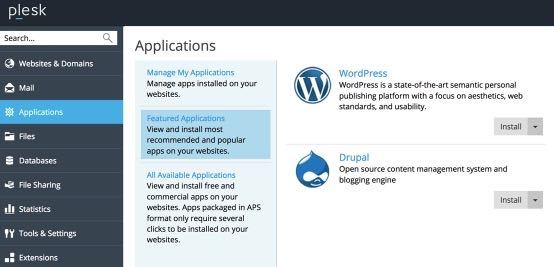 Have questions about Drupal?
Still not sure Drupal is right for you? Get in touch with our Customer Support department. They'll be happy to answer your questions, offer assistance, or speak with you about other CMS options like WordPress (don't forget our managed WordPress hosting solution) or Joomla or our SitePad website builder.
Good luck with creating your website! Be sure to let us know how we can provide further assistance.