WordPress vs Drupal: which is the best CMS for you?

While WordPress and Drupal are both popular content management systems, there are clear differences that you should be aware of before making your choice. Which CMS is the best for your project? We weigh the pros and cons.
Reasons for comparing WP and Drupal
WordPress and Drupal are two of the most talked-about CMS (Content Management Systems), platforms meant to help you create your website. And yet, they both benefit from functionalities that cannot be found in the other, which is why it's worth looking at a comparison before choosing either and getting started with your website.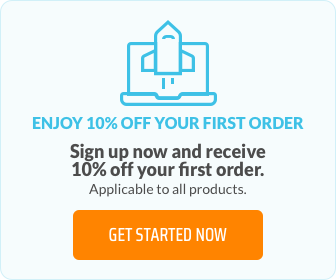 What is WordPress?
WordPress is one of the world's favourite CMS, powering 35% of the websites on the internet.. What's a CMS? It's a web publishing software meant to build websites.

WordPress is particularly loved thanks to its numerous themes and plugins that allow you to build your website easily. WordPress is highly flexible and scalable, allowing users to build any type of website quite easily. While this CMS is considered quite easy to use, but some technical knowledge might be required to run updates or do some more advanced things.
WP Pros and Cons
Pros
Flexible & customisable: Among WordPress biggest advantages are its flexibility to add always more features (with hundreds of plugins available) and make your website exactly how you want it to be. For more advanced developers, this open-source software offers full control over the code to tailor for business needs.
3rd party integration: It also integrates with a number of third-party apps like ActiveCampaign, Mailchimp, Zendesk and others.
Automatic updates: With WordPress, you can choose to configure automatic updates so you don't have to worry about this aspect.
Online support & resources: As one of the most used CMS in the world, WordPress benefits from a number of online resources, community, and even live chat.
Low-cost option: With EuroDNS, you can get your WordPress hosting package from €5.99/month. It also includes an SSL certificate and a Jetpack personal license.
Cons
Some technical knowledge preferable: While it's not necessary to be a developer to use WordPress, it's more comfortable to have some technical knowledge as performing maintenance might feel a bit complicated at first.
Security: it's important to know that WordPress presents security issues, most of them being related to plugins. According to Securi, in 2018, 90% of hacked CMS-powered websites were hosted on WordPress. Don't hesitate to consult our dedicated blog post to secure your WordPress website.
| | |
| --- | --- |
| Pros | Cons |
| Usable and flexible | Tech knowledge preferable |
| Very customisable | Requires ongoing maintenance and bug fixing |
| Automatic updates | Security |
| EuroDNS Control Panel integration | |
| 3rd Party Integration | |
| Online support & resources | |
| Low-cost option | |
Our verdict
WordPress is the ideal CMS for beginners who are ok with learning some basic technical skills but who still want ready-to-use themes and plugins.
What is Drupal?
Drupal is an open-source CMS created in 2001 and is currently used by 1.4% of all websites on the Internet. Initially conceived as a website assembler, it has become a highly personalisable and programmable website development platform with modules (the equivalent of WordPress plugins) that Web developers can use to create customized web publishing tools.
Drupal Pros and Cons
Pros
Free and open-source code: Drupal is completely free and the system code is open, which means users can edit it according to their needs.
Security: Apart from its customizable aspect, a strong point of Drupal compared to WordPress is the security level it provides, making it a popular CMS for government institutions and other security-obsessed organisations. According to Sucuri, Drupal accounted for 2% of the hacked website, for a market share of 4.7%, which is relatively low.
Community: Drupal is also well appreciated by users because of its large community made of people who use, build, teach and document the CMS, collaborating together. There are tons of resources and experts out there to help you develop your skills to master this CMS.
Content types: Many types of content can be integrated into your website: informational pages, forums, news, polls, blog posts, etc.
Flexible taxonomies: Taxonomy is a complicated word meaning that you can group content into different categories. Group website subsections, blog post articles, fact sheets, etc. You can also manage which users are able to access and edit specific content sections, the appearance of subsections, and more.
Multilingual content: While other CMSs (like WordPress) require you to use a plugin to have a multilingual website, Drupal has a multilingual functionality built into the core.
Cons
Themes: On the negative side, some Drupal users are frustrated about the insufficient theme collection provided by the CMS. That's because Drupal isn't meant to be used as it, you've got to be willing and able to edit code to produce a custom theme.
Updates: Its constant security updates can also be a pain points for a lot of users, seeing as these aren't always easy to navigate and require time.
Complexity: Drupal was designed for web professionals which means that, although anyone can use it, you will struggle if you don't have technical knowledge. Its interface is also not very intuitive, making the learning curve pretty steep.
| | |
| --- | --- |
| Pros | Cons |
| Free & Open-source | Complex to use |
| Extensive Community | Few themes available |
| Creation of complex websites | Frequent updates |
| Secure | |
| Quick and easy installation | |
| Multilingual | |
| Diversity of content types | |
| Flexible taxonomy system | |
Our verdict
Drupal is ideal for web developers or advanced users with technical knowledge who are willing to spend time learning how to use the CMS. We recommend it for large websites requiring customization efforts.
Get WordPress or Drupal with EuroDNS
WordPress
To get WordPress with EuroDNS, you can choose between 2 options:
Plesk Hosting with WordPress
Managed WordPress hosting
The first option will allow you to have full control over WordPress and you will be able to install, manage and update WordPress yourself.
The second option is for less experienced users who don't want to deal with the hassle of installing WordPress and managing backups, updates, etc.

Drupal
To set up Drupal, you'll need a Core Shared or Advanced web hosting plan subscription. (See our web hosting comparison page to find the right plan for you.)
To install Drupal, just follow these steps:
From the Plesk control panel, go to the tab Applications.
Click on the button: Featured Applications.
An option will appear on screen: Content Management. Click on it to access Drupal.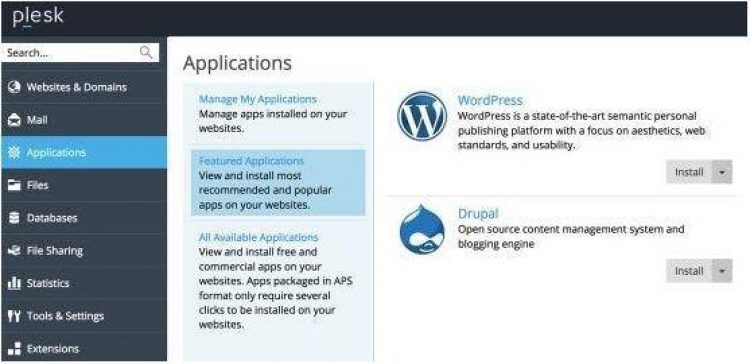 In case you're still not sure which CMS is right for you, get in touch with our Customer Support service who will be happy to help you.