.EU domain name, your passport to the digital single market

The European Commission, Council and Parliament have reached an agreement to end geo-blocking in an effort to help boost e-commerce within the EU. To firmly establish your place within and take full advantage of today's digital single market, your .EU domain name has never been more necessary.
Ending discrimination against cross border online shoppers
Currently, many sectors across the EU use geo-blocking: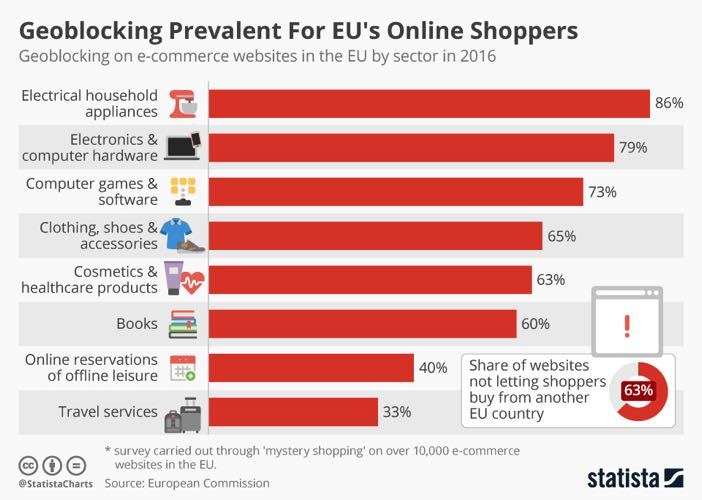 However, the Consumer Conditions Scoreboard, used to monitor the European consumer landscape, reports geo-blocking is burdensome for consumers: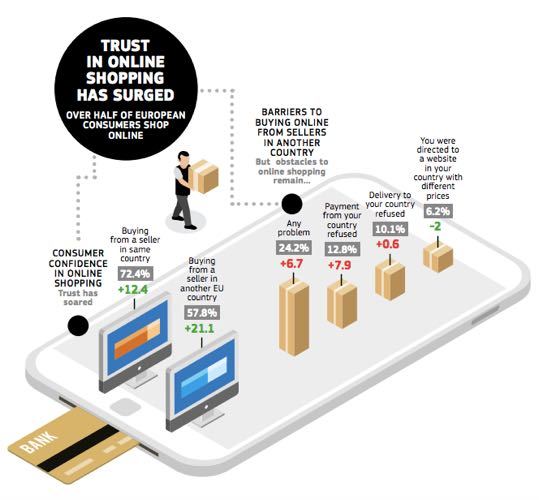 While the recent agreement to end unjustified geo-blocking doesn't eliminate all of these barriers, EU consumers still stand to gain:
They will be able to shop online for things like products, car rentals, and concert tickets with businesses located in other EU countries.
They can choose to shop from whatever site they prefer without being rerouted or blocked.
Businesses will no longer be permitted to redirect consumers to a country-specific website without first receiving consent to do so.
And SMEs, in particular, stand to benefit from the new regulations thanks to:
Enhanced regulatory oversight that will make it easier for businesses within the EU to sell to foreign customers.
Increased small businesses visibility.
Flexibility: importantly, EU businesses will not be obliged to sell to cross-border consumers or change existing pricing.
The new regulations simply address discrimination in accessing goods and services in cases where it can't be objectively justified (i.e. VAT obligations or different legal requirements), and allow EU consumers to purchase from any version of a site they wish.
What the digital single market will look like
The EU's agreement highlights (with the following examples) three rules – all of which should be in place by the end of 2018 - that will help put an end to unjustified geo-blocking:
The sale of goods without physical delivery. If a Belgian customer finds the best deal for a refrigerator on a German website, he or she can order it from and collect it at the trader's premises or organise his/her own home delivery. (Note that reducing cross-border delivery prices, still an obstacle to buying and selling across the EU, will be addressed in the future.
The sale of electronically supplied services. A Bulgarian consumer wanting to buy website hosting services from a Spanish company will now have access to the service, can register, and buy this service without having to pay additional fees not required of Spanish consumers.
The sale of services provided in a specific physical location. An Italian family can buy a trip directly to an amusement park in France without being redirected to an Italian website.
Essentially, consumers will be able to purchase goods from any EU member state instead of being forced to relocate to a country-local domain which may offer a more limited - or higher priced – selection of goods and services.

.EU domain announces your presence within the digital single market
This agreement is part of a much larger initiative to strengthen the digital single market by establishing greater transparency, security, and access.
For all these reasons, if you do business in the EU, and are looking to expand into markets within other member state, this would be an ideal time to register a .EU domain. There's no question that a .EU extension will not only make it easier to grow across borders but provide customers with a recognisable trust mark that makes your business more appealing.
As reported earlier this year, the .EU domain is among the top country code top-level domains in the world. And for businesses wanting to firmly establish their place within the digital single market, .EU can't be beat as it:
Improves branding potential, visibility, and reach within both your own country and the entire European Union.
Increases consumer trust as .EU indicates you are a legal entity based in the EU, Iceland, Liechtenstein, or Norway and, as such, are subject to EU laws and other relevant trading standards.
Provides flexibility, allowing you to choose a domain that is made up of characters from any official EU language script.
Provides better geo-targeting when compared to a .COM, for instance.
.EU domain name registration is open to all businesses, organisations, and individuals located within the European Union (as well those located in Iceland, Liechtenstein and Norway). And when you register a .EU domain name at EuroDNS, you will receive numerous helpful add-ons:
If you have any question about how the .EU domain extension can help your business gain reach within the EU's digital single market, feel free to get in touch with us. We're happy to speak with you.