Don't miss those Meta products for your business

What's this whole Meta thing everyone's been talking about and how can it help you grow and manage your business? We have the answers to a complex topic.
What is Meta?
In late October 2021, Mark Zuckerberg introduced Meta, with the aim of gathering the apps and technologies of the Facebook Company under this new brand.
The company's goal is to foster connections between people, create communities and grow businesses. Let's have a closer look at their business-specific tools.
Meta tools for your business
While we all know of individual platforms such as Facebook or Instagram, other more comprehensive solutions from Meta might be little bit more complicated to grasp.
Facebook for business
Created back in 2004 and with a reported 2.9 billion users over the world, Facebook doesn't need much of an introduction.
But did you know that two thirds of Facebook users across all countries surveyed say that they visit the Page of a local business at least once a week?
All the more reasons to create your own business page now!
Let's dive deeper into its business functionalities to develop your brand image and your community.
Facebook Page
Having a Facebook page for your business is essentially like having a free business website…with many functionalities and benefits.
Benefits and functionalities
1. Share your contact info
Sharing your contact info on your Facebook page is the first step you can take to connect with your customers.
If you have a website, share its URL to benefit from the extra traffic.
Share your physical address and opening times of your brick-and-mortar business.
Don't forget to add an email address where people can get in touch with you for business inquiries.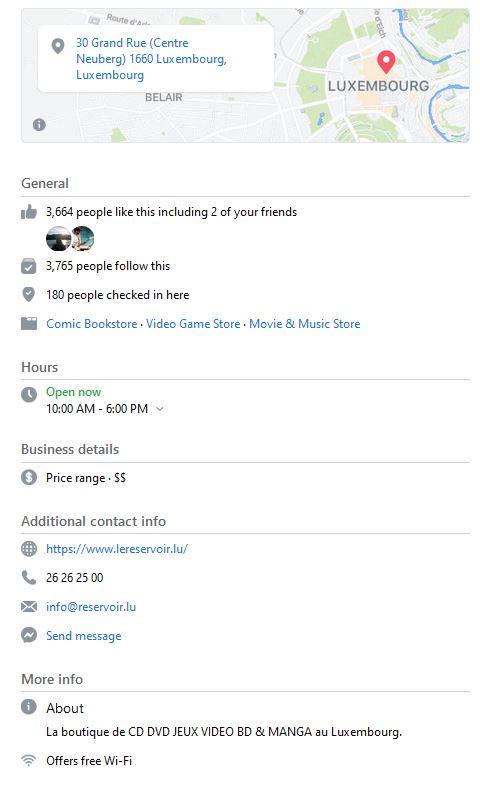 2. Share content
Like with a personal profile, a Business Page allows you to post content, be it text, photo or video.
Share your latest news, blog posts, company updates, latest product and more to reach new customers and engage with them in the comments section.
3. Insights
Your business Page will give you access to useful data about your audience, page views, number of people reached with your posts, post engagement, and all the metrics you need to understand how well your publications are working.
Develop your marketing strategy according to your performance and better target your campaigns.
4. Events
You can create your own event pages with all the info needed and invite people, all in one place.
5. Reviews
Customers can write a review of your business and recommend your business to other potential clients. Earn trust with loads of positive reviews!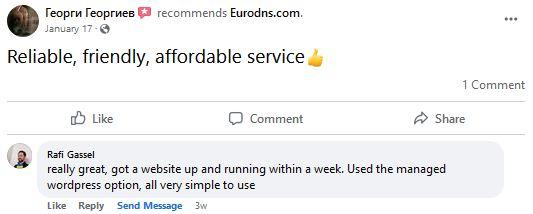 6. Shop
Launch your own online shop by selling your products directly on Facebook.
7. Ads
Last but not least, ads.
This paid advertising option allows you to target a specific audience, boost brand awareness and conversions (see more below in the Ad Manager section).
Instagram for business
Launched in 2010, Instagram has become one of the world's most used social media.
According to data provided by Semrush, Instagram is one of the world's top 10 most-visited websites globally, with 2.9 billion total visits per month.
But if you're one of those people who think of edited images when they think of Instagram, think twice.
It's much more than that. It's an efficient way to advertise your business and your brand.
So how can you use Instagram for your business? Let's find out!
Instagram Pro
Whether you already have a personal account or want to create a brand new account, you can opt for a Business account.
Once your profile is created, go to your account settings and switch to Professional account to get access to more features.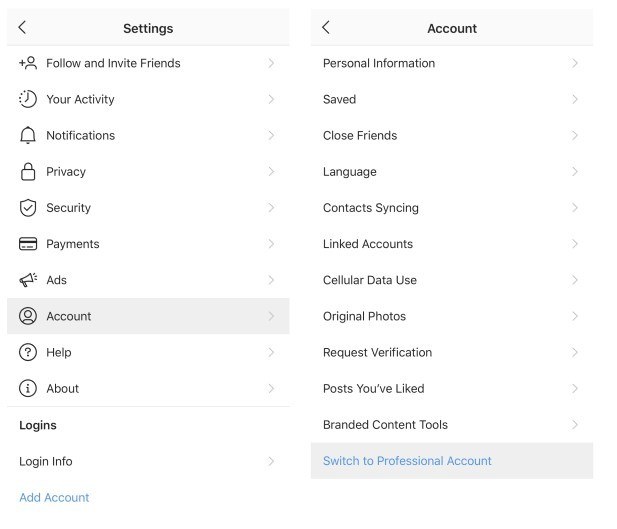 Benefits and functionalities

1. Impacting images

With Instagram's Posts, share the most impacting images for your business. New product, promo, behind-the-scenes, don't hesitate to post versatile content and tag your products (see Online shop below)

2. Video content

With Stories, you can share video content during 24 hours. The difference between a personal and professional account is that the pro account allows you to add links and tag products (see Links below)

3. Reels
Reels are video content of 3 to 15 seconds. Add filters and music to show your brand's personality and get more engagement.
4. Profile information
When switching to a pro account, you will be asked to choose a business niche, which will later appear on your profile.
You can also share a physical address and a Contact button will appear next to the Message button.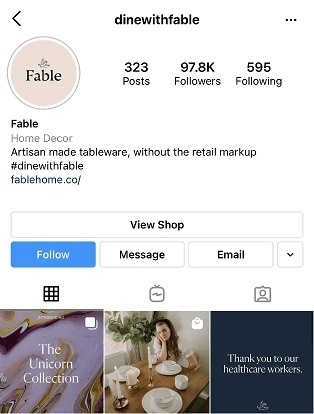 All those added details about your business will make it look more serious to your followers.
5. Insights
Similar to what you can do on Facebook, Instagram Pro gives you access to analytics to understand how your posts and stories are performing, what resonates with your audience and who your audience is.
Post and Stories data :
Number of people reached
Likes
Comments
Shares
Saved
Impressions
Next Story
Link clicks
Website taps
Audience data:
Follower growth graph
Top locations
Age range
Gender
Most Active Times
6. Ads
To grow your followers and generate more leads, don't hesitate to take advantage of Instagram ads.
Boost any post to turn it into an ad or set up your ads via Facebook's ads manager (see below) if your Instagram account is connected to your Facebook Page.
Decide who should see your ads and how much you want to spend. Reach a larger and more targeted audience.
Getting more followers is essential in growing your brand and boosting your sales, so don't neglect that aspect of your social media strategy.
7. Links
With a pro account (if you have over 10,000 followers), you'll be able to add links to your stories.
The benefit? Links can redirect to your brand's website, to the page of a product you want to sell, to a flash sale, etc.
Using links in your stories is a great way to promote content on your other channels.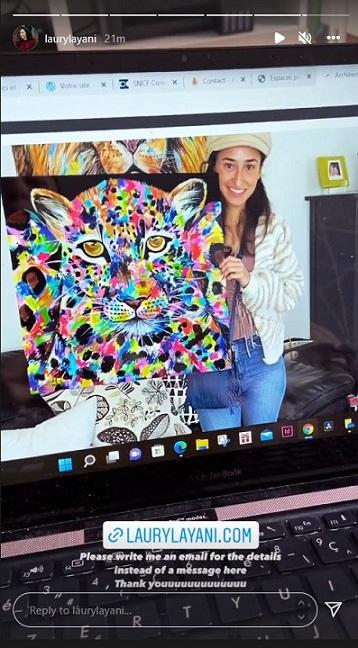 8. Online shop
By tagging products in your posts and stories, you are basically turning your Instagram feed into a small shop. You're allowed to do just that with a professional account.
Every product purchased by an Instagram user who clicked on your link will bring new revenue to your brand.
Meta Business Suite (former Facebook Business Manager)
This free Meta tool is used to manage Facebook, Instagram and Messenger all in one place. Save time with this centralized tool for business.
If you have a business Page on Facebook or an Instagram account, you should consider using the Business Suite. Even more if you own multiple accounts as this tool will help reduce the time needed to manage all.
Note that it is not the same as Facebook Creator Studio, which is designed for creators more than for brands with active ad accounts.
Benefits and functionalities
1.Save time
Post your content on both Facebook and Instagram and save a lot of time. By creating and scheduling posts and stories on both platforms at the same time, you won't need to switch between accounts anymore.
The same goes for replying to comments and messages. With Business Suite, you can manage your interactions across Facebook, Instagram and Messenger, all in the same place.
You can also set up automated responses for faster replies.
2.Ads Manager
Ads Manager is one of the most interesting features of this suite for businesses.
It allows you to create and manage ads based on your goals (engagement, traffic, etc.), your budget (daily or global), your preferred format and your audience (interests, location, gender, etc.).
Upload your ad copy and design, check how your ads look on different devices to optimise your sponsored posts.
Follow-up on your ads performance, manage your budget and your schedule.
Mastering the art of ads will help you grow your brand and reach a wider and better-targeted audience.
3.Insights
Last but not least, following-up on performance should be one of your priorities. Using the Insights tab of the Business Suite, you'll gain access to precious data about your performance on social media.
Understand how your posts are performing in terms of engagement, impressions and interactions.
Analyse trends, see who your audience is and grow your online community to boost your sales.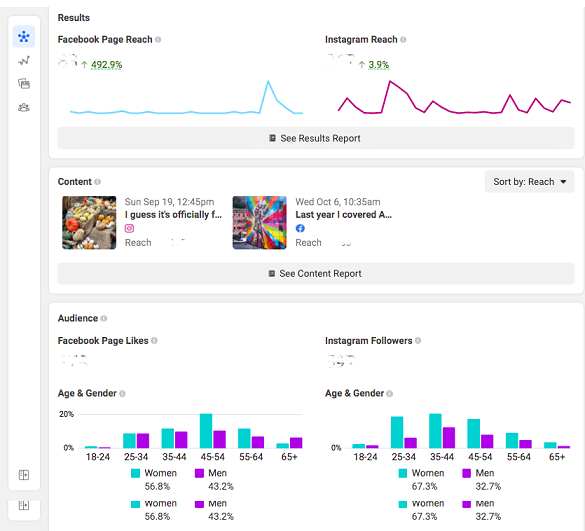 Source: Facebook Business Suite
How to create your account?
To create your account, go to business.facebook.com.
You will then be able to create your business Manager account, verify your email, set up your Meta Business Suite and connect your Facebook & Instagram accounts.
You have the possibility to set up your team and assign different roles to different team members, depending on the level of control you want to give them.
Commerce Manager
This tool is perfect to manage all your selling activities on Facebook and Instagram.
It allows you to do the following:
Launch your online shop
Manage your catalogues,
Analyse sales results
Own your own shop or work with an e-commerce partner such as Shopify or WooCommerce.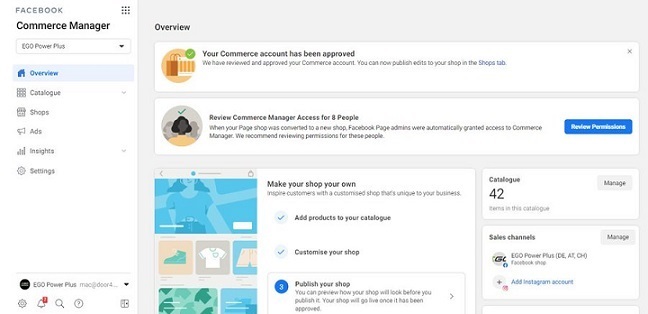 Conclusion
Those are the main Meta products that you should focus on to grow your business, expand your reach and hopefully get more conversions and sales.
If you're interested in alternative social media, check out our dedicated blog post.
Photo by Dima Solomin on Unsplash