Namespace / EuroDNS announces acquisition of moving internet group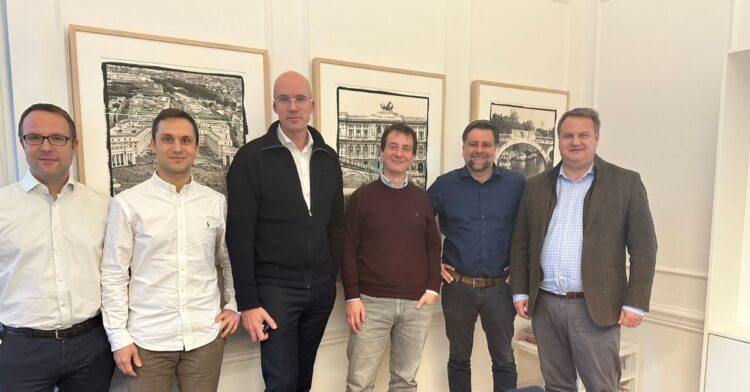 Luxembourg, November 18, 2022 — Namespace / EuroDNS enhances its hosting solutions through the acquisition of a leading German hosting group, moving internet operating as hosting.de. The acquisition will support our clients with a highly efficient and reliable hosting platform with a full range of solutions for their online presence.
Namespace Holdings S.A., Leudelange, Luxembourg (EuroDNS) is pleased to announce the acquisition of the renowned German provider of hosting services and domains, moving internet GmbH, based in Aachen. The main operating company is hosting.de GmbH, Aachen. The acquisition strengthens Namespace's hosting offering through their proprietary PaaS-solution.
In the last decade, more than two thirds of mankind have moved online. In the EU 91% of the population uses the internet and 75% of these internet users buy goods and services online. A reliable and trusted online presence has become a basic requirement for every business and organization.
Namespace's acquisition of moving internet group will provide business owners with a proven and user-friendly platform for shared webhosting, VPS, cloud hosting and managed server solutions. It comprises many other services such as CMS, DNS, domains, SSL and more, allowing for an integrated online presence offering.
Namespace Group's president and co-founder, Xavier Buck, said:
"The moving internet group is a perfect fit for Namespace because it complements our leading domain management and online brand protection platforms with an advanced, proprietary PaaS-offering for hosting. It will be another milestone on which to build our future growth strategy and provide customers a truly integrated service for their online presence. We are also very happy that the majority of the founders, Oliver Dick, Michael Ernst and Oguzhan Gökal, will continue in their positions."
Co-founder Oguzhan Gökal said:
"Namespace is a natural choice for the moving internet Group because their platform technology perfectly complements ours and there is a seamless cultural fit due to the same background of a bootstrapped and entrepreneurial history led by their founder-managers."
About Namespace:
Founded in 2002, Namespace is a global internet services company providing customers with a comprehensive selection of products and solutions. From domain registration and online brand protection to colocation and cloud business applications, our stand-alone and packaged offerings can be mixed and matched to meet all of your individual and business needs. Namespace is committed to helping you enhance your operational capabilities with our best-in-class services and product portfolio with operations in Europe and Oceania.
About moving internet / hosting.de:
Starting in 1998 in the fertile tech eco-system of Germany's elite engineering university, RWTH Aachen, four founders and friends had the idea to develop a fully integrated hosting platform. Founding their company first in 2006, they succeeded in launching such a platform and continually progressed to today's cutting edge proprietary solution. In 2013 they acquired one of the first ICANN-accredited registrars in Germany, http.net in Berlin and were able to integrate several smaller German hosters over time.
Contact:
Please contact info@namespace.com or visit https://namespace.com/ for more information and links to the individual companies and solution providers.