10 helpful data visualisation WordPress plugins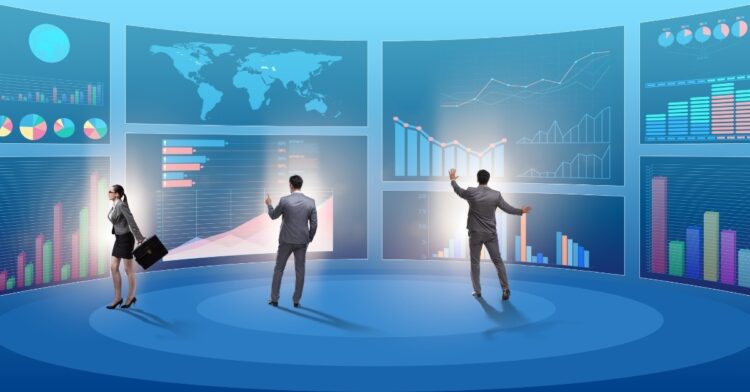 In this post you'll find a summary of 10 data visualisation plugins to use with WordPress, their key features and how they can make your data more accessible.

As one of the most popular website hosting platforms in use today, WordPress meets customer demand with their plugins. WordPress plugins help businesses adapt their website for consumer needs and control their own online experience.
What are WordPress plugins?
WordPress plugins are pieces of software that can be integrated into (or 'plugged in') your website. They change a website's functionality by adding new functions to it. Common examples include calendar management, payment services, and integrated social media coordination.
Many sites use multiple plugins in tandem with one another. Typically, this allows for better functionality than through a website alone. For example, an ecommerce site may use multichannel inventory management alongside data visualisation to show customers stock levels and availability in real time.
Data visualisation WordPress plugins
Data visualisation plugins help your customers to better understand and digest important information in relation to your business. Many are incredibly sophisticated and contain neural network processing, which identifies patterns in data in a way that mimics the human brain. This means that your data can be presented in a way that meets consumer expectations.
By making your key statistics more accessible, you increase audience engagement with your company and reduce barriers to the sales funnel.
Image sourced from Statista
Brands also benefit from customizable graphics that meet brand guidelines without expert knowledge of coding. Some even integrate additional design capacity to create brand-specific designs, for example a logo for YouTube or multichannel social media.
There are many WordPress data visualisation plugins you can use for your site. Here are 10 plugins that are useful for different modes of data presentation within a WordPress website.
1. POWr.io
A hugely popular data visualisation plugin, POWr.io allows users to create visual data—charts, graphs, plots—by importing data directly from ExCel. With a wide variety of visuals available, this plugin is a favourite of businesses that need large data sets embedded easily into their site without coding expertise.
Key features of this plugin include custom visuals that blend in with your branding, mobile responsive designs, and live editing to keep your data up-to-date.
2. Snowball
Snowball is a free plugin that allows users to integrate visual articles into their website without prior coding knowledge. User-friendly and easily managed, Snowball can run either alone or alongside pieces of code if your team has this capability.
3. InfoGram
InfoGram allows you to embed charts and graphs into your website. It's a particular favourite for blog posts, as you can embed graphics directly into your posts without leaving WordPress. It operates using shortcode, which is simpler to use than HTML and can be used within the WordPress Editor. You can also use this plugin collaboratively with other team members.
Screenshot taken from Infogram.com
4. DW Charts
Released by DesignWall, DW Charts is a paid plugin that works with Google Charts to create custom charts, graphs, and plots. It's simple to use and edit—simply upload your data from a spreadsheet and DW Charts will take care of the rest!
5. Graphina
Supporting over 15 types of data visualisation, Graphina is purpose-built for data visualisation in Elementor websites. You can represent bodies of data with sleek, branded visuals that are easy to display on your site. A sophisticated program that can be integrated into any number of sites, this plugin is great for drag-and-drop sites and can be used with minimal knowledge of coding or data processing. Perfect for social media integration, this plugin is great for branded and accessible visuals.
6. iChart
iChart supports a variety of data visuals, including bar and line graphs, and pie charts. It's a simple plugin that allows for clear, concise visuals of simple data sets.
This plugin has gained popularity in recent years for its ability to easily integrate COVID-19 data into websites. Although not universally applicable, this feature demonstrates how responsive this software is and how easy it is to use.
7. Data Tables Generator
This software specialises in creating custom data tables, with device responsive design, data sorting and pagination, exporting capabilities, and coding support. Although you may benefit from some coding knowledge before diving into this plugin, it is nonetheless easy to use and creates accessible, digestible visuals.
8. WP Forms
WP forms allows you to design and install contact forms into your website. This data visualisation WordPress plugin will collect responses to the form and visualise them for you. You can collate all of your leads in one place and easily visually categorise them however you need.
9. Visualiser
This plugin can be used to create and embed data graphics anywhere into your site. There are four types of graphics available in the free version of the software, and eleven more in the paid version, meaning this plugin is suitable for any budget.
It's important to highlight the customizable features of Visualiser. For example, you can customise designs and colours to seamlessly fit in with your branding, or you can add mobile responsive features or data sorting to your tables.
10. Exports and Reports
This plugin is more for internal use than external data visualisation, but it's an incredibly useful and visual data processing plugin for business. Exports and Reports allows your team to generate custom reports on website usage, including accessible visuals. This is crucial to understanding how your site is used and its future direction.
In summary
Data visualisation is vital for a successful website. Whatever statements you make about your business, whether it be sales or the capabilities of your product or service, should be backed up by empirical data. This data should be easily accessed and digested for your audience, whether they are data experts or not.
Be sure to look out for key features that meet your specific needs. For example, if your team works with a data Lakehouse for Retail or business, you might benefit from live editing capabilities.
The value of data visualisation WordPress plugins cannot be overstated. One of the most highly valued qualities of WordPress is its wide variety of plugins that allow for high functionality without a detailed knowledge of coding. Ultimately, this removes a significant barrier to creating
Author Bio
Pohan Lin - Senior Web Marketing and Localizations Manager - Databricks
Pohan Lin is the Senior Web Marketing and Localizations Manager at Databricks, a global Data and AI provider connecting data warehouses and data lakes to create lakehouse architecture. With over 18 years of experience in web marketing, online SaaS business, Azure data lake use cases, and ecommerce growth.