Why your website should be mobile-first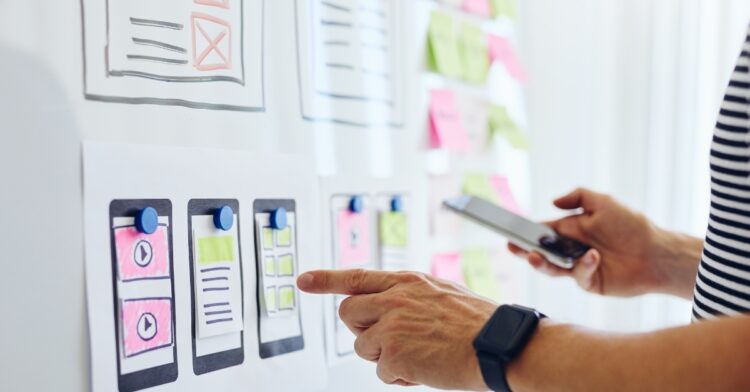 Designing a website is always a challenge. But if you're trying to attract modern audiences and customers, you should design it to be mobile-first. Mobile-first web design is more important than ever, given that nearly 60% of all web traffic comes from mobile devices. Let's explore why your website should be mobile-first.
Mobile-First Design: What Is It?
A mobile-first design approach involves creating a website, app, or another online platform with mobile users in mind. Traditionally, web designers followed two different practices:
Responsive web design or RWD. RWD is a method that creates sites or webpages to fit screens of varying devices automatically. Thus, it's versatile and appropriate for attracting visitors on both mobile devices and traditional interfaces like desktops or laptops.
Progressive advancement and graceful degradation. The progressive advancement design model involves designing a product for the most basic browser interface possible and then upgrading it for advanced PCs or interfaces. Graceful degradation, in contrast, focuses on building a site or platform from the most advanced version possible, then simplifying or downgrading it as necessary based on user needs.
Mobile-first design is different. While responsive web design can be useful, it's not always guaranteed to work for mobile users. Any given mobile visitor might still run into an interface or navigation problem, or a so-called adaptive webpage might not load properly.
With the mobile-first design approach, you guarantee that mobile visitors can view your website content whenever they like. More importantly, mobile viewers will have an excellent scrolling and browsing experience.
Mobile-first design focuses on the following:
Building a website or webpage so that it can fit on all mobile browsers and devices from the get-go
Creating a framework for a website or page that prioritizes mobile device navigability over desktop or laptop navigability
Making a website with interactive icons and elements designed to be tapped rather than clicked on by a mouse
Note that mobile-first design doesn't mean that your website or webpage can't be used by desktop and laptop viewers. In contrast, starting from a mobile-first design approach means that you can upgrade or adapt your mobile versions of each page for desktop viewers.
In many cases, it's actually much easier to change the size of screen elements or adapt your page for desktop browsers than the reverse, in which case you would have to downsize major elements, change how buttons work, etc.
Why Is Mobile-First Design So Important for New Websites?
Mobile-first design is essential in today's marketplace because most people browse the internet on their mobile phones.
Given the prevalence of smartphone devices and the advent of fast internet connectivity and download speeds, it's no surprise that most people browse the web using iPhones, Android phones, tablets, and similar devices. Both adults and kids use smartphones with the same regularity. In fact, according to recent statistics, 69% of 12-year-olds now have a smartphone they use to browse web content for several hours each day.
Rather than being tethered to home computers or laptops, people can browse the web, shop online, and even view high-quality television shows all from the palms of their hands. This flexibility and versatility are too convenient to ignore, which is why many people simply do most of their browsing on a mobile device instead of a desktop computer.
Business owners too can now accept and track payments from customers via mobile processing devices that offer the flexibility of integrating with an existing POS system so they can track payments received and invoices processed from customers while on the go.
Therefore, if you design your website to be unnavigable or difficult to look through for mobile users, you could be cheating yourself out of significant traffic and conversions. These days, people aren't willing to wait or navigate through a clunky, uncomfortable website. They will simply click away to an alternative or competitor in your niche.
If you want to capture mobile traffic, your website needs to be:
Easy to understand and scroll through
Navigable, preferably with big buttons and a clear navigation bar
Fast loading. Generally, your web pages should load in less than a second unless you want to risk people clicking out of your site for a competitor's.
Mobile-first design can help you achieve all of these goals and more. By creating your website with mobile visitors in mind right off the bat, you'll guarantee that it works (and works well, more importantly) for those mobile visitors, even if your desktop and laptop visitors have less-than-perfect experiences.
How To Implement Mobile-First Design for Your Site
Given the importance of mobile-first design for your website, it's important to follow this approach at the earliest opportunity. Here are four tips for designing your website with mobile users in mind.
Keep Things Simple
The first tip is to keep things as simple as possible. The simpler your webpage is, the faster it will load on mobile devices, including last-generation smartphones. This is advantageous, as it means you can broaden your website's accessibility to a much wider potential audience, including many more customers.
In addition, keeping things simple minimizes the buttons that someone can accidentally press when trying to navigate to their desired location. Generally, simpler is always better when it comes to mobile web pages.
This simplicity principle should extend to every aspect of your mobile-first web page design. For instance:
Don't include unnecessary graphics, especially videos; those just slow page load times.
Make sure that buttons are clearly and easily highlighted and not clustered too closely together.
Use a simple, navigable site layout and aesthetic with bold and contrasting colours to make navigation even easier.
Take a look at Weave's Veterinary page. It's an excellent example of a business page that looks good on mobile devices and desktop computers alike, thanks to its elegant layout, fast load times, and large, easy-to-see buttons.
Place Your CTA Wisely
Your CTA or call to action is also important when designing a new mobile-first website or landing page. You have to keep in mind that all of your visitors will use their fingers to navigate through the landing page rather than a mouse.
To that end, your CTAs have to be both easily read and easily clicked on. You can do this by using larger fonts for all your calls to action. You can also put your CTAs above the screen fold, ensuring visitors will see the CTA in question as soon as your website first loads.
Similarly, ensure that your website's input forms or fields are large and easy to click. Nothing irritates mobile users more than having to try to click on a webpage element again and again to no avail. Frustrate your visitors enough, and they may close out of your "mobile-first" website entirely.
Streamline the Navigation Bar
A mobile-first design approach also includes streamlining and improving your website's navigation bar.
The navigation bar is a section at the top of your website that allows visitors to go from one main or hub page to another. For instance, on your website's mobile-first navigation bar, you might have links leading to your Contact page, About Us page, your Products page, and so on.
The navigation bar must be shrunken down to as few options as possible. You should also condense all secondary elements on your navigation bar into navigation buttons or drop-down menus. Not only does this accelerate page load speeds, but it also minimizes the clutter that mobile visitors have to look through to find what they need.
Test, Test, Test
Lastly, be sure to regularly test your mobile-first website as you build it and add new elements. To do this, you can use tools such as LT Browser or simply access your website using your own mobile device to take it for a test drive.
Try to test your website on different resolutions and with different screen sizes. Measure how long it takes for the website to load and ask yourself whether it's easy to push all the important buttons on the website or if it takes too long to figure things out.
As you test, you can identify pain points your mobile visitors will likely experience and make improvements step-by-step. Remember that this is a consistent, iterative process, and you can always improve your mobile-first website beyond its current state.
Conclusion
Designing your website with a mobile-first approach is the best way to maximize traffic and ensure your site is navigable and usable for all your potential visitors. Fortunately, redesigning your site with a mobile-first approach is easier than ever. Once your site's initial layout is cemented, consider using EuroDNS to purchase a domain name related to your brand or niche.