13 best WordPress email subscription plugins in 2020 (updated)

According to statistics, for every dollar spent on email marketing, brands receive 38 dollars in return. WordPress's email subscription plugins can help you save time, effort, and grow your subscription lists. Here's our list of the 13 best WordPress subscription plugins.
Best WordPress plugins
We all know that email distribution speeds up the process of communication with customers. It allows online marketing professionals to send subscribers newsletters, updates, product recommendations or promotions, and generate sales.
Email marketing tools help you increase subscriber base and profits, outperform competitors, and attract new customers easily and effortlessly. For automatic email distribution, we suggest to use WordPress plugins.
This unique WordPress plugin has recently been through a major update. Among its new features are:
an easier to use dashboard
templates & presets
mobile-specific editor
fullscreen forms
Getlink feature
The new layout templates are meant to facilitate the form creation process. You will only need to do some minor manual adjustments, like picking an image, changing the position of your widget, add your company logo, choose colors, etc.
No need to activate all forms at the same time (and scare off visitors). Use them as you see fit to conduct surveys, social media campaigns, etc. You have complete control over how your subscription form looks, as well as where, when, and how it appears on the page.
The greatest strength of GetSiteControl is its flexible targeting settings, strengthened with the introduction of the AND and OR operators. You can configure the display of the subscription form according to the users' on-page behaviour, their browser, OS, device, language, referral resource, and even UTM tags. The mobile editor now allows you to manually adapt the widgets for your mobile users, changing size, location, etc.
The new fullscreen popups are great if you want to provide visitors with a distraction-free experience, which can help to increase your form submission rates. While Share widgets have disappeared, the Get Link tool is here to allow form sharing. You'll be able to get the link to all your widgets from the admin dashboard, and share it with your community via email, social media, etc. Cool!
The free version of the plugin is now available only to non-profit organizations.
Special feature: powerful targeting features to determine the conditions on which you want the popups and widgets to display.

Apart from subscription forms, you can add site and social sharing buttons, as well as click map. Format newsletters through 5 different options - standard, scroll, and static forms, horizontal banner (top or bottom), and Sumo's "trick" form, a full-screen pop up at the very start of a visit. Also provides a checkbox, switch, and countdown timer, and ability to set up automatic file downloads from your site.
The free version allows you to collect 500 email addresses, send an automatic message to each new subscriber, basic integration with other email marketing services, and form customisation (colour, size, position).
Special feature: when visitors highlight a phrase on your site, a box will appear asking them if they would like to tweet it.
MailChimp is one of the most popular and dynamic services for generating subscribers and sending emails. It provides a convenient interface for creating segmented mailings, a useful way to prevent your email from landing in spam lists. It also allows you to view statistics on campaigns, and set up autoresponders. Use the free version to maintain a database of up to 2,000 subscribers.
The MC4WP plug-in (understand, Mailchimp for WordPress) connects with your Mailchimp account in a matter of seconds. It will allow you to expand your Mailchimp lists and create attractive looking custom forms in WordPress.
The premium version allows you to manage multiple forms and has advanced features to integrate with WooCommerce. You will also have access to detailed reports and statistics to know who used which form to subscribe.
Special feature: redirect your visitor to the page of your choice after they have subscribed.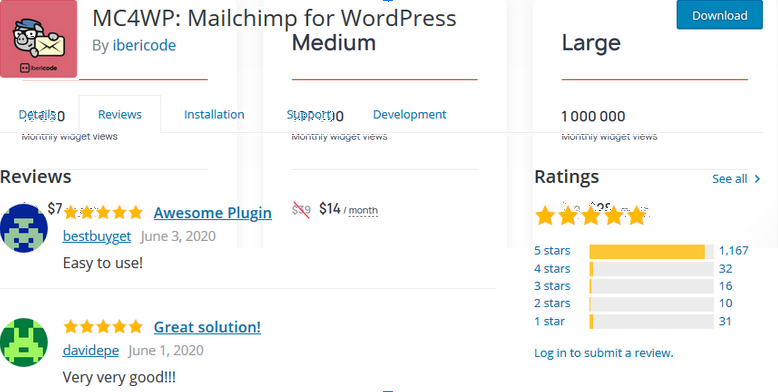 Icegram's minimalistic design is useful for all email marketing tasks. Just install this plugin on your WordPress site, add notification banners and a form for email addresses. More than 80 ready-made templates are available to help you create your subscription form, including holiday and special occasion themed templates. You simply need to insert your text in the form and send newsletters to your targeted audience.
Simplicity is the most important advantage of Icegram as there is no endless list of options for animation, colour scheme settings, design elements, and targeting. With the plugin's basic version, you can add your own text, change button colour and position, customise specific pages, and time period as per your needs.
Weblizar is designed as a lightweight and flexible plugin that's also great for email marketing. It does slow down your site and create vulnerabilities, which can repel visitors. But it offers all the necessary features and functionalities required for building a large customer base.
Its subscription and email capture forms will help you develop your customer lists. Different options are available to display your call to action via pop-ups, sidebars, personalised newsletters, etc.
The interface is easy to use, with a dashboard and form template customization tool. It integrates easily with MailChimp or Mad Mimi. With manual and automatic subscriber notification function, links to your social network profiles for a better engagement of your subscribers. Can be activated for multiple sites.
Special feature: can be translated into any language.
A full-scale email distribution service is a useful tool for promoting your website and business. Just install the plugin on your website and automate your email marketing efforts, a simple way to increase subscribers.
After installing and activating the plugin, specify email notifications and options according to your needs. You will have a ready-made subscription form. Just add a new field, text or HTML code to the subscription form and place it on your website.
The free version includes several cool features such as convenient drag and drop lettering, no subscriber restrictions, full statistics, integration of the registration form anywhere on your site, custom themes, translations, and compatibility with other WordPress plugins.
Special feature: you can control how fast your emails are sent out, which is very useful if you're sending them through your web host that impose limits.
One of the best WordPress plugins for email marketing activities. SEO professionals can effortlessly announce new live articles, set up automatic emailing, and enable newsletter notifications.
All operations are carried out directly from the platform console, which helps digital marketers with simplifying how they work with their subscriber database. It includes messaging templates, social buttons, theme customisation, and a deferred posting option for new articles.
Special feature: their "Premium + Sending" plan is 100% free for up to 1,000 subscribers, which is great for tight budgets.
OptinMonster is a light and fast WordPress plugin that creates stylish and colourful dialogues through forms which can be embedded in side panels or directly into message text - no more boring, monotonous pop-up windows. Assign separate forms and windows for specific pages. A/B test and review statistical reports to track the most effective way to attract subscribers.
Special feature: OptinMonster's Exit-Intent® technology allows you to create popups that appear when a visitor is about to leave your website.
WP Subscribe is a high-quality WordPress plugin, providing full control over how a form appears as well as when it appears during a users' visit. Full email marketing automation capabilities. Compatible with MailChimp, AWeber or FeedBurner. This plug-in can be fully automated via custom CSS. It is also compatible with SEO and caching plug-ins. Support is available on online forums.
Best feature: its simplicity!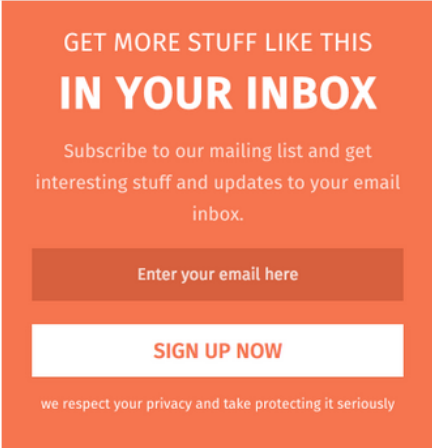 A multi-purpose WordPress plugin that can be used to display a pop-up window for both email and newsletter subscriptions. For mail server access, you'll need to register at Jetpack's official website. In the main menu, go to "Subscription" which offers several options for the registration of forms. You can place them almost anywhere on your website via widgets or shortcode. A Jetpack license is included in our managed WordPress hosting packages.
Best feature: robust site stats
This very complete plugin allows you to create marketing campaigns in just a few minutes without having to write a single line of code. It also allows you to set up auto-responders, access campaign statistics and analysis, all for an unlimited number of subscribers, lists and forms (premium version). Another plus: it has pre-designed forms to use on mobile devices. The free version allows you to create up to 3 lists with a maximum of 50 subscribers per list. It does not include technical support.
Special feature: what sets Mailster apart from its competitors is that you only have to pay a one-time fee. No monthly or annual subscription, once the cost is paid, you have indefinite access to the service.
This French emailing platform is used by more than 50,000 companies. The interface is simple to use and easy to find your way around. The creation of lists is extremely easy thanks to the import function of lists from external sources.
The creation of campaign emails is a no-brainer. You can either use a pre-designed template and add your personalized elements, or you can start from a blank page and create your newsletter yourself. Intuitive drag and drop functions will make the job easy.
The Automation tab of the tool will allow you to send autoresponders to automatically send certain emails to your subscribers. For example, to send certain documents X days after subscription.
You will also be able to examine the success of your campaigns thanks to the integrated report dashboard with an extensive insight to different data.
Best feature: transactional emails included in the free version.
This plugin offers different types of forms, some discrete and others more invasive, depending on the strategy you want to adopt. Forms can come in the format of a pop-up window, a sidebar, widgets, buttons, etc. - something for everyone. Each type of forms has its own template: some are colorful, others more sober, with or without image.
The intuitive toolbox allows you to make the desired changes without any hassle and to activate programming options or display duration so that the same visitor does not see the same form several times. MailOptin also allows you to store campaign analyses directly in the WordPress dashboard.
Special feature: connects with a bunch of email service providers.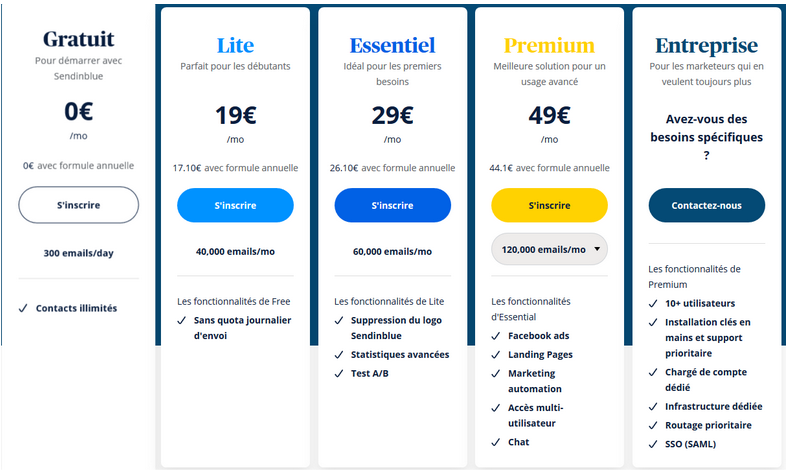 WordPress plugins will boost your email marketing efforts!
WordPress's email subscription plugins provide smart solution for email marketers. These free WordPress plugins provide everything you need to communicate with new users and generate more leads, so your email marketing efforts aren't done in vain.
To access WordPress and start using these great plugins, you'll need to first subscribe to one of our web hosting plans. See our web hosting comparison and our WordPress comparison pages to decide which plan best suits your needs. All plans offer WordPress so you can create your own website easily without any hassle.
Good luck with your marketing efforts! With these email subscription plugins, you can't go wrong!