12 best learning resources for SMBs in digital marketing
The Office of Advocacy reported in 2019 that only 78.5% of small businesses in the U.S survive their first year. One of the explanations behind this is the absence of a successful digital marketing strategy. To ensure that your business is implementing a winning strategy and to help you upskill in all areas of digital marketing, we've put together a list of learning resources.
1.Digital marketing
Have you ever heard of Google's Digital Workshop? It's a non-profit programme from Google delivering free digital skills training via an online learning platform. The certified course "the Fundamentals of Digital Marketing" includes 26 modules with video tutorials, practical exercises and real-life examples. Created by Google trainers, it's ideal for beginners who want to learn the basics of digital marketing.
Criteria:
Certified course
High-level introduction to core areas of Digital Marketing (SEO, SEM, Social Media, Email Marketing)
Focus on small business
Beginner Level
Free
Requires time investment of 40 hours for the entire course
Another good option is Udemy's Complete Digital Marketing Course. With over 20 hours of training, quizzes and practical exercises, this is one of the most comprehensive digital marketing courses. It covers everything from SEO to YouTube Marketing, Facebook Marketing, Google Adwords, Google Analytics and more.
Criteria:
Certification included
Beginner to Intermediate level
Deep-dive into: Market Research, WordPress, Email Marketing, Copywriting, SEO (Search Engine Optimisation), YouTube Marketing, Social Media Marketing (Instagram, Facebook, Twitter, Pinterest & Quora), Linkedin Marketing, App Marketing, Google Adwords, Facebook Ads, Google Analytics.
Interactive with projects, checklists & actionable lectures
Support in Q&A section
Time investment of 23 hours for full course
199,99€ full price (often on discount)
2.Social Media
You must know it by now, social media is an essential part of your digital marketing strategy. It helps to build your brand image and awareness, as well as create a community. Your competitors use social media, and so do your (potential) clients. That sounds like a good reason for you to invest some effort in your social media strategy, right?
The HubSpot AcademySocial Media Strategy Certification course is designed to help you learn how to build an engaging inbound social media strategy, and of course how to create the content itself.
Criteria:
Certification Included
Helpful tools
High-level, introductory
Workshops and practical exercises
Free
Hootsuite's social marketing trainingis meant to teach you foundational social marketing skills in order to grow followers and engagement on your social channels, and the subsequent business results. From optimizing your social media profiles to growing your community and doing advertising, it covers the main aspects of social marketing.
Criteria:
Certification Included
Beginner to Intermediate level
Deep Dive into Social Media Strategy and Social Advertising
6 hour time investment
199$
3.Copywriting
This copywriting video course is meant for beginners. By the way, do you know what copywriting is? Jesse Forrest answers this question and many others. Finding the right words to sell your products and services on different channels and convincing your visitors to become your customers is no easy task.
In this course, you'll learn about the difference between content writing and copywriting, how to appeal to your audience, and how to overcome writer's block.
Criteria:
No certification
Little time investment (1 hour)
Beginner level
Class project included
Subscription to Skillshare is free for 14 days, then it's paying
The Complete Copywriting Course will teach you how to sell more products and services by writing better, more engaging copy. It goes through the fundamentals of copywriting, how to write a good headline, and offers lessons specific to press releases, case studies, and email writing.
Criteria:
Sales-oriented
Includes certificate
Under 3 hours
Includes tools and downloadable templates
€199.99 (frequently on discount for under €15)
30-day money back guarantee
4.SEO
We already talked about the Yoast SEO plugin on the blog before, and lucky us, Yoast also offers a range of online SEO training to improve your website's performance in search engine results. From the free basic package to the pricier premium offer, you can learn everything about content and technical SEO, from keywords to backlinks.
Criteria:
Topics adapted to user need (keyword research, international SEO
Beginner to advanced levels
Free to €499/year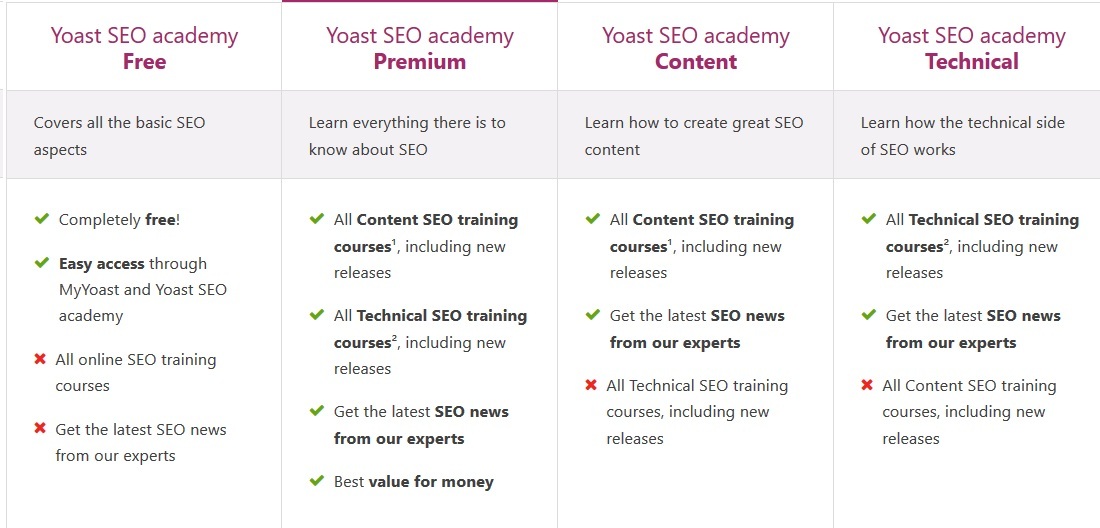 For advanced users that wish to focus on SEO strategies, Coursera offers a comprehensive Advanced Search Engine Optimization Strategies course. It aims at teaching you how to spot and fix SEO problems, improve your visibility, accelerate the loading speed of your website, conduct data analysis, etc.
Criteria:
International-oriented
Advanced level
Time investment of 25 hours
The course is free, but you'll have to pay if you want to have a completion certificate delivered
5.Email marketing
Social media is one thing, and email is another. Email still is a crucial marketing channel that requires a proper strategy. Hubspot's email marketing course provides a good overview of email marketing, how to create and send the right email, understanding your contact's needs and testing your campaigns.
Criteria:
Certification included
Beginner to intermediate level
Free email marketing tool to practice
Includes quizzes to test your knowledge
3 hours time investment
Free
You want to learn from the best? Allyson Van Houten, Senior Manager at MailChimp, gives a 14-lesson online course to learn the basics of email marketing. The course is only 1h11min long, it's free and answers practical questions such as "What type of email should I send?", "How often should I send", and takes you step by step through the creation of an email campaign, from the creation of a subscription list to the analysis step.
Criteria:
For SMBs, freelancers, start-ups
Beginner level
Includes a practical assignment
Subscription to Skillshare is free for 14 days, then it's paying
6. Website
WordPress is the most widely used CMS (Content System Management) and very user-friendly. It's ideal to build a website without having to write a single line of code.
This wpapprentice tutorial is meant for complete beginners and takes you through the basic functions of WordPress in order to be able to create your website. It is short and free, so don't expect to gain in-depth knowledge about the tool.
Criteria:
High-level overview
For beginners
Free
For a more complete overview, Joy of WP offers over 50 videos on the different functions of WordPress to become a pro. It'll take you much longer to complete than the first one (5.5 hours) but it's completely free and you can choose to skip some videos as they are very specific.
Criteria:
In-depth tutorials
With a focus on blogging
Free
Managed Wordpress hosting with EuroDNS
With our managed WordPress hosting packages, you will have the comfort of having the most utilised content management system in the world. Never worry again about updates, security and loss of data. Instead, focus on creating the best content while we keep your WordPress website up to date and running smooth. Both the Basic and Advanced packages come with a free SSL certificate so you'll have the best foundation for your WordPress website.