HR software Talexio brings positive change to organizations
Customer Story: Since its launch in 2009, Malta-based software company preeo.software has become a leading developer of tailor-made applications for various industries. Their Managing Director and Founder Mark Camilleri Gambin talks about their latest product talexio.hr, a complete HR & Recruitment solution that promises to remove any manual processes and improve employee wellbeing.
As a software development company, Mark and Preeo Software team worked with clients across different industries looking to build a custom platform to improve their internal processes. Since 2015 the team worked on building various tailor-made web-based solutions in the Human Resources area which led to Talexio. Working directly with HR managers who faced various challenges in recruitment and HR management like ineffective and manual processes and poor data management, the team looked for ways to make the process as easy as possible.
"When dealing with all HR managers in different businesses, we felt the pain that they were having with their HR management systems. From there was a natural progression to Talexio."
Today Talexio is a complete payroll, HR & recruitment software that aims to automate the most mundane processes for HR managers and simultaneously enables them to maximise the wellbeing of their employees throughout their lifetime at the organisation from having clear recruitment, complete onboarding experience to ongoing HR activities. It is a platform "Set up by HR professionals, for HR professionals"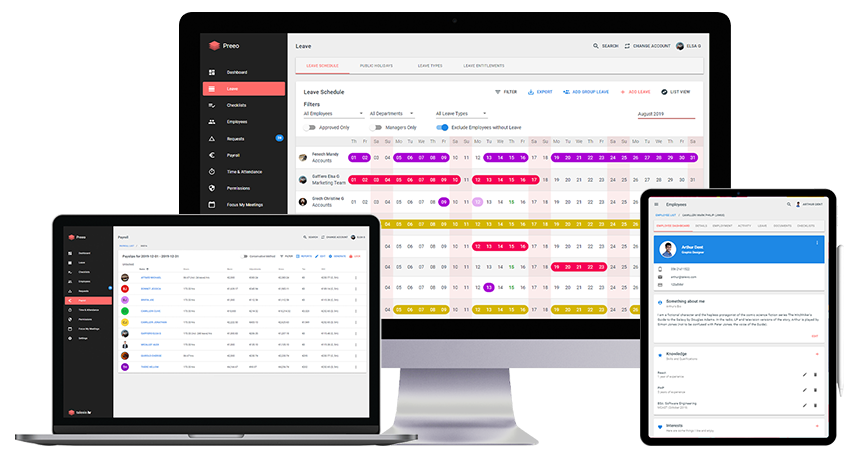 Features designed to improve all HR processes
Applicant tracking system helps to streamline and automate the recruitment process by offering an advanced database search, seamless email communication with the candidate, application, interview scheduling and digital contract signing. Applicants search is the most important aspect of the module. AI-based applicants search module analyses submitted resumes and given a job description and learn to deliver the best matches and talents.
You can set up an automated onboarding and offboarding process with a set checklist for standard processes. The platform continues on through the candidate work life cycle and helps human resources with secure storage and digital management of employee data. Digitalising employee data and records from the contract, contact details, work record, organisation structure, salaries, benefits, time attendance to leave management, helps to reduce manual work and inefficiencies.
Insights dashboard provides statistics on demographics, terminations and engagement. The latest feature 'Focus My Meetings' helps to measure efficiency and usefulness of the meetings. Post meetings, participants receive a link to rate quickly the quality of the meeting. This enables human resources to collect data and see trends from their internal meetings.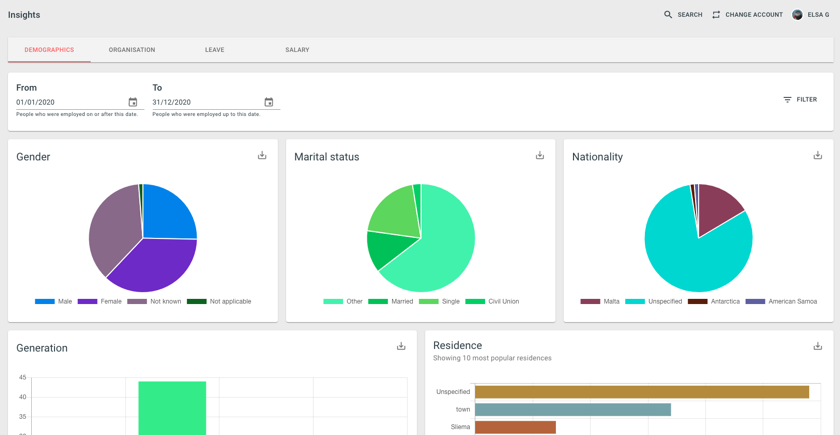 "Our customers normally would have shopped around trying to find a system that does everything they need but often they end up having to pick and choose different systems and try to synergize them. They would need to implement several applications or software and have a disconnected process. We offer a seamless experience for both recruiter and the employee.
For instance, using applicant tracking when employing a candidate, you can send the offer from the system, the candidate accepts at the press of a button, at the same time you can change the status of your application to 'appointed'. Now we can start onboarding in the HR system. So everything flows. It generates the contract from a set template. The contract is electronically signed with DocuSign integration. This goes on beyond recruitment. With a performance management module to be released by the end of the year, for example, you can record takeaways from reviews, create improvement action plans and see the progression."
Problem-solving mentality and innovation at the heart of the business
Mark emphasized that having a strong team with the same mentality, a team that communicates well and believes in the same mission of delivering top quality products is essential to business success.
"First, we are problem solvers. That's the type of people we employ and look for. As a team, we're very interested in solving problems for other people. We try to be flexible, dynamic and practical. I feel there's nothing we can't do. Whenever I meet a client that has an Excel sheet they're using for whatever reason in HR. We often give them a solution. We say, automate this, find a way to make this less manual and give them peace of mind. We may create a feature out of it if we find it relevant to the majority of clients."
A small team of 13, made up of engineers and friends from university, is passionate about delivering the best technology available in the market in both innovative and reliable ways.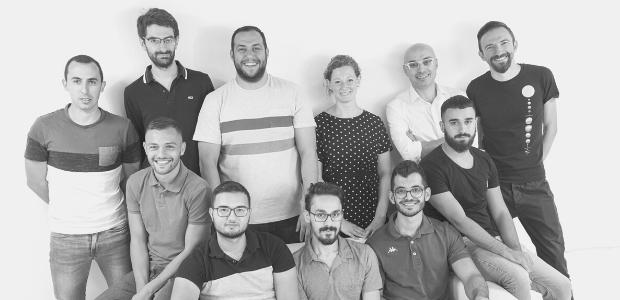 Talexio Team
"Having the right team is critical to delivering a top product. Our engineers are passionate about the design, the quality of the code, testing and generally growing the product in a simple and clean way."
Mark highlighted several features they are most proud of. A highly intuitive interface is built on Google's Material Design, which gives fast and snappy user experience. Google's visual design framework is flat, elegant, and vibrant. It deeply interacts with users. Material Design has responsive & meaningful interactions (Medium, 2015) "For us the rule for UX / UI is that they don't just behave well, but they look good as well", says Mark. For API integration they are using graph QL language, the technology pioneered by Facebook. GraphQL provides a complete and understandable description of the data in your API as well as gives clients the power to ask for exactly what they need and nothing more. It makes it easier to evolve APIs over time and enables powerful developer tools (Scotch.io, 2018)
In the context of COVID-19, the team has also demonstrated its ability to react and adapt swiftly to additional customer needs. With the introduction of government financial support for businesses in Malta, Talexio rolled out a new feature COVID-19 Wage supplement, aimed at supporting organisations with supplement payments to their employees.
"A lesson that we've learned from the crisis is that we should be comfortable with technology if we're working from home, the technology is what connects us.
We're seeing increasing interest in our product as it offers optimization and increases efficiency of business operation."
Technology to bring positive change
The Talexio Payroll module currently focuses its expansion in Malta but hopes to continue the growth in the UK and the US. "When we identify a new market, the first step is to understand local jurisdiction in regards to recruitment and HR. For example, when we go to the UK market, in order to make payroll modules available, we will need to consider and implement it according to the UK regulations. The rest of the system is already fully suitable for wherever you are."
When asked about the future of Talexio, Mark once again expressed their love for technology.
"Our mission is to improve human ability with great software. We want to use technology to affect positive change. Some people see technology as bad in the context of the Facebook crisis. But I believe platforms like Facebook or Google can be real drivers of positive change.
And we want to make our contribution by creating impactful software, channel our love for technology towards helping other people and affecting some positive change in the world.
So our values are all centred around the idea of doing the right thing. But obviously we want to have fun and experiment while we're at it. Because that's what makes our life interesting."

Talexio is a complete HR suite for human resources, recruitment and payroll professionals looking to work more efficiently. Mark Camilleri Gambin (Talexio & Preeo Software) has shared his entrepreneurial business story with EuroDNS as part #WeSupportBrands campaign. Are you an EuroDNS customer? Learn more about how you can get your story featured.