Meet Foozo, the latest delivery service by Grouplunch

If you work in Luxembourg, you have most likely ordered your lunch from the leader in corporate food delivery Grouplunch. But as the pandemic came and firms were forced to work remote, their customers disappeared overnight. For Pierre Pereira da Silva, this turned into an opportunity to create a new brand foozo.lu for the private market. Find out more in our customer feature.
In November 2016, Pierre Pereira da Silva left his 6-year corporate position at a private equity investment fund company in renewable energy to pursue his own business venture. The experience has given him a solid knowledge of business management, ability to steer businesses 'out of trouble' or identify new opportunities.
Since its launch, the company saw tremendous growth and has quickly become one of the leading food delivery providers in the market. But like most of the business worldwide, it was heavily affected by the 2020 global pandemic. For a company that predominantly serviced corporate office customers, their market suddenly disappeared overnight. Grouplunch saw an immediate drop in sales.
Nevertheless, Pierre and his team saw this as an opportunity and a push to review their business position.
"We have thought of addressing the private market for a while now. We never moved forward with it because we always considered that our client was the person in the office, corporate and private worlds were different for us. With COVID-19, the private market was instantly created from our existing corporate customer base. So, we decided to steer the business in that direction, not only to fight the crisis, but to use this situation in the midterm to diversify and serve people, whoever they are. And that's how the idea of Foozo came up."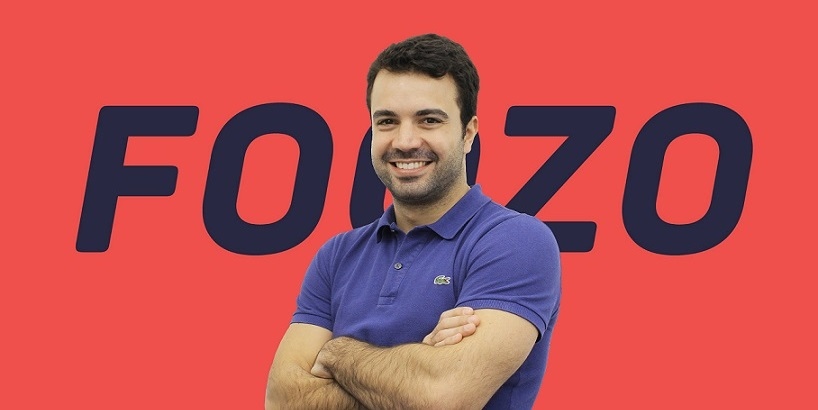 Pierre Pereira da Silva, Founder of Foozo
As a customer-centric company, they have decided to take it to their existing customers and stakeholders to select the brand name. The name 'Foozo' includes brands' roots to food with the goal to create an allusion to the experience of eating. But unlike their original brand Grouplunch, Foozo will offer more than just ready food delivery. If you visit the Foozo page now, you will be able to order a range of products and services from skincare products, tea, italian delicatessen to flower deliveries - all sourced from local boutique brands and artisans. Currently, Pierre and the team are actively working with more than 4,000 references and are aiming to expand the offering to different services like drinks, home, pharmacy and dry products.
"Now, we are focusing almost all the resources of the company into Foozo. Myself, the design and developers teams are focused exclusively on that product. Our sales manager and his team are also focused on acquiring the suppliers. It's very exciting for us because we managed to grow the original company into 40 employees with millions Euros in annual sales and now we are back to the early-days startup mode again."
While the product offering will be different from Grouplunch, Pierre and the team have transferred the same technology, expertise and philosophy across to Foozo.
As Pierre explained, there are 3 key factors that differentiates the company from a typical delivery service and helped them become a market leader.
Engineering behind food conditioning
Transporting ready-made food is a very delicate process. To ensure the meal is preserved well, it is important to understand the engineering behind it and incorporate the right technology.
Unlike a typical food delivery that essentially replaces phone ordering with a 'guy on the scooter' taking the order from point A to point B to the client, Foozo transports hot food in thermo boxes. A ceramic plate is inserted inside the box and connected to the electric vehicle, which allows the food to be maintained at the right temperature until it gets delivered to the client.
"So, we are basically applying that technology we have developed now to the private market. A simple case of pizza delivery. A good pizza contains a lot of water in the dough. When delivering from the restaurant to home, the temperature will drop from 60 to 15 degrees which causes the pizza's steam to condensate, building a pool of water underneath it. The dough gets soaky, the cheese gets dryer and the pizza is no longer the same as what you would have received at the restaurant. With our technology, we maintain the temperature of the product and the steam of the pizza. It's a very technical matter."
Reliability and delivery rate
Grouplunch's aim has always been to deliver food on time. Corporate customers could rely on the fact that their lunch would be there by noon sharp.
"We are 95% on time before 12 at the office, 98% before 12h15. With Foozo, we want to offer the same reliability but extended to every aspect of life, integrated into the society as a whole, not only the work environment, but home, even in the streets. If you are having a picnic with friends in the park, with our GPS location based transport optimization, we could even deliver something in the park in the middle of the afternoon. We are working towards that goal, of achieving this level of convenience."
Win-win-win approach for all stakeholders
Another differentiator from a typical food delivery is that Grouplunch works with a small number of selected food providers in each category, which as a result benefits all stakeholders.
There are a number of reasons for this strategy:
Ability to control the quality of the offerings:
When you list over 300 restaurants, it is impossible to know and control the quality of each, explains Pierre.
Offer only the best options:
"We want the client to have an amazing experience. We select very few partners from each category. Two Italian, two Indian restaurants who are the best in town. We only add a new partner when the previous is unable to cope with the demand. Today, customers are overwhelmed by information and options, so our job is to take the customer by the hand. Plus we don't need to show more than the greatest, right?"
Less options means more volume to the restaurant and a ground to negotiate lower price for customers.
Foozo's founder shares that they work with suppliers to build the best options at the best price for the customer. Sometimes, restaurant adapts and creates an additional production line to cope up with the demand. Add to that no minimum order price, no delivery fee, the customer gets a better deal. At the end it's a win-win-win situation.
With Foozo, Pierre hopes not only to compensate in the short-term for the loss of revenue created by the COVID-19 situation, but also to build a long-term solid business direction.
Note to future business owners
A successful entrepreneur in his early 30s shares his learnings and takeaways as a business owner.
According to Pierre, as a business owner you need to know others, surround yourself with the right people and trust them as you can't do anything alone. You also need to know yourself and most importantly how to handle pressure, you have to either be used to it or know that if confronted with it, you would be able to deal with it. Finally, design the product in a way that contributes positively to the world - ask yourself if your product will be there in 10 years and if its existence will be challenged.
He highlights two other trends that are particularly important to him and that every business should be focusing on.
First, it is about building a business that is socially responsible and sustainable. For a delivery company, it starts from offering insurance, paid holidays and social security benefits to the delivery personnel, which is the absolute exception in this field. The other aspect is green operation. Grouplunch and Foozo, for example, use electric cars and are working to eliminate plastic in their packaging in the coming year.
"It's what I say all the time here to our team. Every time we are developing something, please bear in mind that we must put people and the planet first. We must accept all necessary compromises because it is our identity, and we must be loyal to our principles."
Second, it is the importance of online presence, whether you are an e-commerce or not.
"With COVID-19 we just gained like 10 or 15 years of foreseen progression of e-commerce in one year. Any business today must think about online presence. Even if you don't have the intention to sell your products online and deliver them to the client, you need to have an online identity. Because today, when people look for something, they look online first. For a business like us that is solely based online, this is of course paramount. It is key to find a reliable partner like EuroDNS. Everything depends on the reliability of the hosting. If it fails, it's a huge problem."
Grouplunch and Foozo are delivery service companies based in Luxembourg. Pierre Pereira da Silva shared his entrepreneurial story with EuroDNS as part of the #WeSupportBrands campaign. Are you a EuroDNS customer? Find out how to share your own business story.