How to Use Social Proof to Increase Awareness and Drive Conversions

"250 positive reviews? The product must be good."
Have you noticed how quick we are to trust a product or service that's been recommended by other people? That's social proof for you -- a psychological phenomenon wherein people take decisions on the basis of other people's actions. Let's take a look at six types of social proof you can use to build awareness and drive conversions.
Highlight reviews
Reviews are one of the most common types of social proof. It's no surprise that 62% of consumers (Source: Marketing Charts, 2019) aged 18 to 34 trust a brand because of good reviews and ratings.Reviews shape brand perception. The more positive reviews you receive, the easier it gets for potential customers to instil trust in your brand.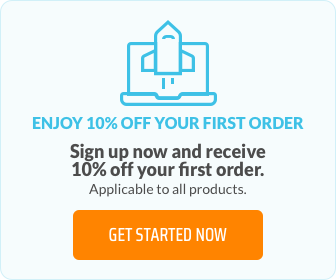 Some common review websites include:
Google My Business
Amazon
Yelp
Trip Advisor
TrustRadius
Capterra
Make it easy for people to review your brand by placing prominent call-to-action buttons across your website. You can also incentivize customers in the form of discount codes or coupons, encouraging them to leave you a review.
It's also important to engage with positive and negative reviews as it indicates that you're receptive to feedback and are listening to what your audience has to say.
Here's an example of Hotel Belvedere, showcasing reviews on their homepage.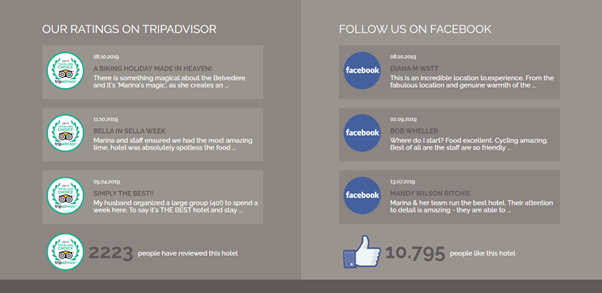 Share customer testimonials
While reviews are gathered by third-party websites, testimonials are collected by the brand which means you have greater control over them.
Reviews are not always enough which is why customer testimonials ought to be part of your social proof strategy because they're unique and specific.
What's important is asking the right customers at a time when you know they've used your product or service enough to write a valuable testimonial.
Here are a few places you can showcase customer testimonials:
Homepage
About us page
Scrolling sidebar
Dedicated customer testimonials page
Checkout page
Social media posts
Ad campaigns
To make testimonials seem more authentic, be sure to include the customer's headshot along with their credentials (if necessary).
Here's an example of a customer testimonial on Buffer's website.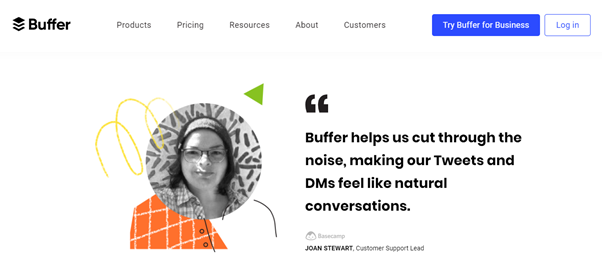 Publish case studies
This form of social proof is particularly useful in the B2B marketing space.
Writing a case study is all about demonstrating your expertise and showing potential customers what you've accomplished in the past. Case studies work because they talk about real experiences.
So, start with making a list of common problems your customers are facing, identify a relevant success story and create an engaging case study your potential customers can relate to.
Focus on establishing the problem, taking the readers through the process and supporting the results with statistical data. It's also a good idea to include a customer (or client) testimonial at the end to boost credibility.
Here's an example of a case study by Brafton, a content marketing agency.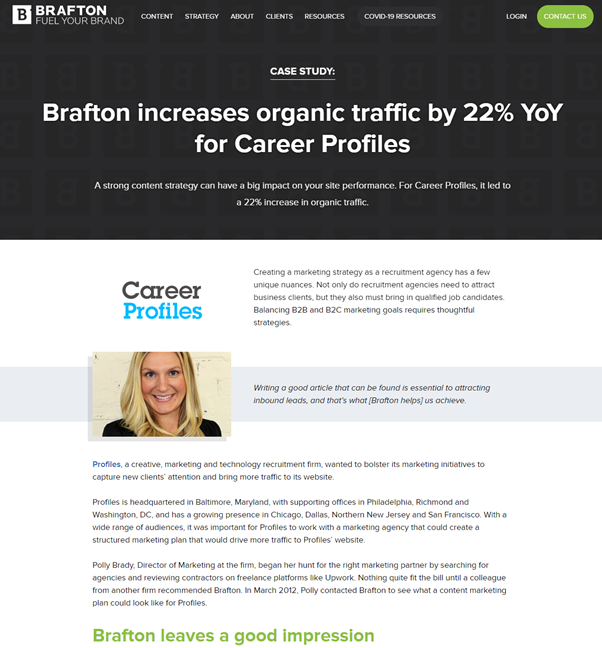 Leverage user-generated content
Branded content no longer holds the power it used to. Today, consumers rely on authentic experiences more than anything else.
One of the more effective ways to promote brand authenticity is by leveraging user-generated content (UGC). UGC refers to any kind of content that has been voluntarily posted by users.
79% of people (Source: Stackla) say that UGC highly impacts their purchasing decision, making it a valuable addition to your social media content strategy.
People want to see products being used by actual customers and that's exactly what user-generated content is about.
Hence, make it a point to collect user-generated content and leverage that content to build trust and boost loyalty. You can choose to repost them on your social media channels or even embed them on your product pages to drive conversions.
Here's an example of Adidas, showcasing user-generated content on their product page.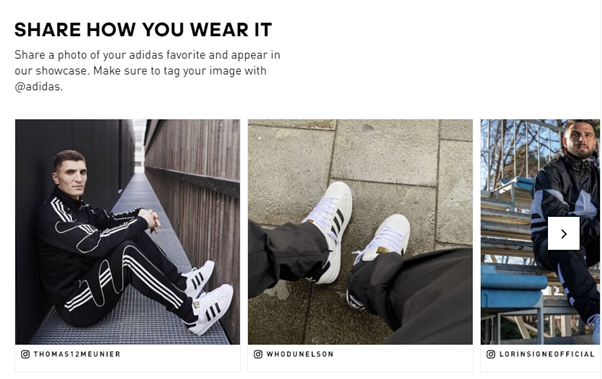 Display noteworthy statistics
Let's say you come across a white paper and see that it's got over 5,000 downloads. The number does make you stop and think -- 5,000 people can't be wrong, can they? The next thing you know, you've downloaded it too.
It's true, there's a lot you can say with numbers.
From user statistics to subscriber count and number of shares -- sharing noteworthy statistics is a great way to capture attention and persuade potential customers to convert. You can also use data visualization tools to highlight statistics and make a greater impact.
Here's an example by Monday.com, wherein they highlight the number of organizations that use their service.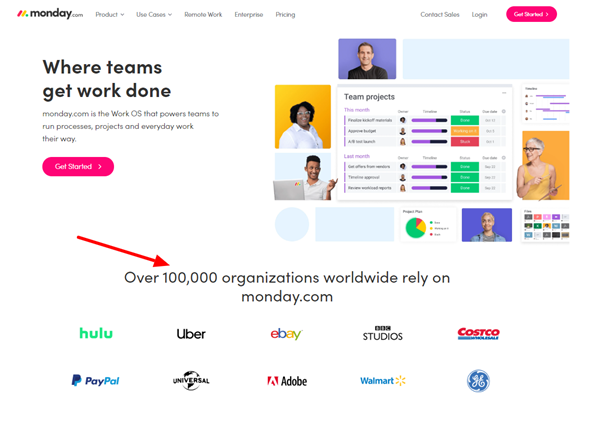 Showcase media mentions
Everyone loves a mention from a media publication or brand. Earned media indicates that people are talking about your brand or product.
What's important is amplifying these positive endorsements on your website and letting potential customers know that you're worth their money.
This kind of social proof also works well for bloggers who want to make money blogging and sell their services. You can dedicate a section to media mentions wherein you can display websites you've written for or appeared in.
Here's a good example from blogger Ryan Robinson's website.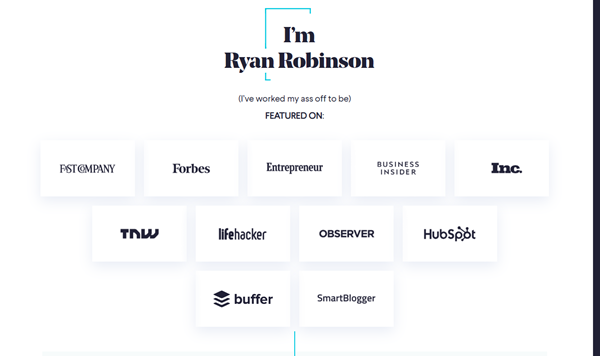 Using social proof to drive conversions: the takeaway
Unlike earlier, it's not enough to release a television commercial or run social media ads, hoping to drive conversions. While these tactics are great for building brand awareness and driving traffic, customers of today value authenticity and integrity.
Hence, in order to connect and build lasting relationships, brands must leverage social proof to be perceived as authentic, while influencing purchasing decisions.
Author:
Simki Dutta is a content marketer at Venngage, afree infographic maker and design platform. When she's not working, she can be found refreshing her Twitter feed and binge-watching Netflix shows. Find her on Twitter and LinkedIn.