18 essential business tools for every budget
While individuals are relying more and more on technology, successful businesses are no different. As a business owner, you have to understand how digital tools can help develop your brand and take advantage of the available technology to grow your company. Read on to discover our list of 18 essential business tools for every budget.
Whether you're a one-person business, a small start-up or a well-established company, investing in the relevant software and tools is essential to help your business grow. The appropriate tools can help strengthen communication within your company, as well as with clients, lead more successful projects, or achieve more conversions and sales.
As you might have guessed, the amount of modern tools available is virtually endless. To help you choose nothing but the best, we've put together a list of 18 essential business tools, organised by category and by budget.
Greatmail
Gmail Workspace
Microsoft Teams
Zoom business
Asana
Scoro
Salesforce
Pipedrive
Engagebay
HubSpot Starter
Buffer
Hootsuite
Clockify
RescueTime
Zendesk
HubSpot Service Hub
Wave
Sage
Communication & Collaboration
Communication is everywhere, and you will of course need a professional tool to improve your communication with your stakeholders, both within and outside your organisation, whether you are a 1-person business or a large team.
Email
Plan: Standard Edition from $1/mailbox/month (min. 8 mailboxes)
This email hosting provider is very low cost and ideal for small businesses. It offers two basic plans, Standard Edition and Groupware Edition, each with:
10GB of storage
Calendar
Contacts
POP3/IMAP email service
Spam filtering
AV protection
Plan: Business Standard from €10.40/user/month
The Business Standard version of Workspace includes a customized email address and access to Google's suite of business products and tools (Meet, Chat, Calendar, etc.) that can help you optimize your organization's communication. The advantage of Workspace is that you get to store everything on the Cloud.
Some extra features:
2TB Cloud storage per user
Video conference with up to 150 people + video recording
Management and security options

Chat
Plan: Microsoft Teams Free
Microsoft Teams has turned into one of the most popular chat/video systems, benefiting from the lockdowns imposed due to the covid-19 pandemic. What's great about it for small businesses? Well, it has a free offer offering the following features:
Scheduled meetings for up to 45 minutes and 100 participants
Unlimited chat
Screen & file sharing
Up to 10GB of cloud storage
Plan: Business for €189.90 /year/license
Who doesn't know Zoom? We've all probably had language class, a yoga lesson or a music rehearsal through Zoom, haven't we? The software's business offer is ideal for medium-sized businesses, thanks to the following features:
Host up to 300 participants
Single Sign-On
Cloud Recording Transcripts
Managed Domains
Company Branding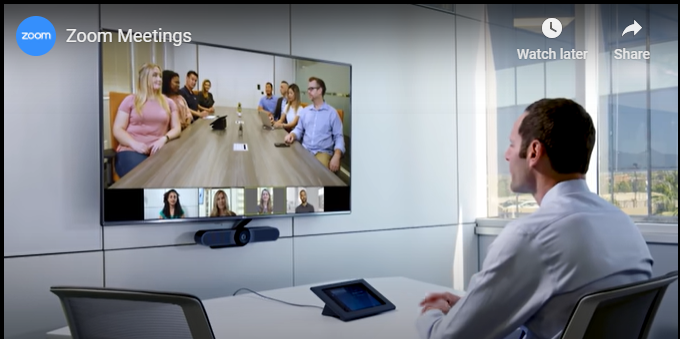 Project Management
When you're part of a team, managing projects without a good PM tool can get messy, so why not consider the following options?
Plan: Basic free for up to 15 members
This project management tool also comes with file storage and collaboration features.
Best features:
Split your work into tasks and assign it to team members
Create project roadmaps and timelines
Get a quick overview of your projects with the dashboard
Plan: Work Hub for €29/user/month (min. 5 users)
This PM tool combines a bunch of features you might need as part of project management: projects & tasks, contact management, quotes, team collaboration, billing, and reporting.
Best features:
Projects with sub-tasks and deadlines to plan your work effectively
Visualize progress and prioritize assignments
Plan your resources' schedule
Real-time KPI dashboard
Time tracking and billing for work
Sales
You can't turn opportunities into sales without a good sales tracking software that will also provide you with the latest statistics and reports.
Plan: Essentials for €25,00/user/month
This basic Salesforce solution is ideal for small businesses with up to 10 users. Its strong analytics features allow you to set goals, predict outcomes and improve your performance thanks to recommendations.
Best features:
Account and contact management
Opportunity tracking
Lead management
Task and event tracking
A.I connecting data from multiple sources

Plan: Professional for €49,90/user/month
This CRM is used by over 90,000 companies in the world and claims that you will benefit from a 28% increase in close rate after using it for just one year!
Best features :
Manage leads and deals
Track communications and performance
Have access to insights, reports and a sales reporting dashboard with key KPIs
Identify missed sales opportunities
Performance improvement thanks to a sales mentor powered by A.I.
24/7 support
Marketing
Don't underestimate the power of marketing! You may be offering the best product or service, but if your marketing strategy is poor, all your efforts will be vain. Investing in a good marketing tool is a must, so be sure to check out the two solutions below.
Complete marketing tool
Plan: Free version
This tool's free version comes with 1,000 contacts and 1,000 branded emails, while the Basic version for $8.99/user/month goes up to 15,000 contacts and 10,000 branded emails.
This all-in-one marketing & sales CRM is a good alternative to HubSpot for small businesses. The basic version offers the following features, and more:
Email templates
Web Pop ups
Landing page builder
3rd-party integration
Social Suite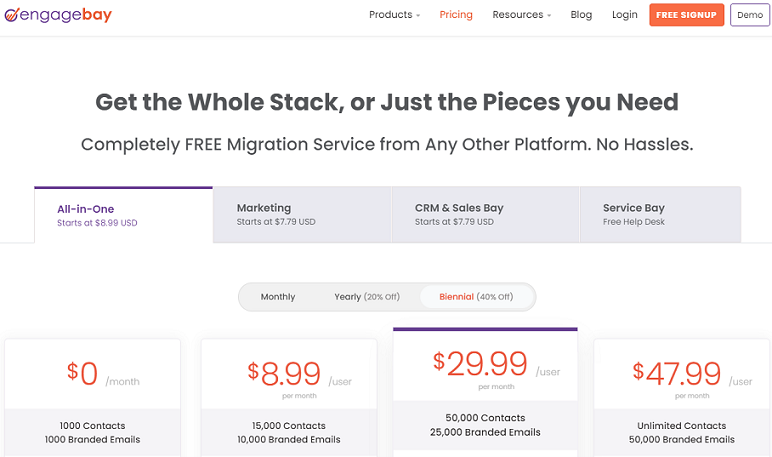 Plan: Starter for €46,00/month
This tool offers everything you need in order to generate leads and transform them:
Forms
Emails
Ads management
Lists segmentation
Landing pages
Live chat,etc.
It also offers integration features for Salesforce or Microsoft Dynamics CRM, among others.
Social Media
To stay competitive on the market, you cannot escape social media, so better get going now! If you need more tips on how to use social media to benefit your business, check out our blog article.
Plan: Pro for $15/month (1 user)
Buffer Pro gives you access to the following features for 5 major social media platforms (Instagram, Facebook, Twitter, LinkedIn and Pinterest):
Social media posts scheduling in advance
Calendar view
Tailored posts for each social network
Custom video Thumbnails
Plan: Team for €109/month (3 users, 20 profiles)
This plan from Hootsuite is a must for SMBs with several social media specialists or community managers.
Best features:
Manage all your social media in one place
Schedule social media posts in advance
Save time and have a global view of all your different media publications
Answer comments and messages from different platforms, all in the same place.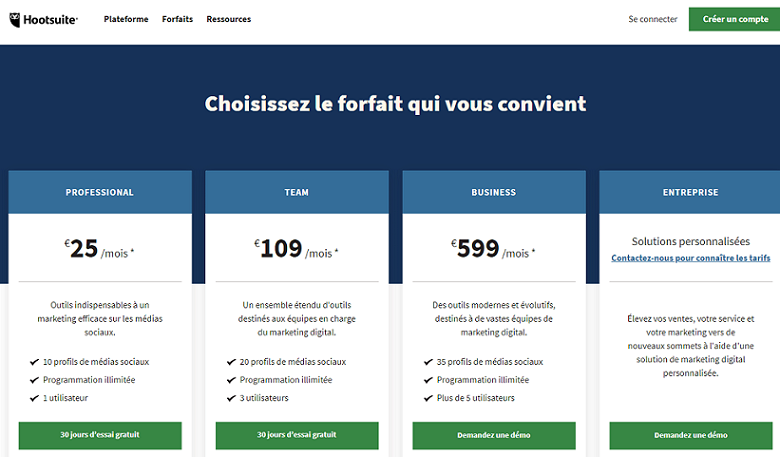 Productivity/ Time Management
In business, your time is money. That's why we strongly advise you to look into productivity tools, as understanding how you spend your time can make such a big difference to your business.
Plan: Free
This basic and completely free time management application for your browser tracks how much time you spend on each activity. It runs reports for an in-depth analysis of your actual week vs. your ideal week. It could be all you need to be more productive.
Plan: Pro for $12/month (1-month price) or $6.50/month (12-month price)
This tracking app allows you to have a clear picture of how you spend your time each day. How much productive time do you have? How much distracting time? You'll get detailed reports, trends and insights to improve your productivity and be more focused.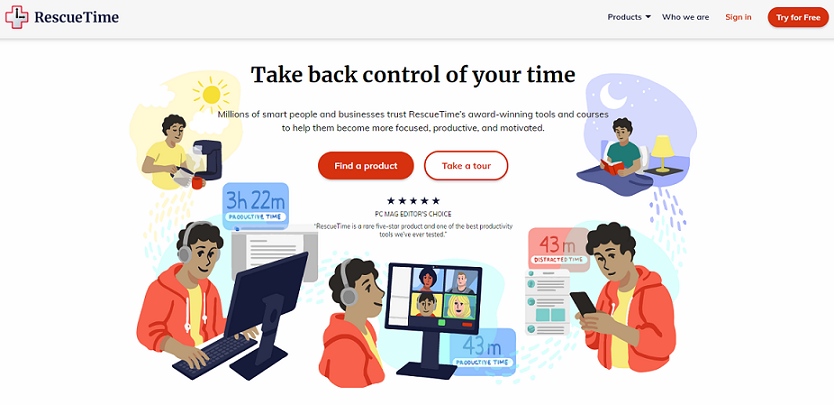 Customer Relationship Management
Customer relationship management is one of the aspects of your business that you really should not neglect. If you are a small or medium-sized business, it's essential for you to use a CRM system.
Plan: Professional from €49/agent/year
Easy to learn and manage, Zendesk is a great CRM for small businesses.
Best features:
Multilingual content - Translated agent interface in 28 languages
Dashboards and reporting, powered by Zendesk Explore
Customer satisfaction ratings & follow-up survey
Public Social Media
Predefined responses
Plan: Service Hub - Customer Service Professional for €368/month (starts at 5 paid users)
HubSpot's customer service solution is a top tool to provide your clients with the best customer experience. It offers the following features, among others:
Ticket Status
Ticket routing
Task automation
Customer knowledge base
Custom reporting
Customer experience survey
Accounting
Let's be honest, accounting can be the most boring part of running a business. That's why you should aim at automating this step as much as possible. There's a lot of tools out there that can help you, we've selected a couple.
Plan: Free version
The free version of this web-based accounting software is perfect for freelancers and small businesses thanks to its simple setup. It's reliable and secure and will allow you to easily manage cash flows.
Best features:
Accounting software with unlimited income & expense tracking
Sales tax tracking
Unlimited partners, collaborators and accountants
Invoice in any currency
Possibility to turn estimates into invoice
Unlimited receipt scanning with free mobile app
Pay-per-use online payments
Plan: 50cloud Pro Accounting – €25/month (2 users)
This tool combines both a highly customisable accounting software and the flexibility of the cloud. Not only does it allow you to track your income and expense like a basic accounting tool, but it also boasts the following sophisticated features:
Record purchase orders
Manage job costs
Strong inventory management tools
Integrate with Microsoft 365
Integrate with AutoEntry
Support plan included
Sage Security Shield
Conclusion
These business tools will provide solutions to problems that are hurting your company and preventing you from maximising your business potential. So don't hesitate to modernise your everyday business tasks!