Cocofina sees a surge of 4000% in website traffic during COVID-19
The UK-based entrepreneur Jacob Thundil shares the inspiration behind his award-winning brand Cocofina. The story of the successful business journey that took him to the popular British tv series Dragons Den in 2016. Finally, Jacob unfolds his learnings from the impact of the global pandemic crisis on his business and the future direction of the brand.
This week we spoke to London based entrepreneur Jacob Thundil. Brand's CEO & Founder shares with us the story behind his award-winning brand 'Cocofina' and his learnings as a small business owner from the COVID-19 crisis.

After completing his Masters in Business Administration in the UK in 1997, Jacob spent several years working for large organisations like the British Telecom, Accenture, Schlumberger, Virgin Media, HSBC and others. But in 2004, Jacob left the corporate world and founded 'Cocofina'. Fast forward 16 years later, Cocofina now boasts a range of 32 products and is sold across 28 countries worldwide. The brand has also won multiple food awards and was featured in various business and food articles. In 2016, Jacob appeared on the popular tv series in the UK, Dragon Den, where he secured deals with not 1 but 2 Dragons.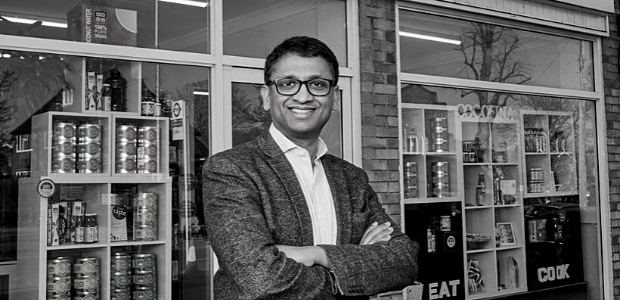 Jacob Thundil, CEO & Founder Cocofina
Authentic, honest and quality
Born and raised in Kerala of Southwestern India, Jacob explained his origins and upbringing were the biggest inspiration behind the brand. The state of Kerala, named as one of the ten paradises of the world by National Geographic Traveler for its beautiful landscape and backwaters, is a thriving centre for ecotourism. It is also known as "The land of coconuts" due to its 45% contribution to the country's coconut production. Since his childhood, Jacob has observed local farmers harvesting coconuts grown in his backyard and learned how to use sustainably every part of the coconut tree and how to produce the freshest top quality coconut products. This experience has become a foundation of the brand.
When Jacob moved to the United Kingdom for studies, he was constantly looking for that authentic coconut water drink with no added sugar and no preservatives. But it wasn't until 2004 during the business trip to Rio De Janeiro, that the lightbulb moment arrived. While drinking from the fresh coconut, he realised that he could bottle that water. From there Jacob set out to sell bottled coconut water, the finest and the most authentic. The vision and core philosophy of the brand is to deliver first authentic, honest and quality, and second healthy and naturally derived products with real taste, no hidden ingredients, additives or preservatives. The brand's name 'Cocofina', meaning 'fine coconut' reflects these values.
With the growing demand for healthier eating, Cocofina has attracted a loyal fan base of health and lifestyle conscious consumers and those with food intolerances. Jacob considers himself as a target user, someone who is passionate about food and maintaining a healthy lifestyle, someone who wants to use quality ingredients in their kitchen. Jacob, aka Chef Nut, develops a large number of products directly from his kitchen. This way, he can maintain the standards. From the first 2000 bottles in the UK back in 2004, Cocofina has been growing at a rapid rate. It now offers a range of 32 coconut-based products. Cocofina distributes to over 3000 speciality and health stores across 28 countries. The brand received multiple awards including the Excellence in Food and Drink Award in 2005, seven Great Taste Awards from The Guild of Fine Food in 2015. In 2016, it secured investment through a popular UK BBC TV series Dragons Den in 2016.
Going from physical stores to online
Having built a loyal customer base, the brand continued to grow even during the global pandemic crisis and shutdown of its distribution across physical stores. Since the start of the crisis, Jacob observed an increase of 4000% in website traffic. People who once relied on physical stores to get hold of the product were now going directly to the brand. The demand was so high that the online stock almost depleted. Regardless of the recent shift in business operations, Jacob sees this crisis as an opportunity to innovate and learn.
Here are the learnings that he has shared with us:
"We see an increase in engagement through Social Media platforms, where individual customers are reaching out to us directly. Even our Dragons Den video on Youtube had a surge of views in the last few weeks. This confinement freed up some time to focus on digital marketing. I have started managing Instagram and LinkedIn myself to understand what users are sharing with us. This lockdown is an opportunity to meet more people on a more personal basis.
From an operations point of view, production lead time has increased, so we need to be more structured and organised in terms of forecasting customer demand. Deliveries to customers are more complicated. We used to ship large quantities to one store, and now we are sending many parcels to many people. If there are any delays, we communicate to the customers immediately. Everyone is patient if you address their concerns and communicate well.
Even though COVID-19 might be temporary, its effects will be permanent. Business owners should use this time to connect with their existing customers. Whether it is on Social Media or via video conferencing tools, it is helpful to analyse what customers say about you and identify opportunities for product development.
Overall, this is making me reassess the switch from retail to online."

Cocofina is an example of a truly inspirational business journey. Undeniably with the focus on sustainable innovation and the delivery of the authentic premium products and experience at its heart, the brand will be able to adapt quickly to the new demands and to continue its mission to become a global super brand.

Check out their latest product:
Cocofina Organic Hazelnut Chocolate Spread - a blend of chocolate and hazelnut produced in Italy, sweetened with unrefined low Gi coconut sugar.

Jacob Thundil (Cocofina) has shared his entrepreneurial business story with EuroDNS as part #WeSupportBrands campaign. You are an EuroDNS customer? Learn more about how you can get your story featured.