Tips to improve website visitors tracking (WordPress Site)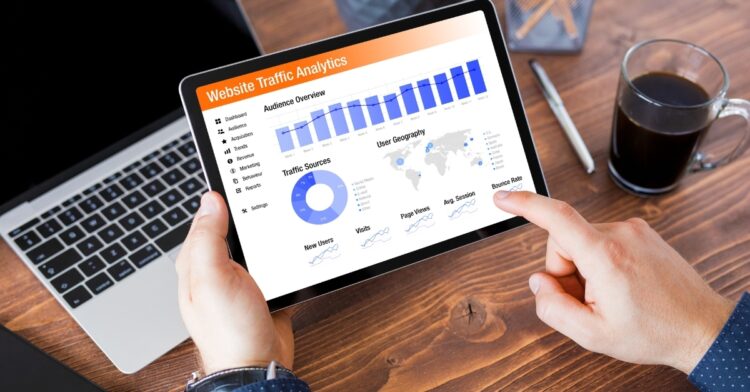 Knowing how to optimize your website is more important than ever. With high levels of digital competition and greater accessibility of programming thanks to programs like Databricks learning, it's easier than ever to create a user-optimized website designed for user experience. But how do you know what your users need from your site? You need to know how to track website visits – including how to interpret this data and apply it to website modifications to avoid common website mistakes.
Why track website visits?
Tracking website visits allow you to understand how your audience is using your website. You can view and categorize different behaviors and personas and use these to build a more effective sales funnel. Alternatively, you can identify weak points in your branding or user experience through the eyes of your customers.
Here are some examples of how tracking website visits can help to improve your website strategy:
Identify issues at the point of sale, e.g., unclear payment processes or additional costs that prevent a conversion
Find areas where slow server speeds are causing frustration
Find areas that confuse consumers with too much or too little information
Identify pages with the highest bounce and conversion rates
There is so much information that you can pull out of website visit data. By understanding how to track website visits consistently, you can level up your business' virtual presence and drive more audience attention and conversions from your homepage.
Quantity vs quality
There are two major types of data that you can collect from website visits: quantitative data and qualitative data.
Image sourced from Statista.com

As the name might suggest, quantitative data is purely numerical. Some examples include your site's bounce rate, visit numbers, and customer retention rates. Conversely, qualitative data reflects more complex information about your business, including written and verbal feedback, and focus group sessions. Neither is more or less valuable than the other, rather they work best when collected together.
You can get the best, and most comprehensive, picture of your website when you collect as much data as possible and process it in tandem with other datasets.
Tips to improve website visitors tracking
Take advantage of the wealth of data collection and processing software on the market when tracking website visits. Data processing platforms like Pyspark are your friend when it comes to tracking website visits, particularly if your site has a large volume of visitors.
These are some of the tips to help you easily track website visitors in a way that meets your goals and provides you with useful information.
1. Be consistent
Consistency is key to any sales and marketing strategy, and website optimization is no different. Be sure to set aside set times to review your data, and to collect it if you're doing so manually.
For example, if you're using software like Hotjar to track individual website sessions, then someone in your organization will need to do this regularly. Try choosing a set time in the week or day for them to do this so that your data reflects consumer behavior throughout the day. Of course, you can add to your schedule during promotional, or otherwise busy, periods but be aware that these periods are potentially not representative of typical website visits.
2. Set goals
Because there is so much data available when tracking site visits, you need to have a goal in mind to focus your team as to which data you collect and process.
For example, if your goal is to improve your conversion/sales rates, then you might look at:
User sessions for confirmed sales
Bounce rates on key landing pages
Site visits from social media ads aimed towards ecommerce
Time spent on sales and product pages
All of this data is clearly useful for this goal. Other data may also be less obviously useful, such as site loading speed, but some may be completely irrelevant. Try to avoid collecting data that is not relevant to your goal, as it can confuse your processing team.
3. Track user sessions
One of the elements that you should be tracking is individual user sessions. They provide a detailed account of how users are interacting with your website and where they are having issues.
Some things to look for:
Points of frustration, e.g., does your logo clearly show what you do? - If not, try creating a simple, effective Monogram logo!
Menu usage – is anything confusing or unclear?
Typical paths to a sale or a piece of content
Places of origin for visitors
If provided by your software, also consider reviewing heatmaps of popular pages to see whether there are recurring issues on these pages that are preventing conversions.
4. Track entrances and exits
Using your analytics software, like Google Analytics or in-house software from WordPress, pinpoint your most popular landing pages and exit points. Ask yourself:
What do your exit points have in common?
What about your landing pages is driving further exploration of your site?
Considering your user personas and audience base, what is causing these premature exits from your site?
You can then identify pain points with your site and repair any user experience issues.
5. Follow the lead
Tracking website usage is another opportunity for tracking potential leads. If a particular user or user persona has an issue with your site towards the end of the sales funnel, fixing this problem may well open up a new avenue of leads to pursue. Be sure to track these leads using a customer relationship management (CRM) program to maximize efficiency.
6. Be responsive
The goal of tracking website visits is to optimize your website and your user experience. When you collect a substantial amount of data and have processed it to draw conclusions, it's time to act. Take what you have learned and implement it into your site.
For example, if you've found that your contact form is not collecting a key piece of data that could help you to track and follow up with leads more easily, you need to add that section quickly.
Optimizing your digital footprint
Tracking your website visits is crucial to optimizing your website for user experience and conversions. To build on website optimization, consider optimizing other customer-facing sectors of your business. For example, try using proposal software to create branded proposals that minimize awkward mistakes. Optimizing your business' public persona is one of the best ways to keep user experience high and start driving those sales.
Pohan Lin - Senior Web Marketing and Localizations Manager

Pohan Lin is the Senior Web Marketing and Localizations Manager at Databricks, a global Data and AI provider connecting the features of data warehouses and data lakes to create lakehouse architecture. With over 18 years of experience in Databricks instance types, web marketing, online SaaS business, and ecommerce growth. Pohan is passionate about innovation and is dedicated to communicating the significant impact data has in marketing. Pohan Lin also published articles for domains such as ITChronicles.