Social media alternatives to Facebook, Instagram & Pinterest

The latest research by Statista shows that there are 3.78 billion social media users worldwide in 2021. While this number is ever-increasing, more and more users are becoming wary of the way that giants such as Facebook or Instagram handle personal data or monetise their platform, and are looking for other solutions. We're sharing our selection of social media platforms, great alternatives to Facebook, Instagram and Pinterest.
Who doesn't have a love/hate relationship with social media giants these days? We know we do! Between the repeated scandals surrounding Facebook and their user data management, and the hyper commercialisation of Instagram who recently introduced its new Shop, most people are feeling overwhelmed.

While these platforms are clearly leaders in their market, there are a bunch of smaller social media out there, worth being explored. We're taking you through our favourites!

Created over 10 years ago, open-source Diaspora is considered the best alternative to Facebook. It is based on the idea of keeping control over your data.
Just like Facebook, it allows users to publish their status, images, videos and comment on other people's publications while controlling who gets to see your feed. It also has its own instant messaging functionality.
The specificity of the platform is that it works with Pods, which are different networks that collect user's information. You can create your own Pods as soon as you have a few friends, or use one of the open pods if you don't feel like you have enough technical knowledge to create your own.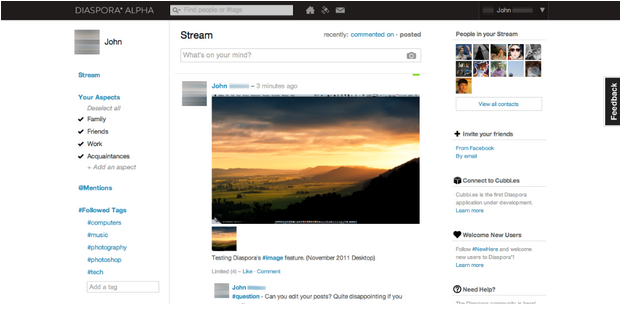 User data isn't collected or stored by a provider, but by the users themselves. The data is supported by Pods that work like servers, which guarantees the confidentiality of your information.
With under 700,000 users, Diaspora doesn't have anywhere near the same number of users as Facebook does, but it's a good alternative if you're wary of the way Facebook uses your data. And, it doesn't use advertising.
Vero is a Facebook alternative created back in 2015. It currently counts around 3 million users.
Much like Facebook, Vero allows users to post different types of content such as text, photos or videos. In the Explore page, you can also search for popular hashtags, highlighted posts or topics.
Different levels of friendship allow you to manage who sees your publications: close friends, friends or acquaintances. You can also stay in touch with your friends through the integrated chat feature.
The initial plan for Vero was to offer free access to its app to the first one million users and then switch to a subscription-based offer. However, the free offer has for now been extended until further notice.
One noticeable difference from Facebook is that your timeline appears chronologically, and there is no algorithm involved that decides what you should or shouldn't see. In other words, no manipulation.
It should also be pointed out that there is no desktop version as Vero is entirely app-based.
A private phone number is compulsory to create an account, which protects against fake accounts.
Ello, the network for creators
Ello, defines itself as a free "Creators Network", most of its users being artists (not influencers, which means no sponsored posts!). The app requires you to create either an artist or a fan profile.
As a fan, I was asked to pick categories that interest me. The range is wide, going from fashion to photography, writing, street art, graphic art, architecture, etc. You then have access to the most popular posts, which you can like or share, featured posts, or you can discover new artists that could interest you (the curation is done by a team of cool humans).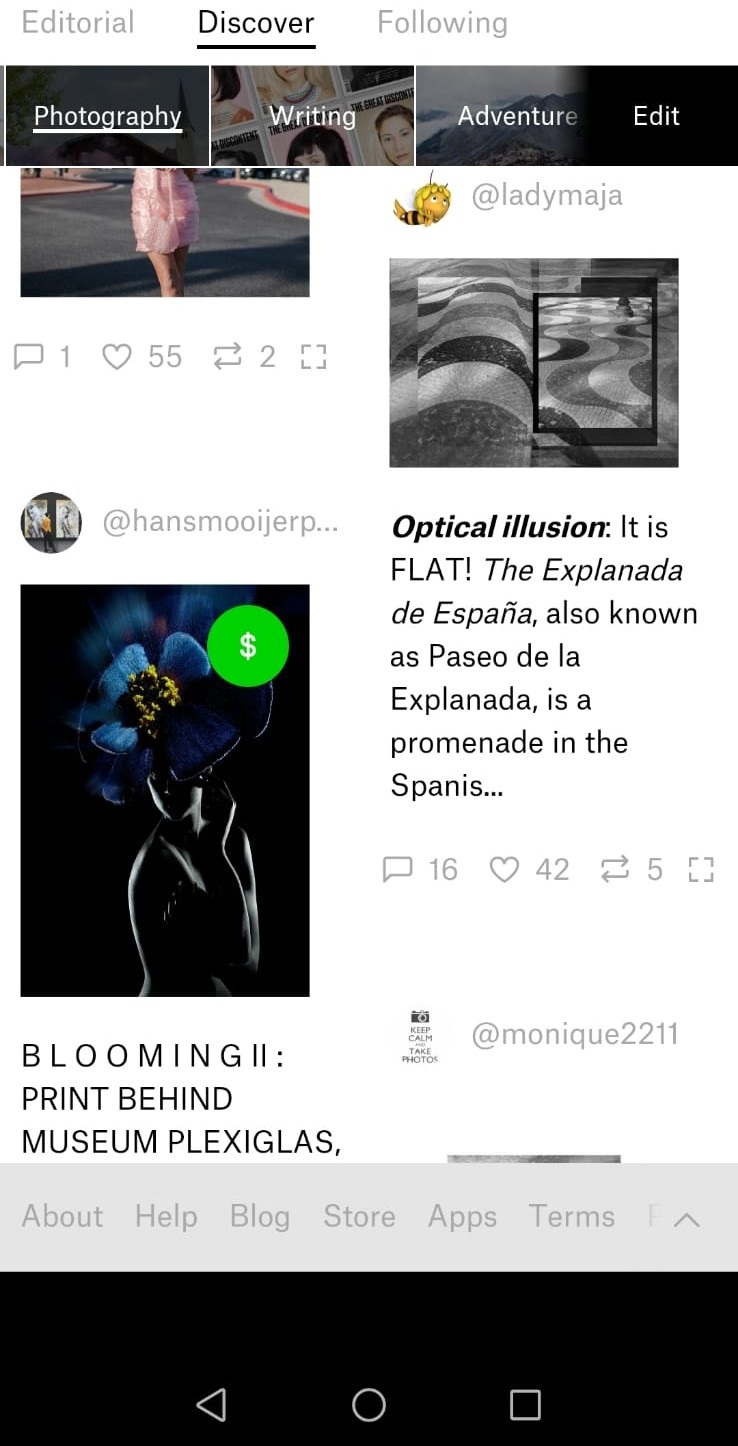 As an artist, Ello offers a real chance for your work to get recognized. Weekly giveaways are organized, for which Ello buys the work of artists and offers it to the community. You can also collaborate with brands to have your work featured.
The difference between Ello and social platforms such as Facebook or Instagram is that the app isn't passive. Ello does a lot to promote the work of artists. The Ello content team proposes a weekly selection of work by community members to promote their content on the platform. That's on top of dedicated blog posts and newsletters!
There are no tricks on Ello. It is free of charge and makes revenue only through its paying options. The feed is chronological, no algorithm involved.
It doesn't show ads, nor does it sell you data to third parties and you don't have to use your real name to have an account.
This audio-based and invitation-only social media app was released in April 2020.
Unlike more popular social media giants, you can't share text, pictures or videos on Clubhouse. It works with rooms (up to 5,000 people) that allow you to host or join live conversations, debate, share ideas, etc. You can either listen to others or join the conversation by raising your (virtual) hand.
The app currently counts 600,000 users, its popularity has grown substantially after celebrities such as Elon Musk and Mark Zuckerberg made an appearance.
For now, the app is available only on iOS. While you can download the app, you won't be able to use it without receiving an invitation from another user. Why, you may wonder. Officially, Clubhouse is adding users gradually to "make sure nothing breaks".
In terms of privacy, conversations in the rooms are recorded in order to support incident investigations. The app also requires users to share their contact list in order to invite others.
It is to be noted that Clubhouse is planning on monetising by selling user information in the future. Beware, in April 2021, the names and other personal information of 1.3 million users of Clubhouse leaked online.
Alternative to Facebook? Yes. Better? Don't be so sure. The pandemic has without a doubt contributed to the success of audio communication, users being more reluctant than ever to spend even more time behind a screen. Facebook has even released no later than this week a new feature to fight against Clubhouse: live audio rooms.
If you're a gamer, the ideal social media for you might be Twitch. Defining itself as "the world's leading live streaming platform for gamers", Twitch gathers millions of people online, whether it's to play or to watch others play. During the last few years, the brand has expanded beyond gaming by broadcasting creative and artistic activities and politics-related discussions.
The concept behind Twitch is to stream gaming activity in real-time, allowing watchers to see both the gamer's screen and the gamer themselves via a split-screen display. Twitch also broadcasts online sports competitions (Esports). Watchers can also comment and make suggestions. Streams can last up to 8 hours (it's also possible to watch a replay)!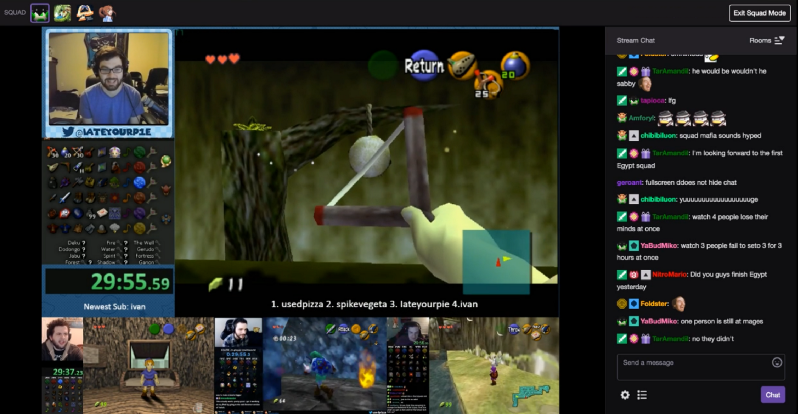 Twitch is completely free for those who just want to watch broadcasts or stream, but also offers some paying offers if you want to get more out of the platform. Among other things, a subscription allows you to get rid of ads when watching a channel.
For many, the interest of Twitch is that you can make money on the platform. The Affiliate Programme and the Partners Programme are reserved for frequent streamers with a certain number of viewers and followers, and allow gamers to earn money from ads.
Twitch is available on desktop, iOS and Android.
This niche social network is a fashion marketplace where influencers can share photos of their outfits. Items are tagged with "buttons" and link to e-commerce pages where the visitor can shop directly. In exchange for each item bought via the affiliate link, the influencer received a small commission.
What's fun about 21 Buttons is that you don't have to be recognised as a major influencer to use the platform. Unlike on Instagram, all users can become influencers and are able to upload pictures, tag items and share their look of the day. You don't need to have a minimum number of followers to do so. That's what makes the shopping experience more relatable: a wide variety of user-generated content that visitors can relate to.
Similarly to Pinterest, you can create collections of items you like, or use the Discover functionality to discover new items based on your previous search.

The fashion-junkie app is available both on Android and iOS.

Conclusion
There are so many interesting social media platforms that are worth exploring. Depending on what aspect of social media you like, whether it's commenting on other people's ideas or more visual content like photos or videos, you can find an interesting alternative to the most popular apps.