Symantec SSL certificates distrusted by Google Chrome 66

Owners of Symantec SSL certificates (as well as those of its subsidiaries) should replace their certificates as soon as possible. From April 17th, Google Chrome 66 is issuing a big scary red warning to users that your site is distrusted. EuroDNS customers? No worries! You're good to go with our trusted GlobalSign SSL certificates!
Will you need a new SSL certificate?
Last year, Symantec conceded that they – and Symantec owned subsidiaries including GeoTrust, RapidSSL, and Thawte - had not followed proper industry practices when issuing SSL certificates. Consequently, from April 17th forward, Google Chrome is no longer trusting most certificates issued by any of these certificate authorities.
More specifically:
If you received a certificate from one of the above named authorities after June 1, 2017, you're certificate will be considered trustworthy - but with a caveat. Keep reading to find out what that is. (You're not going to like it.)
If you received your certificate before June 1, your certificate will be distrusted by Chrome and this is what your users will see: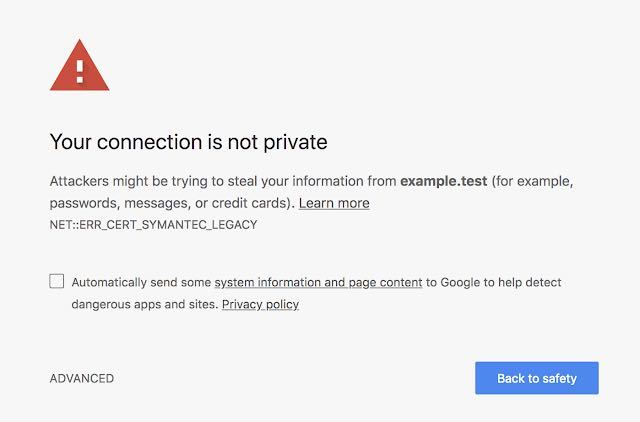 And that caveat for certificates issued after June 1, 2017? Once Chrome 70 is released later this year, all Symantec certificates, no matter when they were issued, will be distrusted by Chrome (as well as Mozilla).
EuroDNS customers safe with GlobalSign certificates
EuroDNS partners with GlobalSign, the globally renowned WebTrust accredited Certificate Authority known for maintaining the strongest available encryption on the market. If you are using one of our SSL certificates, you have nothing to worry about.
If you have a Symantec certificate and are looking for an alternative SSL provider, here's what you should know about EuroDNS:
Through GlobalSign, we provide four categories of SSL certificate, each of which provide different levels of validation.
EuroDNS customers receive a free Alpha SSL certificate with every domain name registration.
All of our SSL certificate includes the SHA-2 algorithm (SHA-1 certificates are now out-of-date), and 2048-bit issuing authority.
Our IPv6 infrastructure ensures the fastest site load speed in the industry.
You'll receive phishing alerts of potential attacks, so website owners can regain control of their sites quickly.
Alpha, Domain, and Organisation certificates include a wildcard option so you can use the certificate on an unlimited number of subdomains and servers.
Get the right SSL certificate for your needs
Get in touch with us if you have any questions about our SSL certificates. We're happy to talk with you about which option would best suit your needs.
And be sure to watch this space for all the latest news on Google Chrome updates and any potential impact they could have on your SSL certificate!
Related posts:
Avoiding Chrome 68 security warning with an SSL certificate
HTTPS: a new enforcement by Google. SEO managers beware!