Top 4 SEO tools to grow your website traffic

SEO tools are essential for any website, but with so many choices out there, it can be difficult to know which ones to use. In this article, we will review some of the top SEO tools you should use to grow your organic website traffic. Keep reading to learn more.

Best SEO tools to grow your traffic
SEMrush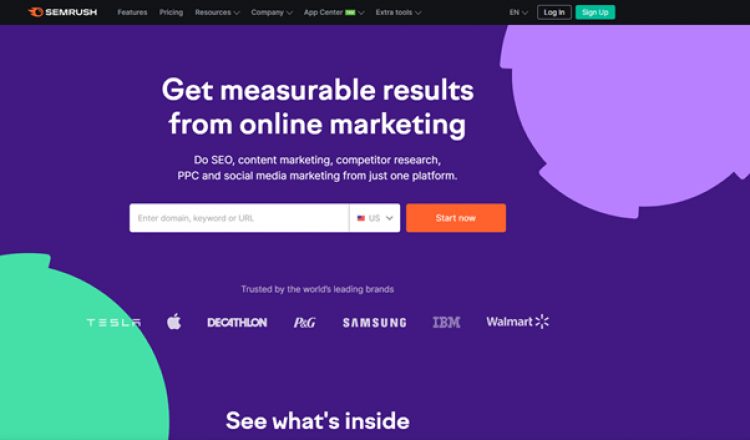 SEMrush is a great all-rounder SEO tool that is used by the top SEOs. It offers many features that will help when it comes to making the right decisions about your website traffic.
Features
Keyword Research: SEMrush provides a huge range of keywords for your niche, based on what your competitors are ranking for. You can then use these to build landing pages and optimize your content to rank better in search engines.
It also provides further information such as traffic volume and related keywords which will help you increase your online visibility.
Competitor Analysis: This tool allows you to see what keywords your competitors are ranking for and this data can be used to make changes on your site so that you get top rankings for similar queries. The results include the number of backlinks pointing to each page which again allows you to optimize your site.
Site Audit: This tool provides an in-depth analysis of your website and will help you identify problem areas. You can then take action to resolve these issues to make sure that your pages are fully optimized for search engines.
Ahrefs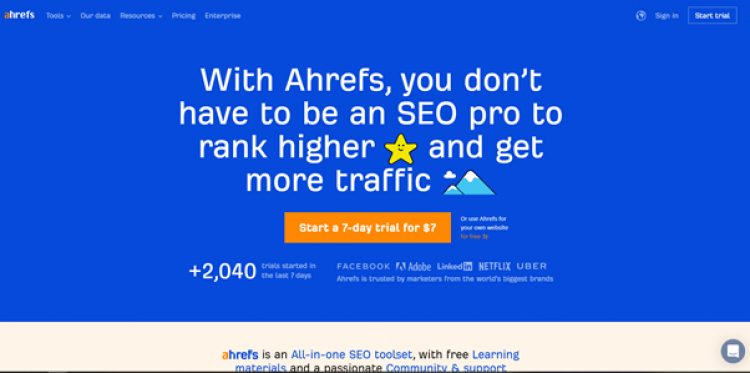 Ahrefs is another popular SEO tool that can be used to perform a wide range of tasks. It is a direct competitor to SEMrush and also offers a 7-day trial for just $7 - an ideal way to try out this software before making a buying decision.
Features
Internal Link Building Opportunities: After crawling your website and providing a site audit, Ahrefs gives you information about various internal link building opportunities.
This is a great way to strengthen your internal linking on your website, allowing you to pass on link juice from one page to another.
Competitor Analysis: You can use this option to find out what keywords your competitors are ranking for and the number of backlinks they have, plus their top pages. The tool will provide suggestions so you can optimize your site to be better than the competition when it comes to ranking in search engines for your target keywords.
It also shows related keywords which can help you expand your online presence by targeting long-tail queries that your competitors are not focusing on.
On-Page Analysis: The tool provides a detailed analysis of each page of your site and recommends strategies to make these pages more visible in search engines.
This will help you improve your site's health score which means that you stand a better chance of ranking higher in search engines for your chosen keywords (as well as others that you didn't originally intend to rank for).
Google Search Console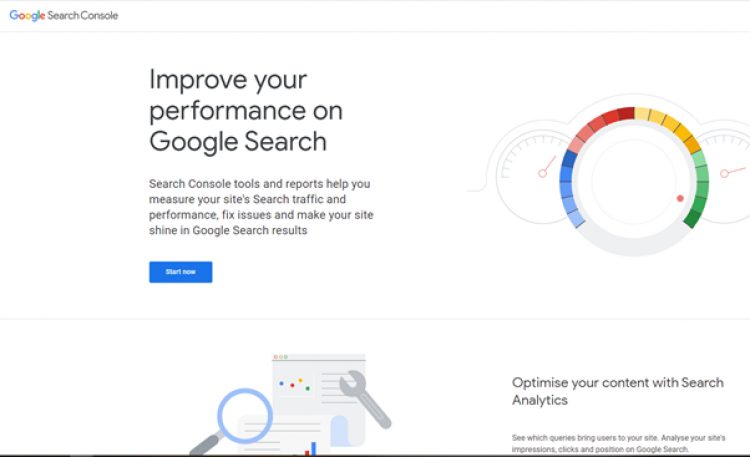 Google Search Console is a free tool from Google which can be used to track website issues and improve search rankings.
Features
Crawl Errors: You can use this option to see if any of your pages are causing Googlebot problems as crawling errors will bring down your site's visibility in SERPs.
The tool provides information on the number of buffering, time spent downloading, and crawl errors that have been detected. It also shows how often these types of problems occur on your site so you can take action to resolve them.
Fetch as Google: This feature allows you to check how Google crawls your website content. This data will help you understand how frequently search engines are visiting your pages along with the devices they are using to access your site.
HTML Improvements: You can use this option to check how Google evaluates your HTML code and suggests changes you should make to ensure that search engines understand the content of your pages.
Internal Links: This will help you see how many links are pointing to each page of your website which helps increase their visibility in SERPs.
Core Web Vitals: With the latest updates done by Google in June 2021, Core Web Vitals now play a big role in your site rankings. Using Google Search Console, you will get crucial information that can help you make the required changes to your website to stay on track.
Yoast SEO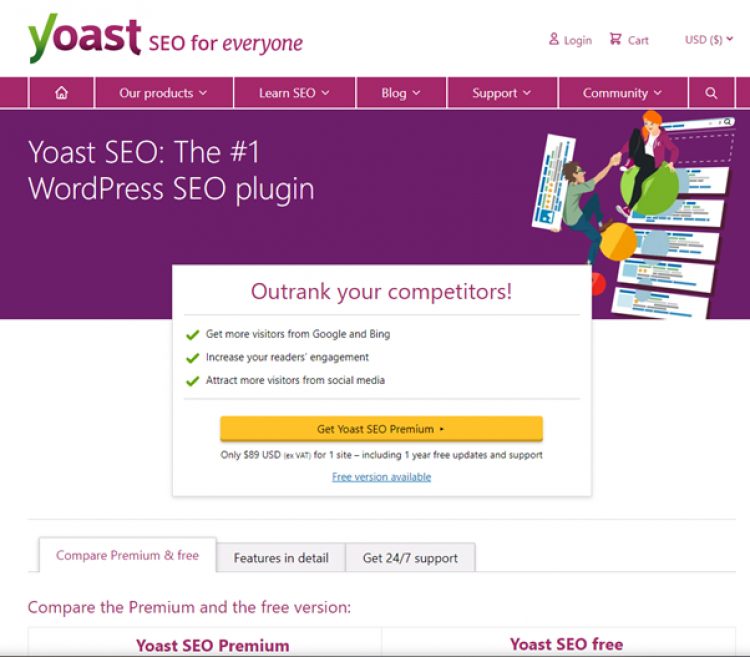 Yoast is a popular SEO plugin for WordPress which you can use to optimize every page of your site.
Features
Google Search Console Integration: You can connect your site with Google Search Console and then get an instant analysis of any problems that need to be fixed along with recommendations on how to fix them so your pages rank higher in search engines.
The tool also provides information about each URL such as the status, number of indexed pages, mobile usability, and XML sitemaps. You can also see how often your content has been crawled which enables you to identify if any issues need attention. This can include items such as broken links or incorrect redirects.
Title and Meta description Templates: You can use this feature to customize the titles of your pages along with adding metadata that tells Google what each web page is about.
The tool analyses your post title and content to make sure they are optimized for search engines while giving you suggestions on how to make modifications so they rank better in SERPs.
Internal Linking: This will help you check how many links are pointing to each webpage on your site.
You can then create a hierarchy of internal links that are more effective in improving website rankings as there is a direct correlation between the number of internal links on a webpage and its position in SERPs.
Readability Statistics: The plugin provides readability scores for posts, pages, and custom post types so you can identify areas that need improvement in terms of user experience.
XML Sitemaps: The plugin automatically generates an XML sitemap entry for each new post, page, and custom post type to ensure your site's pages are indexed by search engines.
Top SEO Tools - FAQ
1. What's the best content management system for starting a blog that gets SEO traffic?
When it comes to starting a blog, the first and most important thing you need to do is decide on a platform. This will be the basis of your blog, as it's what you're asking search engines to index and read.
Once that is decided, then it makes sense to pick out the best tools for the job. For blogging platforms, we recommend WordPress or SquareSpace – both are easy to build content with and have great SEO options built-in.
2. Is SEO important when dealing with affiliate marketing?
Yes, it is. Using the right affiliate marketing tools is a great way to be successful as an affiliate. But unfortunately, not all of them are SEO-friendly.
If you pick the wrong affiliate marketing tools, it could potentially give your business a bad name when sending low-quality traffic to your merchant's website.
To avoid this problem, we suggest looking for an affiliate marketing tool that has all the SEO options you need to optimize your content. Not only will this help with getting ranked in search engines, but it can increase your affiliate conversions too.
3. What is the best way to get more organic traffic?
There are several different ways that you can get more targeted organic traffic; however, what works for one person may not work for another - at the end of the day, it all depends on their niche and offer. For example, recording and being the host of a podcast might be something to consider if you're good with a microphone; recording YouTube videos can also work for you if you're good on camera.
Both of these methods can lead people to organically visit your website after they hear the content you have to offer.
Wrap Up
In conclusion, choosing the right SEO tools for your needs is an important factor in achieving success.
However, it is also very important to know what your needs are in the first place. You need to be able to determine which of the SEO tools are best for what you are trying to accomplish.
As mentioned earlier, choosing the right tools can get very confusing. However, after reviewing this list of top SEO tools, I hope that you are now one step closer to making the right decision.
Author Bio
With over 500,000 monthly readers, Adam Enfroy's mission is to teach the next generation of online entrepreneurs how to scale their influence at start-up speed.
You can follow him on Facebook, Twitter, and Instagram.