8 ways live chat service influences your website's SEO And traffic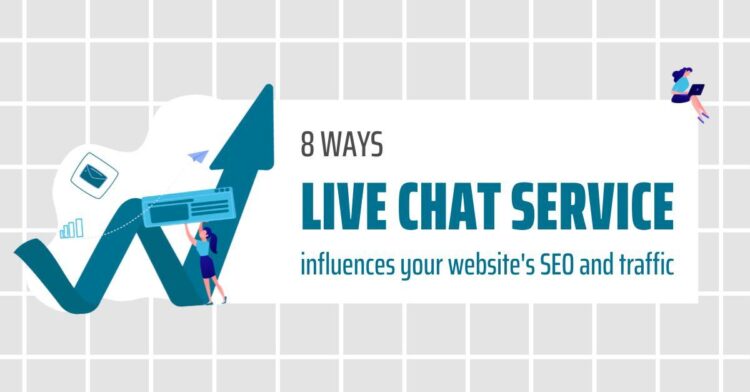 This article talks about how a website live chat can boost your SEO and increase traffic to your website by making the site more user friendly, generating more leads, strengthening customer relations, enabling visitors to help themselves, and more. It also discussed how you can get started and deliver the best live chat experience for your website visitors.
A website live chat service can provide many benefits for your website, but one of the most important things it can do is boost SEO and increase traffic.
To ensure you're getting the most out of your live chat service, it's essential to understand how it can benefit your SEO efforts and how to use it effectively.
What is a website live chat service?
A website live chat service is a way to connect customers with support representatives in real-time. It provides a point of contact for customers without them having to ring a call centre, giving them a way to receive meaningful support quickly and efficiently.
Many organisations offer a live chat service through their website, but it can also be provided using third party apps such as WhatsApp or Facebook Messenger. A live chat service can be provided as part of a cloud-based or hosted contact centre.
In some ways, live chat provides a similar service to chatbots. The main difference is that chatbots are powered by AI, while a live chat connects customers with living, breathing representatives. In some instances, chatbots may be used to begin a live chat session, gathering information that will help the human representative once they are connected.
What is SEO?
Search engine optimisation (SEO) is the process of making your website more visible to users of search engines. The further up the search results your website appears, the more likely it is to attract visitors, giving you more chances to gain and nurture leads to convert them into paying customers.
There are a variety of factors that search engines use to rank websites, thus determining where they appear in search results. These include the quality of the content on the webpage, user satisfaction with the website, the user experience, and the web page's authoritativeness.
Improving all these factors will push your website up the search rankings and result in more visitors to your web pages.
How can website live chat boost SEO and increase traffic?
Live chat can significantly improve SEO. These are some key ways a website live chat service can help drive traffic to your website.
1. Makes your website more user-friendly
Making a live chat feature easily accessible on your website is a great way to make it more user-friendly. Customers can access support at any time by clicking the live chat button.
Conversations in your live chat app can be saved for future reference. They can even be linked to specific leads and customers in your customer relationship management (CRM) software. This means future customer interactions can benefit from contextual information gathered through live chat.
2. Generates quality leads
Live chat can be a valuable tool for collecting customer data, helping you to generate leads. Contact numbers, email addresses, and buying preferences can all be obtained from potential customers through live chat.
Incentives can be offered to visitors in exchange for this information, such as discount codes or competition entries. A live chat service is the perfect platform to do this, as it is constantly available on the website, and prompts can be sent to customers as soon as they arrive at your webpage.
3. Strengthens customer relationships
As data is saved and linked to customers through your CRM, your representatives can refer back to these conversations in future interactions with each customer.
This helps you offer a more personalised experience, which helps customers feel more valued. What's more, this can help inform email marketing campaigns as you can send targeted emails based on products that customers have shown an interest in.
Research shows that personalisation has a positive effect on the engagement rates of email marketing campaigns, improving open and click-through rates.
Source dialpad.com - Digital Engagement
4. Enables visitor self-service
Live chat features can be linked with other keyword-rich content on your website, such as blog posts. These can form a knowledge base that customers can quickly access through live chat without ringing a helpline or waiting in a call queue. In turn, this improves the customer experience and reduces the burden on your customer service reps.
By integrating your live chat service with other keyword-rich content such as FAQs, you'll also help to boost your website's search rankings.
5. Improves analytics for key metrics
A live chat service can provide a goldmine of information that will help you run analytics on your website and your business in general.
The browsing behaviour of visitors to your website can be analysed through live chat, as you can identify precisely which web page a visitor was viewing when they decided to engage in live chat. This can identify pain points on your website or highlight specific products that pique the interest of browsing customers.
Conversion updates for leads can also be obtained from live chat as can contextual transcripts, which can be further analysed. This can inform what information you include in your FAQ pages or what topics you choose to write about in blog posts.
This helps you develop keyword-centric content for your website, which will, in turn, be responsible for pushing your website further up the rankings in search engines.
6. Improves the customer experience
Because live chat conversations are saved, they can be analysed to identify any pain points visitors to your website have encountered. This feedback can then be acted upon, improving your website to make it more user-friendly for visitors.
Research shows that customers are often more satisfied with live chat than other communication methods when conversing with businesses. Therefore, including a live chat service in your website can improve overall customer satisfaction, which can help to improve your website's search rankings.
Source superoffice.com
7. Increases average session duration
Live chat is a great way to increase customer engagement as it motivates visitors to remain on your website for longer. By providing meaningful answers to questions through live chat and links to other content on your website, you can increase your average session duration, which will help move your site up the search engine rankings.
At the same time, this helps to reduce your website's bounce rate. Live chat can capture the attention of customers who may have otherwise left your website, convincing them to stay and encouraging them to offer their contact details or even make a purchase.
8. Connects mobile users
Mobile e-commerce is growing, with the share of overall e-commerce business attributed to mobile users growing year after year. This highlights a need for businesses to cater towards mobile users through their websites, ensuring the user experience is as good for them as it is for desktop users, thus boosting search rankings.
Live chat is a fantastic way to do this. A live chat service can be integrated into a mobile website in an eye-catching yet unintrusive manner. This gives mobile users a way to easily connect with a business when they need to, without disrupting their overall browsing experience.
Delivering the best website live chat experience
Although a live chat service can have overwhelmingly positive implications for your website's SEO, there are several points you should keep in mind to ensure you're providing the best possible experience for your customers.
Develop a plan
Before adopting live chat software, analyse the needs of your customers and your business to ensure that the service you offer will be the right one.
Important questions to ask include:
What goals do you have for the live chat service on your website?
How will you measure success towards these goals?
Is the software optimised for your mobile website?
Maintain quality content
While a live chat service is a great way to provide customer support, it shouldn't be the only support route you offer your customers. Live chat works best when combined with thorough FAQ pages, knowledge bases, and tutorial pages.
Being able to link to these pages through live chat ensures that visitors to your website have direct access to the answers they're seeking without being overloaded with information in a live chat window.
For example, if your website offers data storage systems and a customer wants to know about the benefits of using Apache Kudu, you can link them to an article on your website which explains its intricacies.
In terms of SEO, tutorials and knowledge bases are a fantastic way to fill your website with relevant, keyword-rich content. This will push your website up the search rankings, driving more traffic to your website and increasing the number of potential leads you have access to.
Monitor loading times
Slow loading times can negatively affect the user experience and hurt your search rankings as a result. So it's important to use a live chat service that isn't sluggish.
Use specialised tools to check the loading time of your website. A slight reduction in speed is a worthwhile trade off for live chat functionality, but anything that impedes your visitors' ability to navigate your website could do more harm than good.
Source moz.com
In summary
There are various ways to improve your SEO today, and it's clearly an essential part of any company's digital strategy. Why not incorporate a website live chat service into your SEO strategy?
Besides being incredibly useful as a customer service feature, it also functions well as a tool for marketing, generating leads, and closing sales. It provides a fast, professional, and personalised experience for customers.
All these factors contribute to boosting your SEO rankings and driving traffic to your website, ultimately leading to more sales and increased revenue. Investigate your live chat options today and see how implementing it on your website can benefit your business.
Author Bio
Tanhaz Kamaly - Partnership Executive, UK, Dialpad UK
Tanhaz Kamaly is a Partnership Executive at Dialpad, a modern cloud-hosted business communications platform that has features like Dialpad call transfer, that turns conversations into the best opportunities, both for businesses and clients. He is well-versed and passionate about helping companies work in constantly evolving contexts, anywhere, anytime.