6 tips for effective virtual communication from our CEO

After 4 weeks of confinement due to the exceptional sanitary crisis the world is currently experiencing, we have learnt quite a bit about digital communication, and how it can be different from face to face interactions. Our CEO, Lutz Berneke, has shared with us his personal tips on how to best communicate during the current situation.
If working from home is something unusual for you, you might find these times challenging, especially because communication with your colleagues might not be as straightforward as usual. While videoconferencing and instant messaging tools are mandatory, relying exclusively on digital communication can be tricky and you may find yourself missing the hints and clues provided by body language.
We sat down with Lutz Berneke, our CEO, to hear about his best advice on how to ensure smooth communication while working remotely.
Tips & tricks for better remote communication
Give context. Communicating without context will only confuse your target audience and leave them with a bunch of questions. Put yourself in the other person's shoes. By explaining the reasons and the final objective of your request/idea, your colleagues will understand the implications and will know what assumptions to draw about what is being communicated. Don't hesitate to proactively answer questions too, this will help your audience reach conclusions more easily and have the work done faster.
Don't assume. This one goes hand in hand with tip #1. Don't just assume that people know your cues or the details of what you have in mind. Slow down and take the time to explain your idea step by step, with the intention of being ultra clear. When communicating about something, it's always a good idea to leave space for the receiver(s) to ask questions, in order to make sure they got what you meant. Or to directly ask them if they understood your idea and where they stand.
Illustrate your ideas. Let's be honest, working from home these days can come with quite a few distractions, especially for parents. To keep your audience engaged, you can rely on visuals aids such as pictures, charts, stats. As the old adage says, "a picture is worth a thousand words". Visuals will often speak for themselves and support your ideas in a fun way. A study conducted showed that only 10-20% of participants were able to remember spoken and written information while over 50% recall visuals and images. That doesn't mean you cannot also share written summaries to make sure that everyone is on the same page and remembers what needs to be done.
Ask for feedback. Ideas born in isolation are in even greater need to be weighed by your peers and customers than the ones formulated in the open space. Don't hesitate to share your idea in the team chat to ask for your colleague's input, or even set up a call to avoid misalignment.
Use emojis. According to research, 55 percent of communication is body language, 38 percent is the tone of voice, and 7 percent is the actual words spoken. Something that can help you be more "real" with your colleagues is the use of emoticons in the team chat. While these might not be appropriate for other communication channels or recipients, they can be really useful to give your coworkers more information about your tone of voice and to help them gauge emotion.
Be human. When communicating digitally, a lot of the social dimension gets lost. Especially in such scary and uncertain times as we are facing now, go the extra mile and make an effort to empathize with people. Be open about your own concerns and take time to listen to your peers, ask them how they are feeling and be genuinely interested in their answer. In short, be more human.
Mind map
Although it isn't easy, "successful communication leads to action and it is worth paying extra attention to it during these times", Lutz said. One of his favourite resources to communicate successfully is a mind map: "it has proven to be very helpful for me to achieve optimal communication, especially while having my teams working remotely".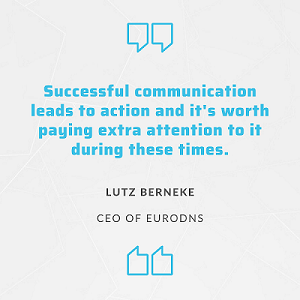 Here is his mindmap checklist:
What you say might not be heard!
What is heard might not be understood!
What is understood might not be accepted!
What is accepted might not be done!
What is done once might not be done regularly!
What is done regularly might not be done efficiently!
What is done regularly and efficiently might soon not be the right thing to do anymore!