5 post-Covid management tips for small business owners

For small businesses of all stripes, the events of the past year have underscored the importance of crisis management. As Covid-19 has caused unprecedented challenges for all industries, it is crucial that small businesses are able to build back better. With that in mind, here are some essential post-Covid management tips.
To help small entrepreneurs put their businesses back on track, we've prepared our list of 5 post-covid management tips:
1. Accept what has changed and adapt
The first thing you need to do to aid the post-Covid recovery of your business is recognising the things that have changed and that are unlikely to revert back. Granted, the economy has reopened once more and we are rapidly approaching a way of life that is less governed by the needs of the pandemic, but some economic and social shifts are here to stay.
Remote working and flexible working are widely expected to be with us permanently, meaning that your business should be working to accommodate this where possible.
When it comes to your customers, you should also take stock of how their behaviour has now shifted for the long term. Conduct serious research into your customers' new expectations and habits and tailor your post-Covid business model accordingly.
When it comes to pivoting your post-Covid business model, this may involve focusing on a different medium or channel for your sales. If your business used to rely heavily on footfall to drive brick-and-mortar sales, you may need to invest time and energy in building your digital exposure and cementing an e-commerce presence to accommodate shifting consumer habits.
2. Invest in language skills
As this expert guide to learning a language quickly explains, you can master the 100 or 200 words that it takes to communicate in any language in a very short period of time, as long as you have the know-how and the resources to do so.
Although the pandemic borders have meant that the world has felt a more segmented place in the last 18 months, it's also felt a smaller world in a commercial sense. In a remote working world, your business is integrated into the global economy more than ever, whether you like it or not. In order to get ahead and ensure that your team stays competitive, you may need to invest more heavily in language and cultural training skills, so that your business can truly be a global player regardless of its size.
Having a small or growing business that is bilingual or adept at speaking multiple languages is a sure-fire way of expanding your talent pool in the remote working world too. For example, English-speaking businesses that are bilingual in Spanish can also work on a level with people across Spain and even many parts of South America. Spanish-speaking professionals seeking remote work will become obtainable and of value to your business.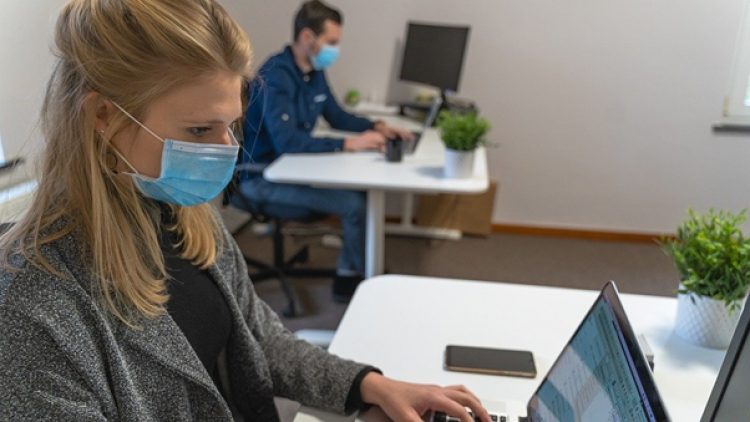 3. Take an honest look at the damage
It is unlikely that your small business has weathered the ongoing crisis unscathed. By most estimates, a record number of SMEs have closed their doors for good in virtually every country and region as a result of the crisis. If you are fortunate and adaptable enough to have been able to continue operations, there may be damage to deal with.
First, it is essential to take an honest look at your finances to see how big the hole is, or identify any opportunity for investment or cost savings. You should explore your options and see what public or private funding is available to your business. In addition, an audit of your supply chain may also provide long-term dividends.
The reality for many small businesses in the post-Covid world is that they will need to spend before they can profit. Whether it's new marketing material to generate exposure in new target markets, an expansion of product inventory to cater for changing consumer habits, or the training of new staff, all of this will affect your bottom line.
Now is the perfect time to adopt a leaner business budget so that you are ready to invest in growth and take advantage of any post-Covid "boom".
4. Put your people first
In any business, your people are your most important asset, without question. This has been underscored in the wake of the pandemic, as record numbers of small and medium-sized businesses now struggle to attract skilled workers in a rapidly expanding labour market. Remember, if you are not able to offer something that makes your company an attractive place to work, you will be unable to remain competitive.
Now is the time to invest in your team and ensure that their wellbeing and development are at the forefront of your business strategy. Listen to what your current employees want from the future and consider what you need to do to retain loyal talent now and in the future.
5. Prepare for the next potential crisis
The next crisis is not a question of if, but when. We live in a world of growing risk, meaning that the measures you put in place now could help you survive the next crisis. Although the Covid-19 pandemic may feel like a once-in-a-lifetime occurrence, there is always another emergency lurking around the corner that could steer your business off course.
That's why you should already be making contingency plans for unforeseen bumps in the road in the future. If you can afford it, start to build a reserve of savings in your business bank account to give you a crucial safety net. Alternatively, you may wish to look at reducing your debt dependency and pay down as much of your business loans as possible.
If there is one thing that the pandemic has taught the business world it's to be fluid and adaptable. Without a Plan B, C, D or E, how can you expect your business to prevail when the going gets tough? By taking your learnings from the Covid-19 pandemic and making sustainable changes and plans, you too can future proof your business from future shocks that will, like Covid-19, test the very fabric of our societies.
Susan Craig is an experienced writer and active contributor. She is fond of blogging, motivation articles, and management. Her goal is to provide quality and inspiring content. You can contact her via email guestpostingninja@gmail.com