.BEST domains keyword-ready for top search engine results

It's not hard to guess why "best" is among Google's most searched keywords. We naturally search for the "best" product, service, or business. Cyril Fremont, CEO of .BEST Registry, shares findings that demonstrate .BEST domain names are second to none when it comes to improving your presence with search engines and users.
Why choose a .BEST domain name?
Since our recent acquisition of the .BEST extension, I'm always asked why register and use a .BEST domain name?
The answer is pretty simple. As an SEO expert and domain specialist with 20 years experience, I have tried almost all of the existing new generic top-level domains (gTLDs) on the market. The .BEST gTLD has clearly delivered the most SEO (Search Engine Optimization) and SEA (Search Engine Advertising) value. It has also proven valuable for domain branding and trading.
.BEST's impact on search engine ranking (SEO)
.BEST domain names are great for SEO due to the simple fact that "best" is one of Google's most searched keywords.
People are naturally looking for the "best": best restaurant, best hotel, best spa, best dentist, best plumber, best cars - the latter of which generates a +120 million searches per month! "Best" is a universally recognised word, not restricted to a specific geographic location, industry, product, or service.
There's no question that combining your brand name, product, or service + .BEST could contribute to generating more traffic for your business. Madeira.BEST, for example, ranks first on Google.
Our .BEST SEO research shows most .BEST websites also see better engagement: lower bounce rate, more time on page, and better conversion.

.BEST for Search Engine Advertising (SEA)
Our SEA research also shows that a .BEST domain name can considerably reduce your cost-per-lead.
We ran a study with GlobeRunner, a leading Search Engine Marketing company, to get a better understanding of click-through rates (CTR) and cost per clicks (CPC) associated with .BEST websites.
For the purpose of testing the overall marketing performance of .BEST domains versus other TLDs, GlobeRunner used Google Ads, a leading source of paid advertising.
We ran a few experiments with different ad copies and keywords for the same website, but with URLs that included two different TLDs - .BEST and .COM. Results clearly showed that .BEST domain names had a higher CTR, lower CPC, and, most importantly, a higher conversion rate.

A keyword rich domain that bests the competition!
.BEST is proving a winning choice for businesses looking to boost their profile with both customers and search engines. If you're looking for a new way to "best" your competition, we have a promotional offer for you!
For a limited time, you can register your .BEST domain name with EuroDNS at a reduced cost.

For improved SEO and SEA, go with the best, .BEST. Register your .BEST domain name today!
Author bio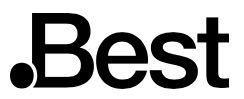 Cyril Fremont is the CEO of The .BEST Registry. With over 20 years of SEO and SEA experience, he has worked for many big retailers like Victoria's Secret and Sephora.