How the Early Access Program from Donuts works

Whenever a new domain extension is launched it usually follows a sequence of launch phases, starting with Sunrise, then Landrush, and ending with the open-ended General Availability. Donuts, the registry for hundreds of new domain extensions has chosen to replace the Landrush period with something called the Early Access Program or EAP. This article explains how the Early Access Program works and what it means for you.
Early Access Program – the details
Donuts' Early Access Program (EAP) lasts for seven days and takes place at the beginning of the General Availability phase. It's exclusive to Donuts and their new domain extensions.
During this period individuals, companies, and organisations can register on a first come, first served basis; there are no restrictions. As the name of the program states, it gives early access to Donuts' new domains, but at a price.
How it works
For the first five days of the EAP, domain names can be purchased at premium prices, dropping each day until levelling out on days five through seven. The pricing is best during the last three days of Early Access, so EuroDNS has chosen to make the last three days of the EAP available in our order process. Registration made during the EAP incurs a one-off setup fee, hence the premium prices.
Here's an example:
Let's suppose you would like to register a .BIKE domain.
Enter the domain name you're looking for, such as ridingmy.bike.
Once you've found it, place it into your shopping cart.
You'll be asked to choose the registration phase you'd like to participate in, see below.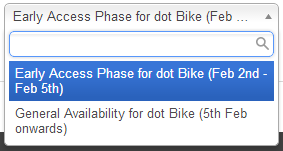 Either the Early Access Phase (for dot Bike Feb 2 – Feb 5). Notice the one-off setup fee shown in your cart, see below.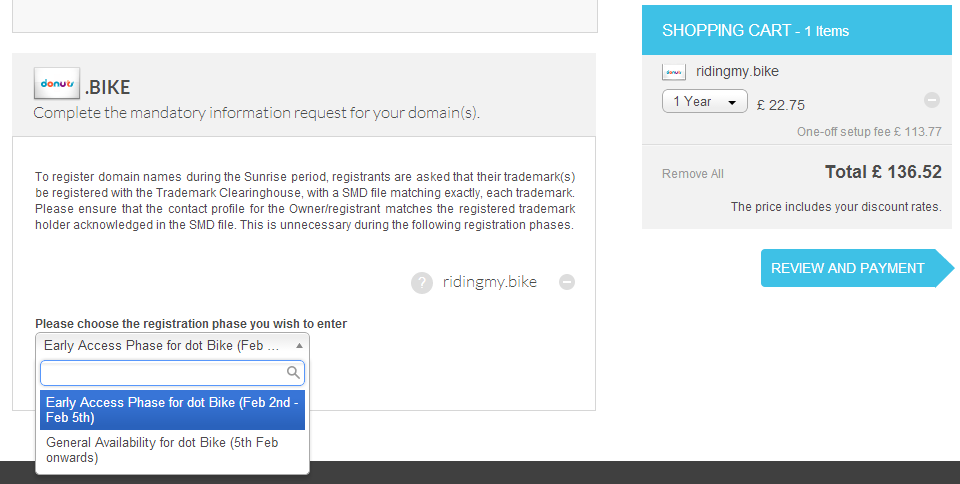 Or, General Availability (for dot bike Feb 5 onwards). Notice no setup fee and a new total, see below.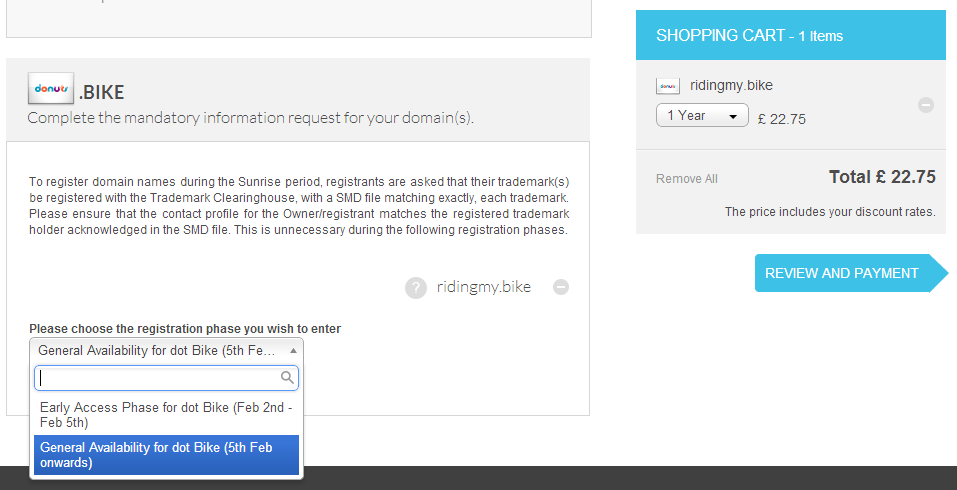 Once a Donuts' domain enters its EAP phase, you can place your order on our system on day one, for the last three days of the program or General Availability.
If you have any questions about registering a Donuts' domain name, please contact our Sales team. Alternatively you can take a look at our support article all about the Early Access Program.