How to enable shared access and share your workload

Shared access is a feature we offer that allows others, chosen by you, to access your EuroDNS account. You can give each person or group a different level of access so they can perform tasks designated by you. Whilst you, as manager, maintain overall control. In this post I'll explain the advantages of shared access and how to set it up...
Getting started with shared access
If you have a large portfolio of domain names, I dare say that you've already created several domain folders. If not you'll need to before giving shared access. It's simple to do, take a look at our help site article on creating domain folders. Even if you aren't going to share, folders are a great way to manage your domains, sorting them by extension, company, location, etc.

Levels of access & privileges
You remain the captain of your ship but now you can have a crew to help.
Manager profile – this is your level, the highest level of access, with no restrictions. You're the boss.
Buyer profile – like the Manager profile, but users can't create domain folders, or new users.
Config profile – allows users to update DNS zones, but they can't access your billing information.
Viewer profile – allows users to see your domain details, but they can't make changes.
Giving shared access privileges to your crew
Log in to your account and click on the account icon (ID number), then click ACCOUNT in the top menu.
Click on SHARED ACCESS > + SHARED ACCESS.
Fill in the fields, and don't forget to choose which profile: Manager, Buyer, Config, or Viewer. Click SAVE and you're done.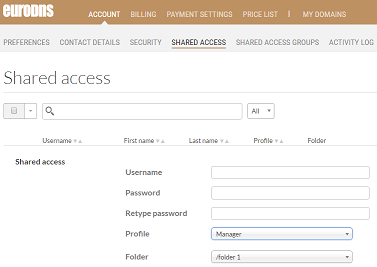 You're ready to go, get sorting and sharing. Shared access is one of those features that once you've used it for a while, you'll wonder how you managed without. Your domain names will be looked after by a whole team, so they'll be well-secured.
We have lots more information on managing your domain folders and shared access functions on our Help site, or you can get in touch for a chat with our team.