.EU domain in Europe's digital transformation

Launched in 2005, .EU ccTLD is one of the most popular domain extensions. It has enabled millions of businesses and individuals to get better online visibility, promote their pan-European presence and get better brand protection. Here's why you should also consider .EU as part of your domain portfolio strategy.
In 2019 the European Commission launched a digital transformation strategy benefiting businesses from a wide range of industries including health & pharmaceutical,transport, logistics & supply chain, as well as IT & technology.
Developing digital solutions at European level aims at:
creating new opportunities for businesses
stimulating the development of trustworthy technology
encouraging an open and democratic society
enabling a dynamic and sustainable economy
helping fight climate change and achieve the green transition
What's the connection with domain names, you might wonder? Well, .EU domain extension is actually part of the digital strategy. why .EU plays a vital part in shaping Europe's digital future and is integral to success of any businesses operating in this market.
How can a .EU benefit my business?
Improved branding potential, visibility and reach
.EU will give your brand a unique pan-European visibility, opening doors onto a 500-million people market. A 2015 study shows that a majority of Europeans have seen .EU used in advertising, associating it with professional and commercial activities, indicating that the TLD is perceived as a guarantee of quality.
On top of registering a .EU TLD, you can also play it more local and register an individual country code domain extension.
Easily recognizable by all, .EU TLD will help your brand reach new customers in other European countries and spark their interest. This short two-letter domain extension will be easy to memorize for your customers and gives you the opportunity to choose a catchy domain name.
Better geo-targeting
When compared to more requested, but also more generic domain extensions such as .COM, .NET or .ORG, .EU offers a geo-targeted approach to your business. It makes it clear that you are a European company open for business all throughout Europe, and that you are planning on expanding.
Belgian artificial intelligence startup Macty chose the .EU TLD over .BE as they felt that it reflects better the fact that they "span across Europe and gives them international visibility"

Helping companies to acccess the European innovation eco-system, Spanish company Zabala chose the .eu top-level domain for their online branding.
Larger domain name choice
Your .EU domain name can be registered in any of the 24 languages of the European Union. Since 2009, registrants can choose a domain name that uses characters from the whole Latin, Cyrillic or Greek alphabet. These characters include, for example, the Swedish å, the German ü, the Spanish ñ, the Bulgarian л, the Greek θ, etc.
The second-level domain can also be matched with the extension. Cyrillic .ею has been available since 2016, counting almost 2,000 registrations as of June 2020. The Greek version of .EU, .ευ, was also made available last year (November 2019).
Increased consumer trust
From a legal perspective, you should know that a .EU indicates that you are a legal entity based in the E.U, Iceland, Liechtenstein or Norway. Therefore, your company is subject to EU laws and other relevant trading standards, which guarantees your customers some extra protection and peace of mind.
The .EU domain name is also a safe extension, as the registry offers a DNSSEC (Domain Name System Security Extension) solution. This security extension is useful to reassure customers that they are not on a fake website which might misuse their personal information.
Continued popularity: .EU by the numbers
The popularity of .EU is showing no signs of waning.
At the end of Q4 2019, ccTLD registrations reached 362,3 million with .EU registrations making up 3,6 million of the total number, firmly positioning it in the top 10.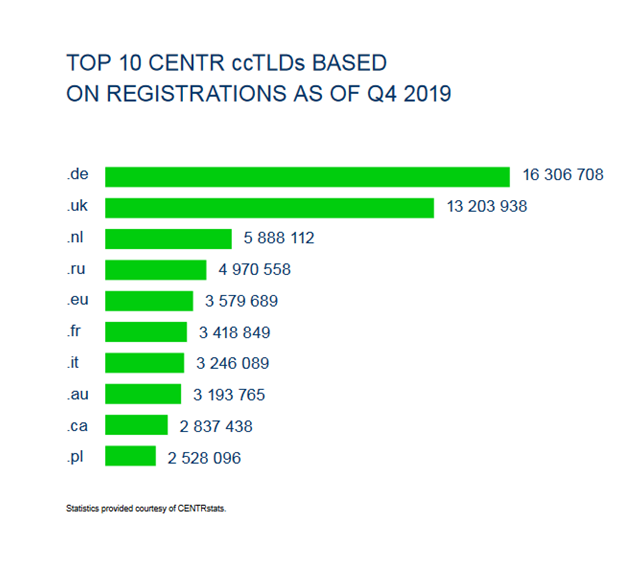 EURid, the registry behind .EU, reports that, as of Q4 2019 :
· 161,690 new .EU domain name were registered
· Norway tops the list of top growth countries at +10.9 %, followed by Estonia (+6.4%) and Greece (+5.1%);
· 80% of .EU domain names due to expired were renewed
Registrants come from all over, but Germany is the undisputed leader with almost one million registrations: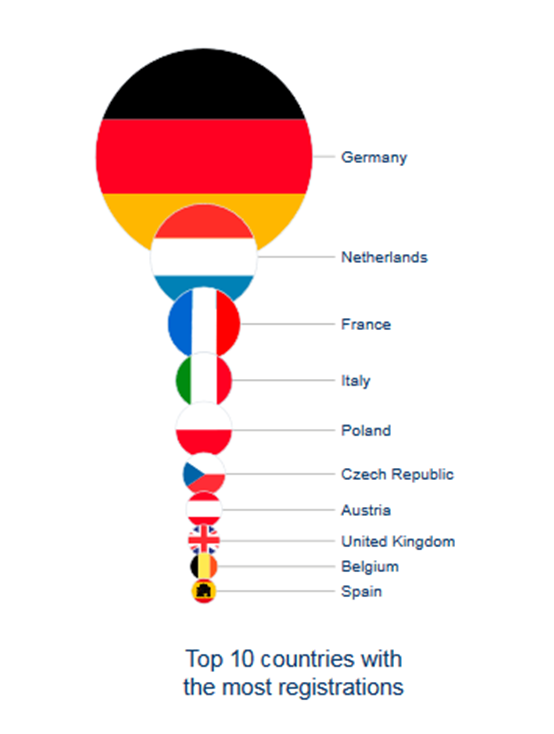 Towards a digital single market
Since its creation, the .EU TLD has contributed to Europe's digital transformation and to the European Commission's Digital Single Market objective.
The Digital Single Market strategy aims at guaranteeing the best possible access to the online world, both for individuals and businesses.
The .EU domain extension is doing a good job at promoting European values such as respect for user's privacy and security, or multilingualism.
Moreover, it has been agreed that as of 13 October 2022, the .EU domain will be available for registration to citizens of the European Union and the European Economic Area residing outside of the EU.
EURid registry
.EU is administered by EURid, a non-profit organisation that operates the .EU as a domain name registry on behalf of the European Commission.
EURid works with over 700 accredited registrars, including EuroDNS, and provides support in the 24 official languages of the European Union.
As part of its commitment to data security, EURid has been certified for the ISO27001 security standard in 2013.
Get a .EU!
EuroDNS is proud to be an accredited registrar of the .EU domain extension and to help raise awareness of the numerous benefits a .EU domain name extension can deliver.
.EU domain name registration is open to all businesses, organisations, and individuals located within the European Union (as well those located in Iceland, Liechtenstein and Norway). Registration includes our Classic DNS package, a free Sectigo InstantSSL certificate, and a free personalized email address.
Improve your presence throughout the European Union. Register your .EU domain name today!
Photo by Guillaume Périgois on Unsplash