Protect your domain names with auto-renew - bet Sony wish it had!

A few weeks ago one of the biggest companies in the world lost one of their domain names. No way! Yes way, it can happen to the best of us, but how? Did it forget where it put it, not pay the bill, wrong contact details, or did it assume someone else was dealing with it? There's no excuse. It's easy to set your domains to renew automatically and to validate your contact details, here's how...
Sony Online Entertainment said, DOH!
Websites and forums went down and Sony gaming customers, innocently enjoying an online frolic, were suddenly redirected to parking pages stuffed full of ads. The Sony Online Entertainment (SOE) sites associated with sonyonline.net only went down for a few hours but this collapse meant not only no games, but no working email address. They couldn't even alert their users...
Sony put its hands up and admitted its error and the following tweets were posted by the company president.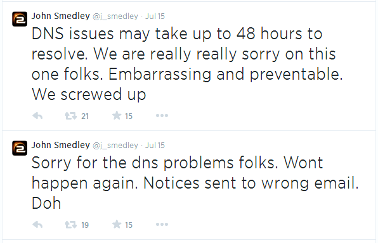 A potential cybersquatting opportunity
With the renewal notices ending up in the wrong mailbox, the invoice remained unpaid and the domain name expired on May 26. Seven weeks later, the registrar took back possession of the Sony domain name.
There's no obligation, but some registrars provide a grace period so customers can redeem their expired domain name before it goes back on the open market. In this instance, and we can only wonder why, the registrar extended its usual 35 day grace period. Huge sigh of relief from Sony as this meant it was able to reclaim its domain name. Within 48 hours, gamers could frolic once more.
Sony was lucky, but what about next time? How many heads do you think were about to roll at Sony for this c**k up? Automatic renewal and validation of contact details takes a few minutes to set up. Compare this to the hours spent trying to retrieve a domain name, the potential loss of customers and revenue.
Learn from this sorry tale and protect your domain names now!
Setting up auto-renew
You can set your domains to auto-renew seven days (at least) before the renewal date; sleep easy knowing your domains are safe and you won't lose them. Don't forget to check the balance of your account to ensure you've enough funds to cover the costs, or that your credit card is still valid. Please note that unfortunately you can't use PayPal for domain name renewals.

Please follow the steps below:

Log in to your EuroDNS account and click on DOMAIN NAMES.
Select the domain name you wish to configure.
At the foot of the page under the 1 Action tab, select Auto-renew.
At the foot of the page under the 2 Scope tab, choose Selected domains.
Click on RUN BULK OPERATION.
Keep you contact details up to date
It's vital that your contact email address is current; it'll be used when we send invoices, trade requests, and renewal reminders. Earlier this year ICANN introduced the Contact Validation policy. It's an email that we're obligated to send yearly to our customers with ugly penalties. Failure to respond will result in the automatic suspension of your domain name, that's real ugly. But, it's an excellent reminder for you.
If you have any questions, just give us a call. Our team can offer valuable advice on how to protect your domain names and avoid a big OOPS!
Subscribe to our newsletter
We send a regular newsletter packed full of advice, domain news, new product launches, interviews, and promotions. Subscribe to the EuroDNS newsletter today. You can be sure Sony wish it had!