8 effective blogging tips for small businesses

According to SemRush research, over 86% of content marketers use blog posts as part of their marketing strategy. In this ever-competitive industry, the most important factor to ensure your blog's success is producing high-quality content. But what are the most effective tips for running your SMB blog? Let's discover that right now!
Why are blogs critical for small businesses?
Most businesses run blogs to establish a more personal connection with their audience and share educational, and sometimes marketing content with their visitors. Blogs are a good way to arouse interest in your potential clients and provide valuable information about your industry, your products and services.
This can be achieved by offering tips related to your solutions, or by sharing useful knowledge about the industry and its trends. For instance, you can share insights about the most dangerous malware in 2021, software features, or some critical advice to enhance your marketing strategy, etc.
In this way, your clients will clear out the questions they have about your industry, products, and services. A well-written blog can easily spark the conversation between you and your potential consumers, and, what's more, drive up to 55% of new traffic according to Forbes.
Sounds awesome, doesn't it?

Best business blogging tips
Once you've decided to start your blog and implement your blogging strategy, try the following effective tips.
Post regularly
Recent studies have shown that websites that post content 4 times per week can get up to 3.5 times more traffic (source: HubSpot) than those who post between 0-3 times per week. Fresh content scheduled for publishing at the right time can greatly increase leads, encouraging visitors to try your products or services and boost conversions.
That's an excellent strategy to support your sales and introduce your products and their main benefits to potential or existing customers.
Schedule Your Content
To keep up with your content calendar and attract visitors, it is also critical to publish the pieces of content according to a predefined schedule. This will ensure that your readers get into the habit of reading you on certain days and will also allow you to plan ahead and publish consistently, even while you're out of office. It can also help you plan your blog content in accordance with your products release
There are lots of helpful tools out there that you can use for content scheduling and CMS solutions usually have a built-in scheduling feature.
Stay Current and Update Consistently
No one likes spending their time reading outdated content, which in fact has no value for the reader and will be penalised by search engines. That is why we recommend continually updating your content by researching the latest statistics, adding present-day tips and removing outdated information.
It's also a good idea to check all the links of your article, whether they are internal or external links, and make sure they are still valid. You don't want to redirect your visitors to an article that's 3 years old.
Invest time into improving infographics and images that illustrate your point, and keep an eye on the latest Google algorithm updates to edit your content accordingly.
Share Stories About Your Business
Sharing is caring - tell your visitors about different experiences and some insights you've learned from them. For example, Jay Fricci's furniture blog is constantly posting different stories about what he and his customers have learned when visiting the store. Thus, he provides visitors with free knowledge they can find really useful in the future.
Sharing stories or behind the scenes is also a good way to polish your brand image and connect with your clients in a genuine way.
Implement Keywords
What's the use of the blog if no one actually searches for it? In the present digital marketing strategies, targeting what users are searching for can be much more effective than simply posting the content you like.
Keyword research is one of the key processes of search engine optimization, which implies extracting the useful words people often type into search engines. In short, if you own a shoe shop, you could write an article titled "How to Choose the Best Shoes for Running".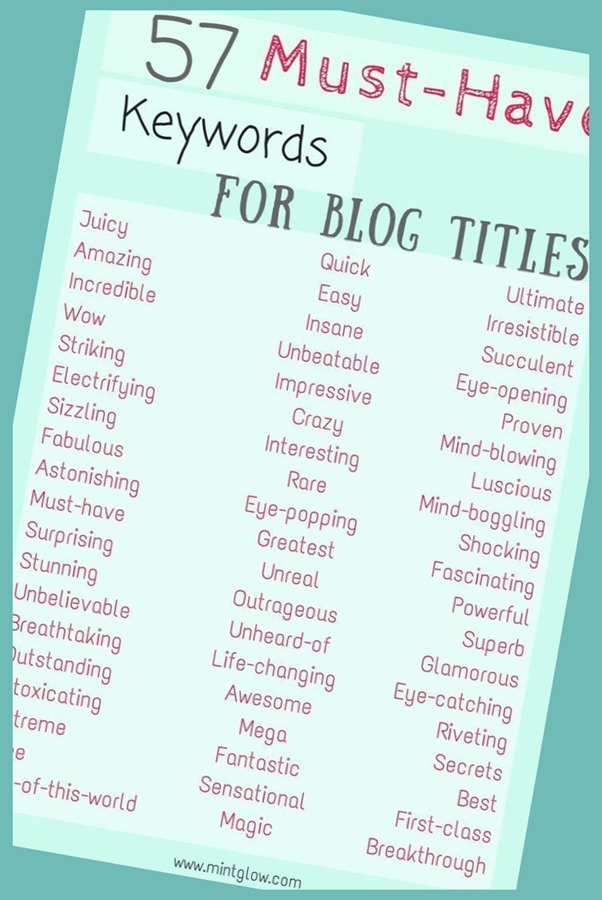 The more you target critical keywords, the bigger is the chance for the search engine to show your website on top of the search engine page results. Thus, it will be much easier for your audience to find you.
Take a look at our secret tips for an effective SEO strategy to give your blog the best shot at making it to Google's featured snippet.

Use Blogging Tools
If you want to get started with blogging without too much hassle and generate more leads with your blog, try using specific blogging platforms, such as WordPress.org or SitePad. With their flexible and customisable features, these platforms can greatly simplify running your blog for a small cost.
The main advantage of using those is that you don't need to spend too much time and effort on making your blog look professional. Additionally, you get access to customisation options and advanced plugins that can significantly upgrade your website.
Improve the Readability
The main purpose of your blog is to share useful and valuable information with your visitors. However, it is also critical to structure the information correctly, since most users tend to scroll down the so-called "walls of text".
To make the content more interactive and catching, you should also pay attention to the format you're using. For example, to improve the text's readability, most websites tend to use reformatting, reducing the article length, or implement some of the most popular readability improvement options:
photos and illustrations;
graphs, numbers and statistics;
headlines and subheaders;
bullets and numbered lists;
italics and bold font styles;
quotes;
embedded and related links;
table of contents, etc.
Furthermore, you can also use Google Analytics or any other website metrics tool for analyzing how much time users usually spend on the page. This will greatly help you to figure out whether the content is really useful for the audience or they just instantly leave the page.
All these methods are critical for enhancing the content, making it simple to read and easy to navigate for the users.
8.Call to action
Finally, don't forget to add a clear call to action to your blog posts. This is an essential step to let the reader know what is the next step they are expected to take. A call to action can take many forms:
Downloading a guide
Signing up to a newsletter
Clicking on the Shop Now button
Clicking on Learn more and getting redirected to another page on your website
Conclusion
To sum up, blogging now is a must-have niche for any type of business in any industry. The main advantage of blogging is that it can attract people's attention to your business and bring more customers to it. However, you should still pay attention to producing quality content to make sure it provides value for your audience and can call them to the right action.
So, if you're ready, start your effective blog for a small business right now!

Photo by Arnel Hasanovic on Unsplash